Allied bank of Pakistan offering career opportunities as a management trainee officer MTO Risk Management officer Jobs in different branches of ABL Limited Pakistan. ABL invite applications from young postgraduates for placements in various functions of Risk Management across the country. in Accordance with the banks corporate strategy and its human capital needs, we invite applications from young postgraduates for placements in branch banking in various cities across the country in general banking function.
Allied bank of Pakistan is a strong bank of Pakistan working from 70 years and make a good reputation in banking market of Pakistan.
Now Allied Bank of Pakistan requires Risk Management Trainee officers. The candidates shall go through a comprehensive selection process, which includes eligibility, Criteria, written test and interview.
Read Also: Faysal Bank Jobs 2022 Online Application Form
The job applications available through online process, after successful candidates will join special and strike training process of Risk Management, which is a combination of classroom and job training after performance base Allied bank of Pakistan, will transfer candidates to any branch of Pakistan for permanent position.
Eligibility Criteria:
Education: MBA (Risk Management), MBIT, Masters in Banking & Finance, Masters in Banking or Masters in Finance from HEC recognized Pakistani or reputable foreign universities.
MBA, MBIT, M.Com., Masters in Banking and/or Finance and/or Business or four (04) years BBA Honors (from HEC recognized university). Having bi-majors in the field of Information Technology and/or Digital Banking will be an added advantage.
CGPA/Division: Minimum CGPA of 3.0 or at least 80% marks (where GPA system is not available).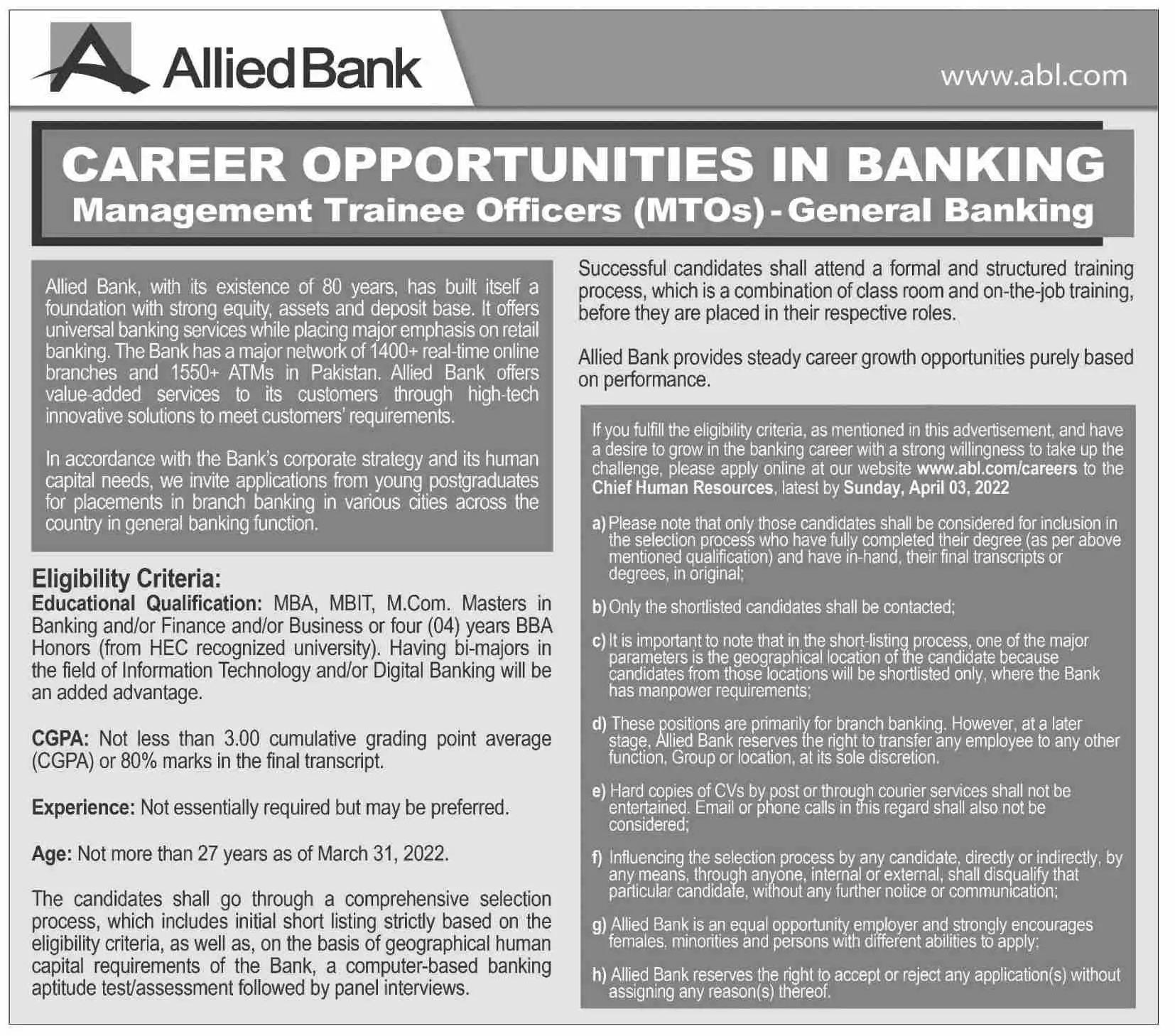 Age: Maximum 27 years as on 31 March 2022
Please note that only those postgraduates are eligible to apply who have fully completed one of the above-mentioned master's degree programs and have in hand, their final transcripts, in original.
Apply Here Also: Management Trainee Officer Jobs 2022 Bank of Khyber
Last Date:  03 April 2022 Sunday
Note:
Kindly write down that ABL will check Trainee applications through online process and only shortlisted candidates will be called for test and interview. And No CV and any other system will be accepted for applying for this position only online applications will be consider.