PAF College Lower Topa Murree Admission 2017 Form Test Result Online
Pakistan Air force PAF College Lower Topa Murree Hills Open Admissions in 8th Class VIII for academic year 2017. Online Admissions for the Session 2016 – 2017 of PAF College Lower.
Online application form for the new admissions for the year 2016 – 2017 will be available in the 3d week of June 2016.
Join PAF By Joining PAF College Lower Topa Murree, the selected students will be required to Join PAF as GD Pilot after having completed their studies / training. They will be provided tuition.
Please click here to download admission form in PDF format: Click Here
Eligibility to Apply 8th Class Admission:
The candidate should have 11 or half years old to 13 years of age on 1st January 2017. The applicant should have pass 7th class in the time of admission that will be held in May 2017. In case of 7th class admission result is not announce that its necessary for applicant to bring provisional certificate signed by the head master of school that student will pass with the marks of minimum 60%. Students studding in classes 7th or 8th are eligible to apply for admissions academic year 2017.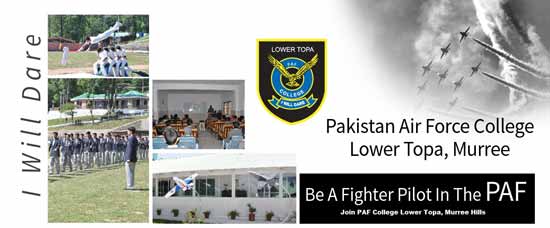 The Applicants must be appear board based written test of English, urdu, General science and Mathematics.
If any candidate have eye sight program need not to apply for PAF College Admissions.
Last date of acceptance of application forms: 21 September 2016
Written Test Date: 23 October 2016.