PAF college lower topa is an English medium residential educational institute being run on traditional public school lines. the admission to class VIII is open for Academic session 2020-2021.Admissions in new 8th class (AW Entry) for the session 2020 will announce nationwide in all major newspapers, College website and Facebook page on Sunday 14 July 2020.
Candidates bearing the following "Roll Numbers" are declared "Successful" in Written Test for AW-Entry held on 20 October, 2019. They are being issued "Call Letters" for Medical/ Intelligence/ Interview, accordingly.
Pakistan Air force PAF College Lower Topa Murree Hills Open Admissions, Admissions for the Session 2020 – 2021 of PAF College Lower Topa available at www.topians.edu.pk. Application forms for admission are available in the prospectus at page no. 28 which will be available from 02 September 2020. The Prospectus can be obtained from PAF College Lower Topa by post of Rs. 1100/-.the amount can be remitted through money order / postal order. the prospectus can also be bought from all PAF information and selection centres / sales centre for Rs. 1000/- on all working days from Time 08:00 AM to 02:00 PM.
Online application form for the new admissions for the year 2020- 2021 will be available in the 1st week of July 2020.
Join PAF By Joining PAF College Lower Topa Murree, the selected students will be required to Join PAF as GD Pilot after having completed their studies / training. They will be provided tuition.
Please click here to download admission form in PDF format or Apply Online: Here Apply Online Portal
Eligibility to Apply 8th Class Admission:
The candidate should have 11 or half years old to 11 ½ years or under 13 ½ years of age on 1st January 2020. The applicant should have pass 7th class in the time of admission that will be held in April 2020. In case of 7th class admission result is not announce that its necessary for applicant to bring provisional certificate signed by the headmaster of school that student will pass with the marks of minimum 60%. Students studying in classes 7th or 8th are eligible to apply for admissions academic year 2020.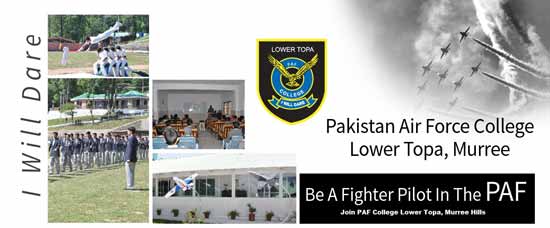 The Applicants must be appear board based written Entry test of English, urdu, General science and Mathematics.
Read Also: Cadet College Sargodha Admission 2021 6th 7th 8th 11th Class Entry Test
If any candidate have eye sight program need not to apply for PAF College Admissions.
Selection Procedure
The selection process consists of the following three phases:
Phase-I          Entrance / Written Test
Phase-II         Intelligence Test / Preliminary Medical Examination / Interview
Phase-III        Final Medical Examination by Central Medical Board (CMB)
Final Selection
Candidates who qualify the CMB are included in the merit list for the final selection.  There is no provision of reserved seats or quota of any kind at this institution. The calls up letter along with joining instructions are sent to the successful candidates only.
Availability of Prospectus & Application Form: 01-September 2020
Last date of acceptance of application forms: 18 September 2020
Last date of acceptance of application form is 5 October 2020 Written Test 18 October 2020.
Written Test Date: 18 October 2020.
How to submit Admission application form:
Click Here To Download Admission Form
Click Here To Download College Prospectus
application form duly filled in and completed in all respects to be sent to the given address:
Induction Cell PAF College Lower Topa Murree Hills Phone Number 051-9547015 and 9547111