Ehsaas Undergraduate Scholarship Portal ehsaas.hec.gov.pk. The Ehsas Undergraduate Scholarship Portal for New Year Applications has opened today. Online applications can be submitted till November 30, 2023.
𝐍𝐨𝐭𝐢𝐟𝐢𝐜𝐚𝐭𝐢𝐨𝐧 𝐫𝐞𝐠𝐚𝐫𝐝𝐢𝐧𝐠 𝐈𝐧𝐭𝐞𝐫𝐯𝐢𝐞𝐰𝐬 𝐨𝐟 𝐚𝐩𝐩𝐥𝐢𝐜𝐚𝐧𝐭𝐬 𝐨𝐟 𝐄𝐡𝐬𝐚𝐚𝐬 𝐒𝐜𝐡𝐨𝐥𝐚𝐫𝐬𝐡𝐢𝐩 𝐏𝐫𝐨𝐠𝐫𝐚𝐦
Extension in the date of Online Applications 30 November 2023
Scholarship Opportunity for the deserving Students!
Govt. of Pakistan has announced the Ehsaas Scholarship Program for needy as well as from remote and disadvantaged areas Students, currently enrolled or have secured admission on Merit in an Undergraduate Program at Public Sector Higher Education Institutions.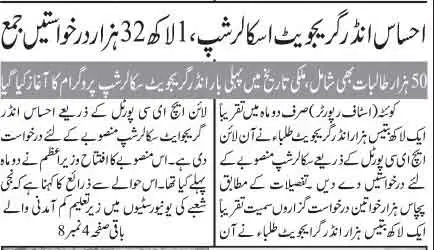 50% Scholarships are reserved for Female Students. This Scholarship will cover the Tuition Fee and Stipend.
Students from the Affiliated Colleges of Punjab University don't have need to submit the form at University. They may precede their case from the concerned Colleges to HEC directly.
Serious candidates may apply at http://ehsaas.hec.gov.pk
Extended Last Date to apply is 31 November 2023
Ehsaas Scholarship 2023 Program for Undergraduate Students
Ehsaas Scholarship Program for undergraduate students starts taking online scholarship application forms through higher education commission HEC official website. Prime minister Imran Khan launched Ehsaas Scholarship program for needy and talent students to study in intermediate and graduate. Government of Pakistan will bear college / university fees and monthly scholarship amount will be transfer to selected students account.
This scholarship program is most budgeted scholarship scheme in Pakistani history. Male and female students can take benefit.
Last Date to submit Scholarship Application form: 30 November 2023
Eligibility Criteria:
Low income students, who cannot afford college / university fees and they have admitted to any government college or university on merit basis are eligible to apply for Ehsaas Scholarship Program.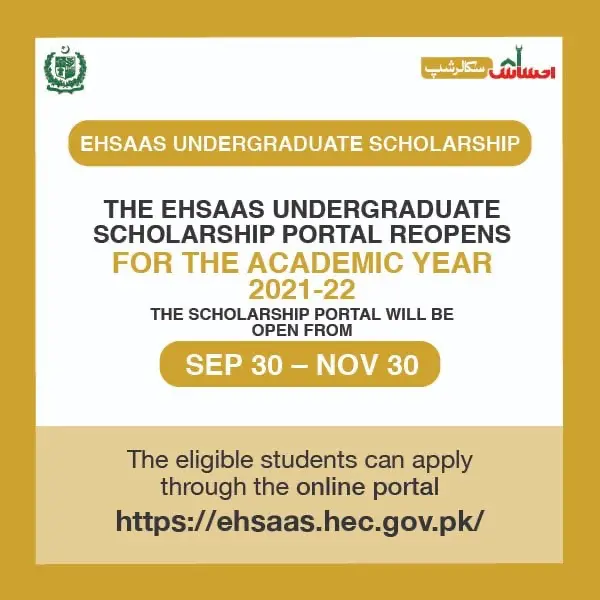 How to submit Scholarship Application form:
50 percent quota is for female students: male and female students can apply online through following ehsaas.hec.gov.pk
Complete scholarship application form can also submit to university / college financial Aid office.
No any scholarship application will be accepted through direct BISP and HEC office.
Scholarship Covers:
College / University Fees
Minimum 50,000 scholarship amount yearly
The students from villages and undeveloped areas will be given preference.
Read Also: Scholarships for SSC Matric Science Students by Pakistan Science Foundation Apply for Akhuwat Scholarship and OPF Scholarship 2023
Good Luck students if you need any help related to scholarships we are here to provide you all information.