The University of Gwadar, located in the vibrant city of Gwadar, is a leading educational institution in Pakistan. Renowned for its commitment to academic excellence and regional development, the university offers a wide range of undergraduate and postgraduate programs.
Program Offerings
The University of Gwadar offers diverse academic programs across various disciplines. These may include:
BS Degree Programs
The university provides undergraduate degrees in fields such as Business Administration, Computer Science, Education, Environmental Sciences, English, Economics, and many more.
BS business Administration, 4 Years
BS Commerce
BS English
BS Economics
BS Education
BS Education: 1.5 Years
BS Education: 2.5 Years
Associate Degree Programs
The University of Gwadar offers a two-year degree program as below.
AD Business Administration
AD Commerce
AD English
AD Economics
AD Education
Master's programs
Students can pursue postgraduate degrees in disciplines like Business Administration, Computer Science, Education, Environmental Sciences, English, Economics, and other relevant fields.
Admission Eligibility
To be eligible for admission to the University of Gwadar, prospective students must meet certain criteria, which can vary depending on the program of interest. Generally, the following requirements apply:
Bachelor's Programs:
Applicants must have completed their intermediate education (e.g., FSc, ICS, ICOM) or equivalent with the required minimum percentage of 50 Percent marks for all programs except BS-IT and BS-BD. They may also need to pass an entry test or meet additional program-specific criteria.
Read Also
Shaheed Benazir Bhutto University Admission 2024 Scholarship
Master's Programs:
Candidates must hold a relevant bachelor's degree from a recognized institution with a minimum required CGPA or percentage. Additionally, some programs may require qualifying through an entry test or an interview.
Application Process
The applicants need to fill out the admission application form that can be downloaded from ug.edu.pk before the last date and submit it to the registrar's office admission cell of the University of Gwadar.
Obtain the Application Form:
Visit the university's official website (www.ug.edu.pk) or the admissions office to obtain the application form. Ensure that you have the necessary documents and information before proceeding.
Fill out the Application Form: Complete the application form with accurate and up-to-date information. Provide personal details, educational background, program preference, and any other required information.
Attach Required Documents:
Gather the necessary supporting documents, which may include educational certificates and transcripts, CNIC/B-Form, domicile certificate, recent photographs, and any other documents specified by the university.
Pay the Application Fee:
Submit the application fee of Rs. 400 as per the instructions provided by the university. Payment methods may include bank challans, online transfers, or other designated modes.
Submit the Application:
Once the application form is filled out, documents are attached, and the fee is paid, submit the application either online or physically at the designated location within the specified deadline.
University of Gwadar Admission Schedule
The University of Gwadar Announced the admission Schedule for the BS and Associate Degree Programs Session 2024-2025.
| | |
| --- | --- |
| Last Date for Submission of Admission Application Form | October 31, 2023 |
| The Classes will commence in the first Week of January 2024 | January 2024 |
It is crucial to stay updated with the official website, admission portal, or contact the university's admission office for the most accurate and latest information regarding application deadlines.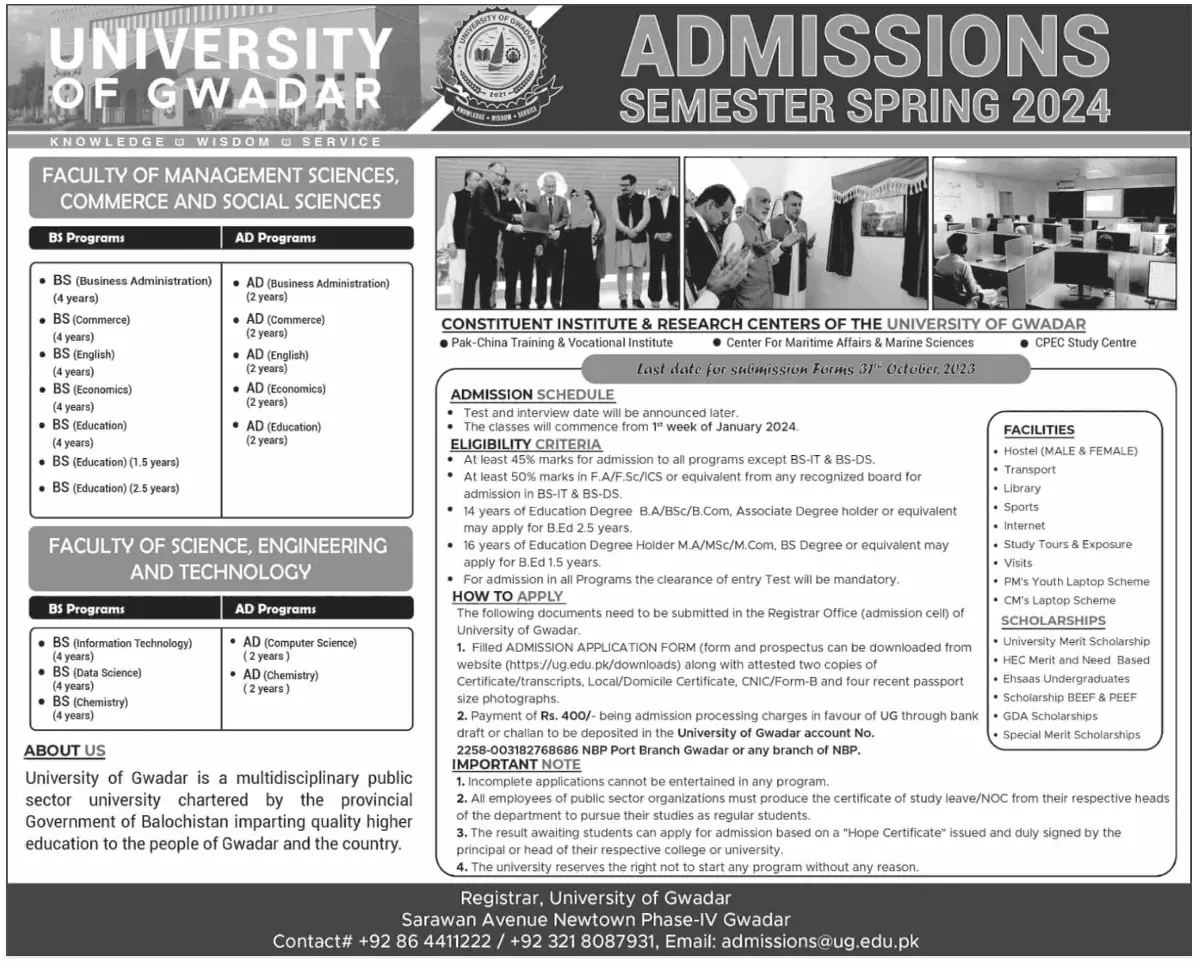 Hostel facility for male and female students
Transport
Library
Sports
Internet
Study Tours and Exposure
Visits
PM Youth Laptop Scheme
CM Laptop Scheme
University of Gwadar Scholarships 2024
University Merit Scholarship
HEC Merit and need-based Scholarships
Ehsaas Undergraduates
Scholarships for BEEF and PEEF
GDA Scholarships
Read Also
Conclusion
Embarking on an educational journey at the University of Gwadar can be a transformative experience, providing students with quality education and opportunities for personal growth.
Read Also
Pakistan Bait ul Mal Scholarship 2023
By understanding the admission process and meeting the eligibility criteria, prospective students can prepare themselves to apply for admission in 2024 successfully.
Stay connected with the university's official channels and ensure timely submission of the application to maximize the chances of securing admission to the University of Gwadar and embracing a future filled with academic excellence and regional development.
Students can get the latest updates on the learningall.com home page.