Pakistan Army today announced the advertisement about hiring females for the rank of captain. Its best opportunity for female fresh graduates to join Pakistan army through Lady cadet course LCC-21, the online registration has been started, this one year training course will be highly motivated for female candidates that how to serve Pakistani national by join Pakistan army.
It's an opportunity for female graduate Pakistani national holders only, so the girls who completed their graduation degree in early years can submit online registration through joinpakarmy.gov.pk. The interested female candidates can apply online as well as can come to any Army selection and recruitment center AS&RCS near you.
The one year training program will be offered only those female candidates who will be selected under Pakistan Army Lady Cadet course session 2023.
Eligibility criteria:
All Pakistani citizens ( Punjab, AJK, KPK, Sindh, Balochistan) who have graduated degree (BS, BE, MBA, BBA, MA, MSC) (Fields Engineering, Technology, Computer Science, Telecommunication, Economics, Chemistry, management sciences, Geography, Islamic studies and many more) from higher education Commission HEC recognized university or institute are eligible for online registration.
Kindly keep in mind that the degrees only accepted from HEC / PEC recognized universities, and if you have foreign degree than must be attested by HEC Pakistan.
Maximum age limit is 28 years old till Date 01 may 2023
Gender: Female
Marital status: unmarried
Physical standard:
Minimum height: 5"
Weight: as per body mass index.
Vision: as per PAO 11/82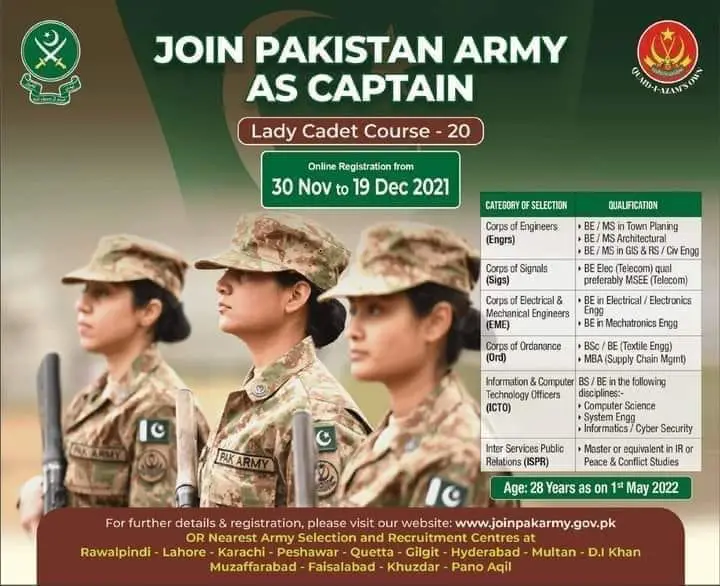 Online Registration:
The online registration or admission will be start from date  and the last date for registration is 30 November 2023 to 19 December 2023 Time 04:00 Pakistan Standard Time.
Physical Test: female candidates to quality 1.6 KM run 14 minutes.
ISSB Tests: shortlisted candidates will receive intimation for ISSB Tests through website as well as call up letters.
Written / Intelligence Tests: professional written / intelligence tests based on multiple choice questions will be conducted at AS and RCs from 08 July 2023 to 14 July 2023.
Preliminary Test: 08 to 14 July 2023
For online registration go to www.joinpakarmy.gov.pk or come to nearest Pak Army section center in Rawalpindi, Peshawar, Faisalabad, Lahore, Multan, Hyderabad, Karachi, Quetta, Gilgit, Muzaffarabad, AJK, Dera ismail khan, Pano Aqil and khuzdar cities of Pakistan.
Join Pakistan Army As Captain Through Lady Cadet Course LCC-21 Entry 2023
Training Period at PMA: 06 months
Rank: Captain
Corps of Engineers:
the applicant have BE / MS in Town Planning.
BE / MS Architectural
BE / MS in GIS and RS / Civil Engineer.
Corps of Signals Signs:
Corps of Electrical and Mechanical Engineers EME:
Corps of Ordnance:
Information and Computer Technology Officer ICTO:
Inter Services Public Relations ISRP: