Join Pak Navy Through Short Service Commission Course 2022
Updated date 19-06-2022, Government of Pakistan Navy starts hiring male and female citizens of Pakistan in different position in year session 2022.
Pakistan Navy offers short service commission course for 2022-B for the citizens of Pakistan, both male and female candidates are eligible to apply in following branches.
Pak Navy Jobs 2022 for Female Candidates:
Medical Anaesthesia Including Cardiac Anaesthesia
Endocrinology
Oncology
Psychiatry
Special Information Technology
Special PR
Special.
Pak Navy Jobs 2022 for Male Candidates:
Operations Aviation
SSG Operations
Mechanical Engineering
Surface
Aviation
Supply Surface
Weapon Engineering
Surface
Aviation
Ordnance
Medical Field:
DGMOs
Anaesthesia Including Cardiac Anaesthesia
Cardiac Anaesthesia
Cardiologist
Paediatric Cardiology
General Medicine
Critical Care Medicine
Intensivist
Emergency Medicine as ER Specialist
Ophthalmology
Paediatrics
Neuro Surgeon
Cardiac Surgeon
Plastic Surgeon
Education Department:
English Teacher
Physics
Mathematics
Pakistan Studies
Information Technology / Computer
Science
Islamic Studies
Management Science / Finance
Chemistry
Naval Law
Special IT
Special PR
Application deadline: 03-07-2022
The Registration Starts from Today 19 June 2022 to 03 July 2022.
Special Note for Candidates:
Qualification of Flying Aptitude Test FAT will be necessary.
Selected candidates will be released from Service if they are unable to Qualify Basic Conversion Training.
How to apply:
The applicants can visit nearest Pakistan Navy Recruitment and Selection Centre or more information online registration visit www.joinpaknavy.gov.pk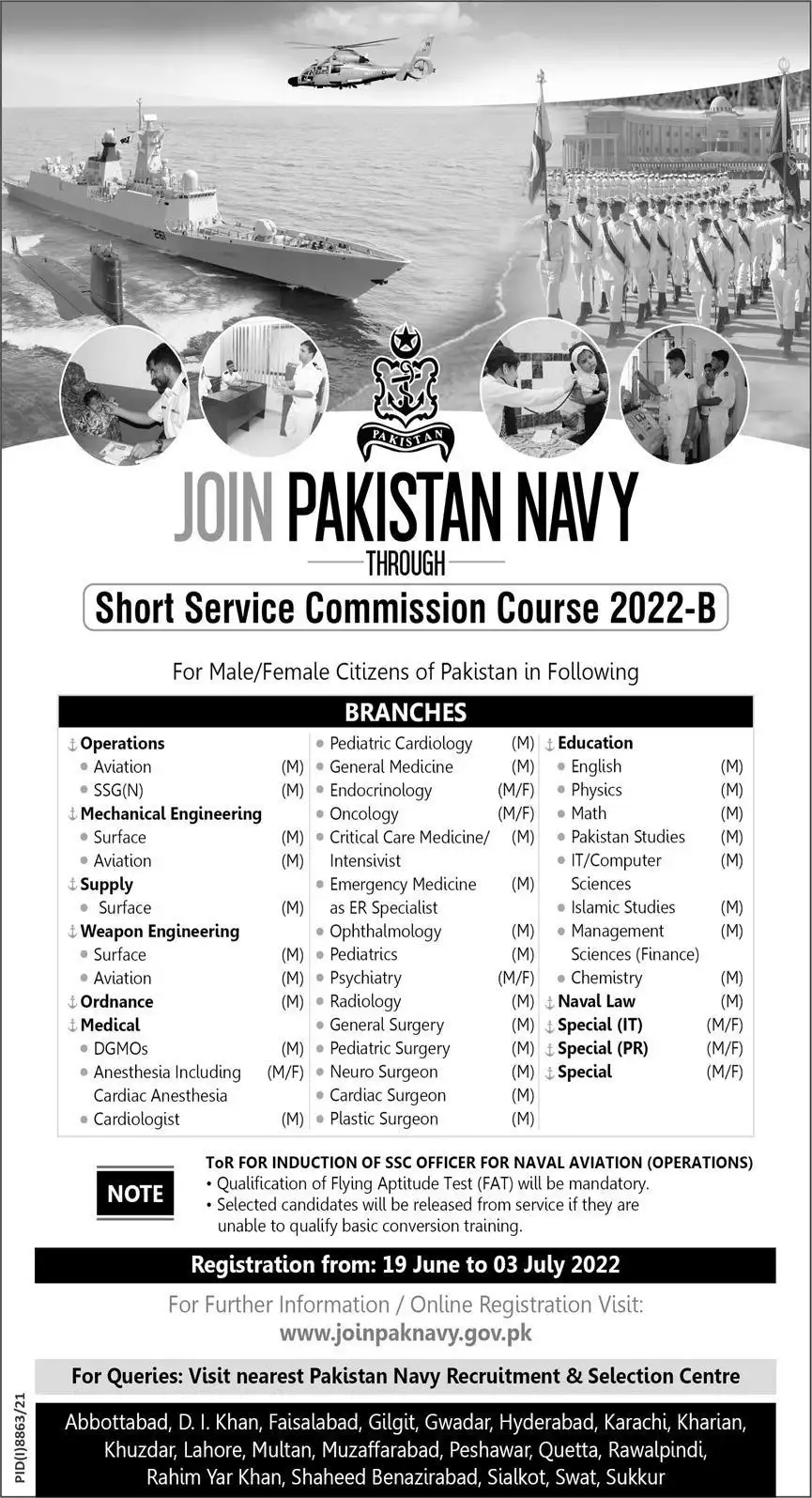 Pak Navy Recruitment and Selection Centres:
Abbottabad
DI Khan
Faisalabad
Gilgit
Gwadar
Hyderabad
Karachi
Kharian
Khuzdar
Lahore
Multan
Muzaffarabad
Peshawar
Quetta
Rawalpindi
Rahim Yar Khan
Shaheed Benazir Abad
Join Pak Navy through Short Service Commission Course 2022-A
Sialkot
Swat
Sukkur
Government of Pakistan and Pakistan Navy is providing Wonderful Career Opportunities for Matric, Intermediate FA, FSC and BA BSC Graduate Degree holders, Pakistan Navy Provides Free Housing, Free Medical Assistance to Selected Candidates. the Pakistan Navy offers Permanent Career Opportunities with Good Salary package and after retirement provides Pension to their Employees. Pakistan Navy Provides Free Education for the childrens of their Employees with Medical Facility and free Treatment to the employees family.
PIFRA Online salary Pay slips Registration for Govt Employee