It is a best choice to become Medical Cadet though Army Administered College and Army Medical College and CMH Lahore and other Army Medical Colleges. Join Pakistan Army by Joining Army Medical College and CMH Lahore.
If your Qualification is Fsc with minimum 70 percent marks or A level with biology, physics, chemistry with minimum C Grade than you can apply MBBS Course though Army Medical College and CMH Lahore and starts your dream Job and Join Pakistan Army as a Medical Cadet.
Join Pakistan Army as Medical Cadet in Army Administered Medical colleges Rawalpindi, Lahore, Quetta, Karachi, Multan.
Preliminary Tests: 16 September 2022 to 24 September 2022
Eligibility:
Age limit: 17 to 21 years old on dated November 2022.
Unmarried All Pakistani, AJK, Gilgat candidates are eligible to apply. The candidates who have other nationality than Pakistan is not eligible or needs to cancel nationality other than Pakistan.
Fsc with minimum 65 Percent marks or A Level with C Grade Minimum
Height: minimum 5.4''
All candidates must have Valid National ID Card to apply
FSc (Pre-Medical) with minimum 70% marks or 'A' level passed in Biology, Physics and Chemistry with minimum grade C.
Candidates having domicile of Balochistan, Sindh (District Tharparkar, Omar Kot), Northern Areas, Azad Kashmir (Upper Valley) and FATA can apply with 65% marks.
Candidates who have passed FSc Part-I Examination with minimum 70% marks and appeared/are appearing in FSc Part-II/ Final Examination can also apply on "Hope Certificates" by the Head of the institutions. Such candidates must deposit an attested copy of FSc Part II Certificate/ Mark Sheets to PA Directorate (PA-3C) General Headquarters (GHQ) Rawalpindi within 5 days of announcement of result; otherwise their selection will not be processed further.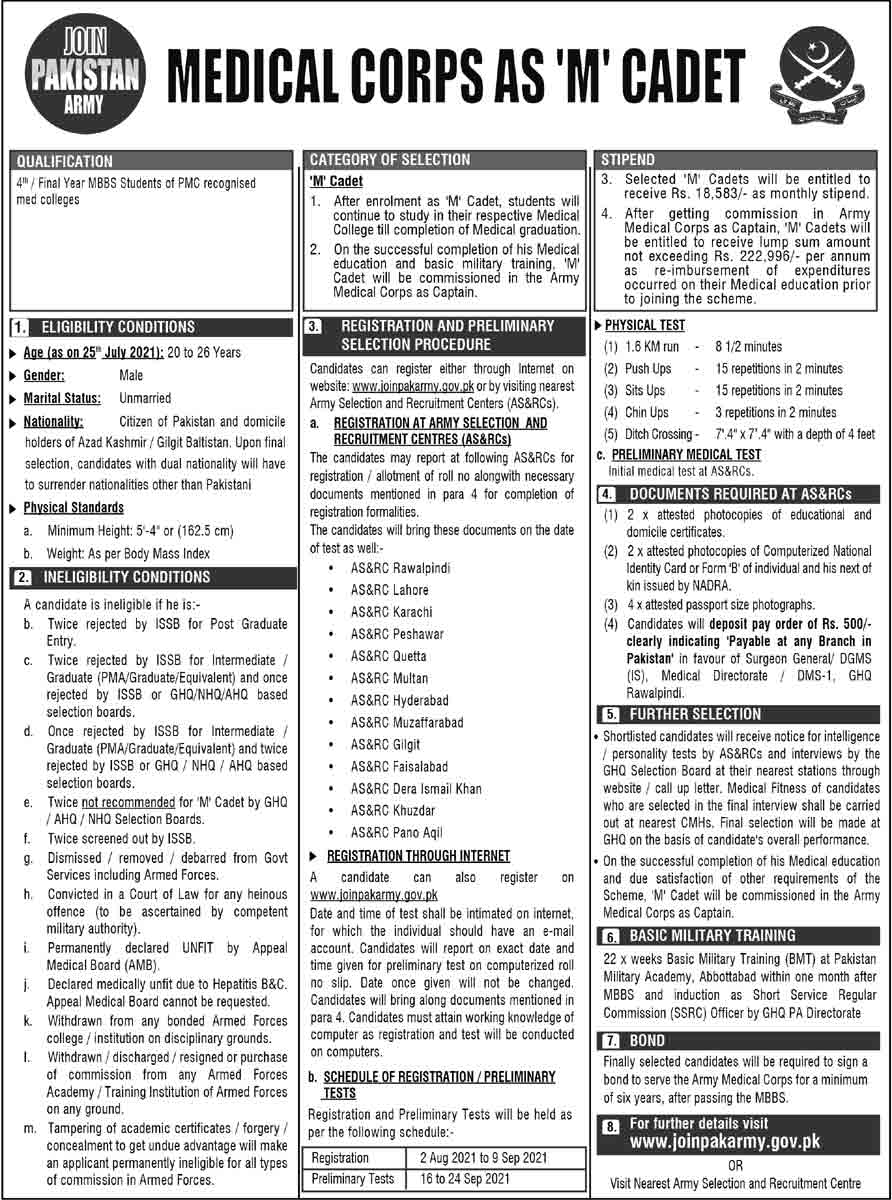 How to register:
The candidates who are eligible to apply can come to army selection centres for registration or candidates can register online through www.joinpakarmy.gov.pk after registration the Written test and Interview dates will be inform through Email and also though selection centres.
Registration from  02 AUGUST 2022 to 09 September 2022
Pak Army Jobs for Females 2022 Armed Forces Nursing Services Apply Online
Dates and Schedule of Registration:
Registration: 09-08-2022 to 09-09-2022
Initial selection will be based on initial exams like written test, Excellence Test, and Personality Test
Academic and Military training after selection:
MBBS Course: Army Medical College and CMH Lahore and Army Medical College Rawalpindi 5 years medical education.
BDS Course: 4 years medical education in Army Medical Rawalpindi.
Join Pakistan Army MBBS and 22th BDS Course as Medical Cadet