Higher education commission HEC Islamabad announced the admission entry test schedule for five year undergraduate LLB Degree program session 2022. LAT Entry test that is taken by HEC is necessary for all those who wanted to take admission in public and private Law Universities in Pakistan for five years LLB Degree program session 2022-2023.
The online registration has been started from today date 09 April 2022 and the deadline for registration is 25 April 2022. For online registration students can visit etc.gov.pk, only online applications will be considered. The online hec.gov.pk online applications is save or incomplete mode will not be entertained by officials of online representatives.
HEC is a government body, so any body in Pakistan who wanted to take admission in LLB Law colleges, it's necessary to pass LAT Test that is organized by HEC Higher education commission Pakistan.
LAT Admission Test Pattern and Syllabus:
LAT entry test admission paper will be total marks one hundred that will be distributed follows:
Essay writing total Marks 15 (the essay will be maximum 200 words)
Personal Statement: total Marks 10 (200 words maximum)
Applicants can write both languages Urdu and English.
MCQS:
English MCQs: 20
General Knowledge MCQs: 20 Marks
Islamic Studies MCQs: 10 Marks
Pakistan Studies MCQS: 10 Marks
Urdu MCQs: 10 Marks (vocabulary)
Mathematics Basic Math Questions: 5 Marks
The total Marks for Entry Test will be 100 in which 50 percent marks will be passing marks.
Eligibility Criteria:
The HSSC 12th class pass applicants are eligible. The students who are awaiting their HSSC results can also submit LAT Admission Entry Test applications.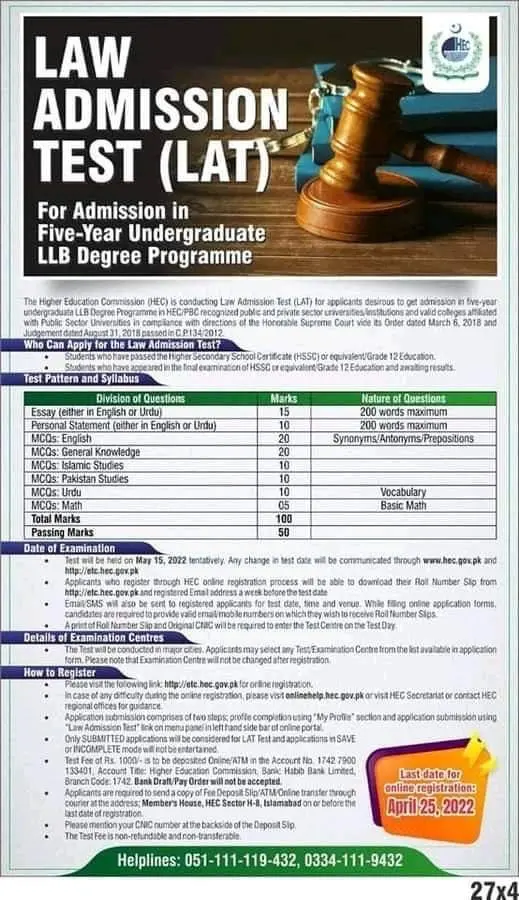 LAT Test Date Schedule:
Deadline for registration: 25 April 2022
LAT Test Date: 15 May 2022
The registered applicants can download roll number slips through their hec.gov.pk portal before one week of LAT Admission entry test.
HEC Officials online system also send you through Email or SMS if anything change in admission test date or Roll number slips, for this purpose candidates are required to submit current email and mobile number that they can receive updates through email and SMS. Only printed roll number slips will be consider during Examination day.
How to register:
For online registration go to etc.hec.gov.pk or any type of help you can email on [email protected]
The LAT entry test will be held all Major cities of Pakistan, the applicants may select any test examination center from the list available in the application form. Once examination selected could not be changed later.
So full online application form with full consideration.
Good Luck Students
LAT Test Model Papers: Download Model Papers
download latest Model papers and LAB Test Papers and Law Admission Test HAT UG-L 12 Years Equal Education underGraduate 5 Year LLB Degree Programme According to New Paper Pattern prescribed by the honorable Supreme Court of Pakistan.
Read Also:
HEC Undergraduate Entry Test for Admissions 2022 Result Online Registration Last Date