GCU Lahore GAT Test for MS/ MPhil Admissions 2021
Government university college GCU Lahore starts GAT registration for MS / Mphil admission program session 2021.
GCU-GAT is necessary for admission in MS and Mphil in GC University Lahore. The students having sixteen years education with minimum 2.50/4.00 CGPA semester system or 50 percent marks in MSC / MA or BA / BSC Hons or equivalent degree from HEC recognized institute.
GCU-GAT revised dates for MS/MPhil Admissions 2021
Last Date to Apply: 05 July 2021
GCU-GAT revised dates for MS/MPhil Admissions 2021
Last Date to Apply: 05 July 2021
Test Date: 17 and 18 July 2021
Online Application: GCU GAT
The applicant who are awaiting their results can also apply for GCU-GAT.
The admission in MS and Mphil will be given only those candidates who will get result 50 percent marks in GCU-GAT.
GCU GAT Test Marks:
English 15 Marks
Mathematics 15 Marks (75 minutes time allowed.
Analytics 10 Marks (105 minutes will be allowed for this test)
Subject based 60 marks (time allowed 180 Minutes)
How to register for GCU-GAT:
Candidates shall apply online at GCU website www.gcu.edu.pk from date 20 June to 07 July 2021 after that no any application will be consider.
Registration process fees will be Rs. 1000/- that will be deposit in any branch of HBL through challan (payment challan can be download from www.gcu.edu.pk).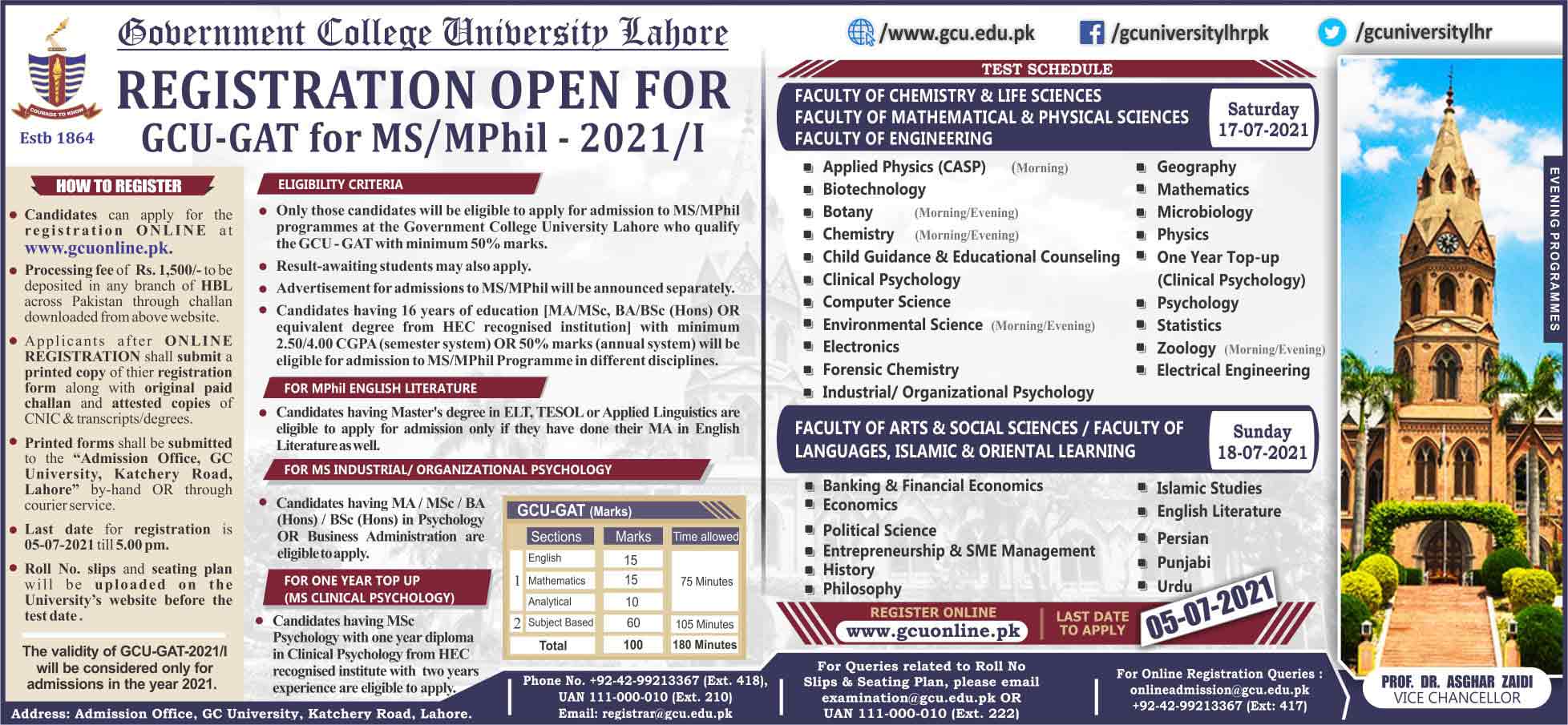 GC University Lahore PhD Admission 2021 Program Schedule Application
The applicants shall submit / hard copy / printed copy of application form along with original paid challan attested copies of CNIC and transcript / Degree or send through courier / postal service to the office of the register GC University Lahore.
GCU GAT Result:
The GCU GAT Test Result will be online in at www.gcu.edu.pk.
Registration opens for GCU-GAT for MS/MPhil – 2021/I. Register ONLINE at http://gcuonline.pk.
Admission to MS and Mphil will be announced in September 2021.
The candidates are required to deposit Rs. 1000/- for GCU-GAT 2021/I through online bank deposit slip in online branches of HBL. Read the following instructions carefully and click here to apply.
GCU GAT Marks
English 15 Marks
Mathematics 15 Marks
Analytical 10 Marks
Subject Based 60 Marks
Total 100 Marks and 180 Minutes