HEC Law GAT Graduate Assessment Test Result 2023 Registration
Higher education commission announced the registration schedule for Law Graduate Assessment Test LAW GAT for eligibility to seek enrolment as an advocate with bar council.
The LLB Degree holders can join law graduate assessment test that is offered by Pakistan Bar Council PBC Through the higher education commission HEC.
The purpose of GAT Test is to ensure proper evaluation of the law graduate desirous to join the legal profession so that only competent LLB Graduates degree holder students' individuals possessing necessary basic knowledge of law may enter the legal profession for practicing law.
Therefore, a law graduate only becomes eligible to apply to bar Council for enrolment as an advocate. All males and females are encouraged to apply for GAT Test.
If the candidates qualify the assessment test that will be conducted by HEC higher education commission, Pakistan having been so authorised by the Pakistan bar council, pursuit to the aforementioned order of the hobble supreme court and read the section 26 of legal practitioners and bar Council ACT 1973 and rules of the PBC.
Last Date to Apply:
Deadline for Online Registration: 12 June 2023 Monday
No GAT Test application will be accepted after last date 12-06-2023.
Eligibility Criteria:
The male / female Pakistani National Holder having BBL Bachelor Degree in law or equivalent from HEC/PBC recognized university are eligible to apply for GAT Test.
Test Questions:
The test will be consisted of multiple choice Questions MCQS.
Date of GAT Test:
The Law GAT Test tentatively will be held on date 25 June 2023 any change in test date will be communicated through etc.hec.gov.pk.
The male and female candidates who registered through HEC registration process will be download their Roll Number slips through etc.hec.gov.pk one week before test date.
The test date / time and venue / place of test will be send to the candidates through Email / SMS. So, its requested to all applicants to provide Valid Email / Mobile Number while filling the online Test application form.
The Entry in Examination hall for only those candidates having Roll Number Slip, so students can print Roll number slip and remain with him/her to enter in test centre.
GAT Test Syllabus:
The GAT Test Syllabus Available on hec.gov.pk.
Exam Test Centres:
The examination will be conducted in following city Test Centers:
Islamabad
Lahore
Karachi
Quetta
Sukkur
Turbat
Multan
Hyderabad
Muzaffarabad
Bahawalpur
Peshawar
Gilgit
Faisalabad
Abbottabad
The applicant during the filling the online test application can select their desire Test Centre.
The test centre once selected will not be changed after registration. Students a note that the test will be held on any of the above centres if minimum 100 applicants will select that centre, otherwise the nearest test centre will be assigned to the candidates.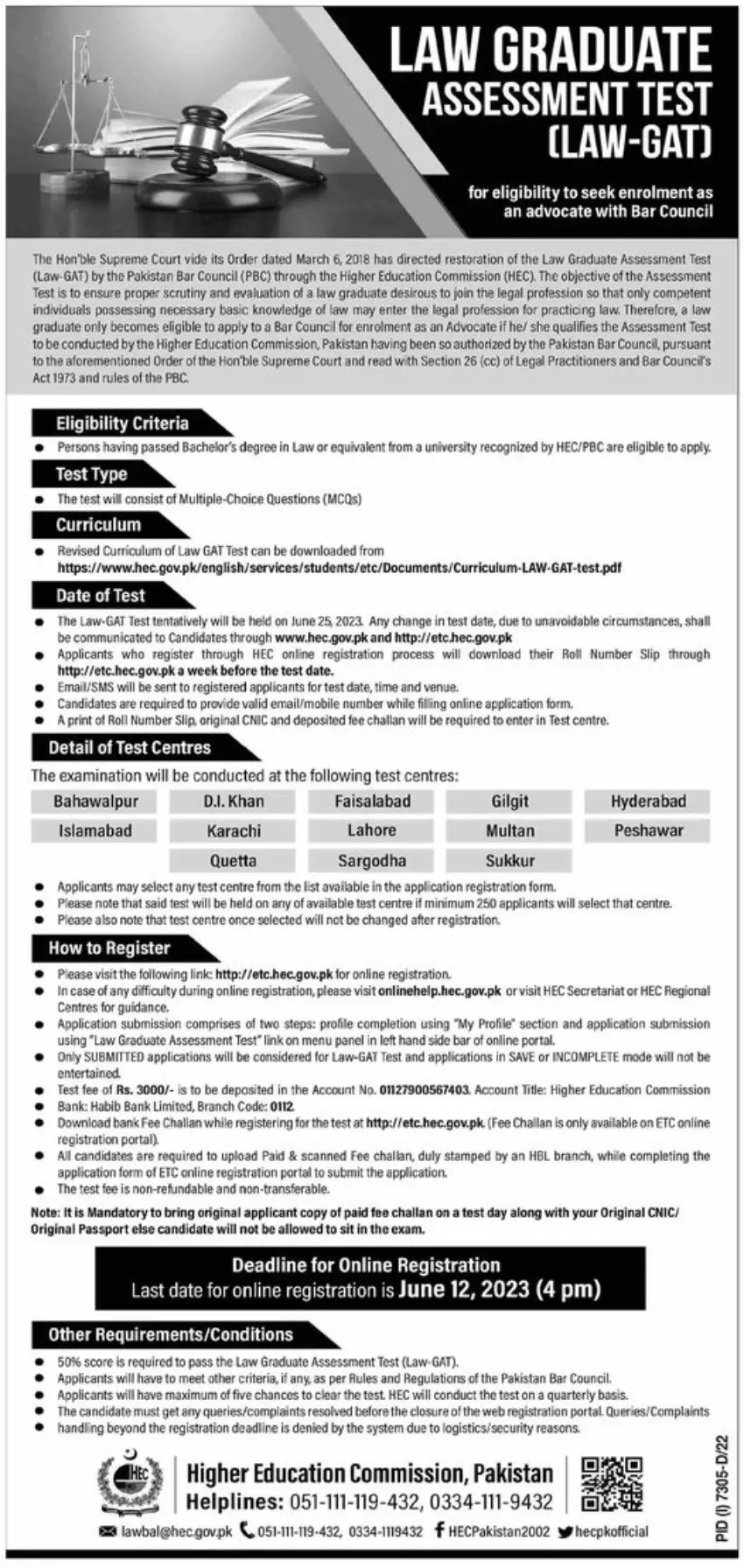 How to Register Online:
The eligible applicants can go to etc.hec.gov.pk online registration. If any difficulty during the online registration applicants can visit onlinehelp.hec.gov.pk on the help line number given submitted applications will be consider for Law GAT Test.
Test fee Rs. 3000/- is to be deposit online / ATM in the account number: 01127900567403, account Title higher education commission Bank Habib Bank Limited HBL Branch code 0112 Bank Draft/ Pay order will not be accepted by HEC.
Note: applications are required to submit original fee deposit slip/ATM / online transfer slip through courier to following address before last date.
Select your Book Colour to view Answer Key:
Last Updated: 12-06-2023
Room No. 13-209 second floor HRD Building HEC H-8 Islamabad.
HEC Law Admission Test 2023 (LAT) Undergraduate LLB Model Papers