Responsible for sales of the whole south zone comprising sindh and balochistan. Based at Karachi, this is an executive position reporting directly to the head of sales.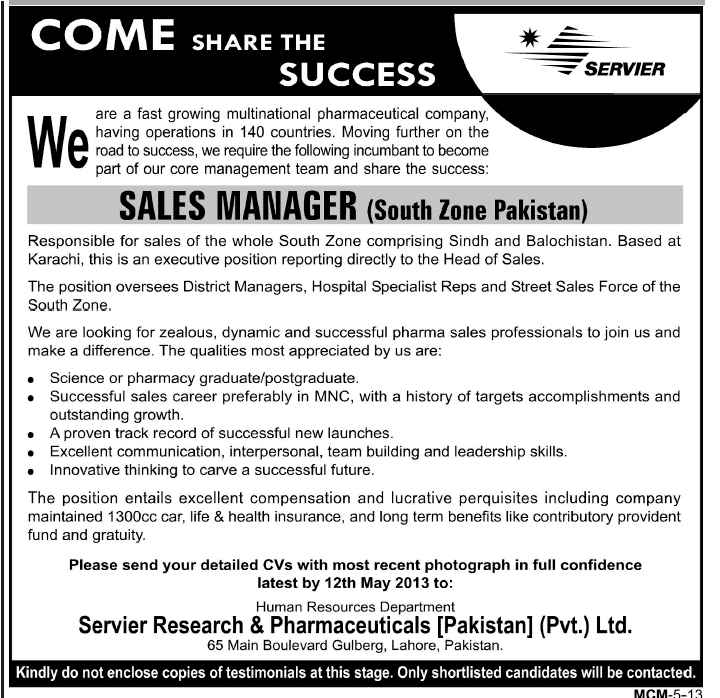 The position overseas district managers, hospital specialist reps and street sales force of the south zone.
We are looking for zealous, dynamic and successful pharma sales professionals to join us and make a difference. The qualities most appreciated by us are:
Science or pharma graduate/postgraduate
Successful sales career preferably in MNC, with a history of targets accomplishments and outstanding growth.
A proven track record of successful new launches
Excellent communication, interpersonal, team building and leadership skills
Innovative thinking to crave a successful future
The position entails excellent compensation and lucrative perquisites including company maintained 1300CC car, life and health insurance, and long term benefits like contribution provident fund and gratuity.
Please send your detail CV with most recent photographs in full confidence
Latest by 12th May 2013
H.R department
Servier Research and pharmaceuticals Pakistan Pvt Limited
65 Main Boulevard Gulberg, Lahore Pakistan