Sahara Medical College Narowal SMC is a mega project of Sahara for life trust, with aims to center with health care health needs of remote and underprivileged areas by educating health care professionals to the highest intentional standard.
Admissions open in MBBS, according to new law the new law will be force in next year so this year the admission policy is like previous years so it's a choice to take admission in MBBS in Private college in Narowal.
Last date for the submission of application along with required documents is
Eligibility:
Fsc pre medical with minimum 60% marks
Appeared in the approved UHS entry test or SAT 2 for foreign students.
Admission Form for MBBS Admission: Click Here
The admission shall be concluded by all colleges by 15th February, 2021.
Admission process:
Submit your admission application with complete documents for further details
PMC shall issue the merit list for each college on 25 January 2021
Nishtar Medical College Multan Admission 2021 Merit List
Rahbar Medical & Dental College Admission 2021 Entry Test Merit List
Shalamar Medical College MBBS Admission 2021 Entry Test Merit List
Avicenna Medical College Lahore Admission 2021 Merit List
Abbottabad International Medical College Admissions 2021 Last Date
Akhtar Saeed Medical Dental College Admission 2021 Merit List
Allama Iqbal Medical College Admission 2021 Merit List Test Result Date
Indus Medical College Admission 2021 Entry Test Merit List
FMH College of Medicine & Dentistry Lahore Admission 2021 Merit List
Wah Medical College Admission 2021 Merit List Fee Schedule
Bacha Khan Medical College Admission 2021 Merit List
Lahore Medical & Dental College Admissions 2021 Entry Test Last Date
Sialkot Medical College Admission 2021 Form MBBS Merit List
ABWA Medical College Faisalabad Admission 2021 Merit List
Fee Structure MBBS of SAHARA Medical College Narowal: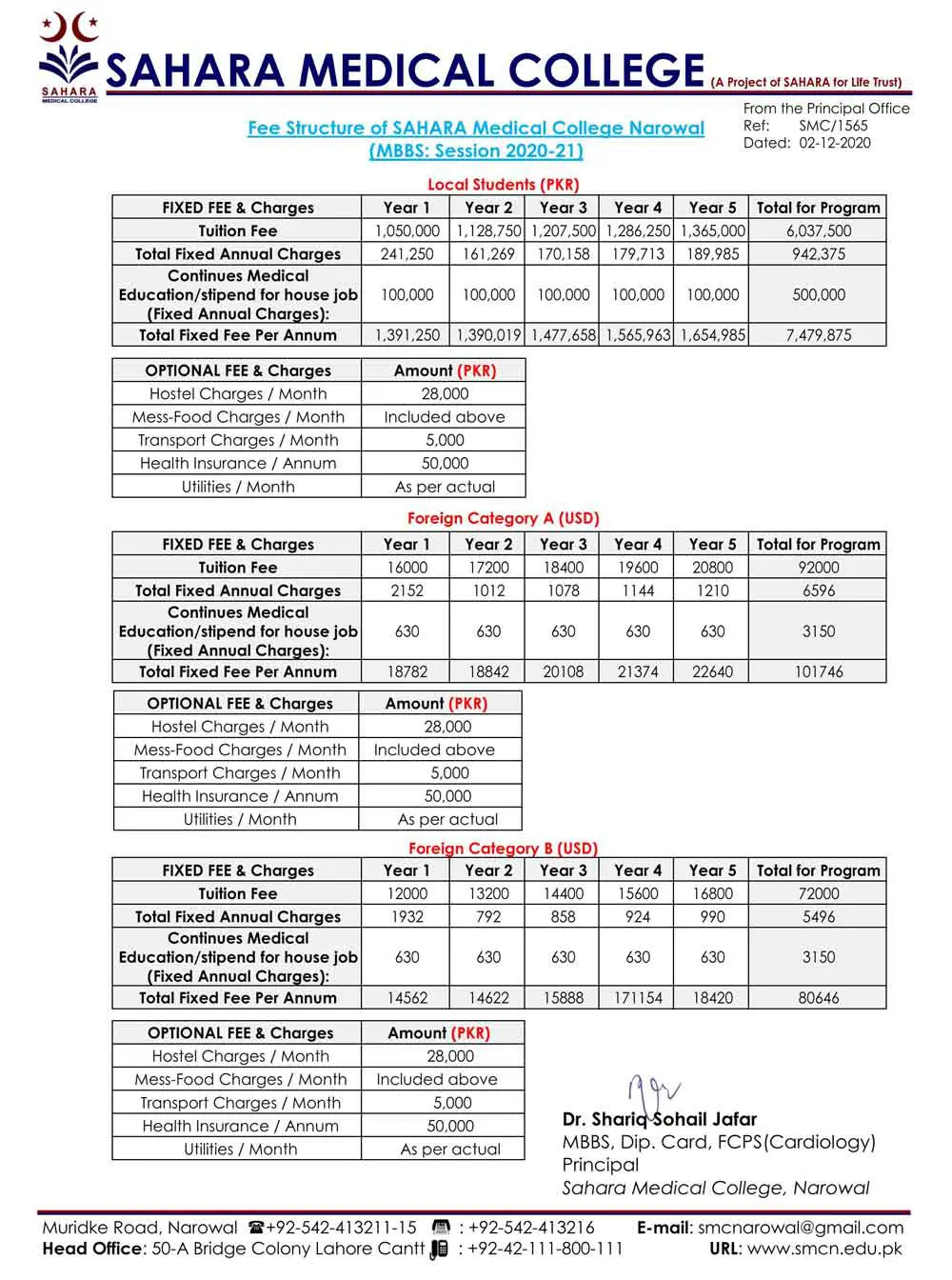 Sr. No:
Description
Regular
Students
Foreign
Students
1
Admission Fee (Once on Admission)
Rs 50,000/-
US $ 1800
2
Registration Fee (Once on Admission)
Rs 100,000/-
3
Security (Refundable)
Rs 100,000/-
US $ 1200
4
Tuition Fee (Annual Basis)
Rs 640,000/-
US $ 15,000
5
Library Charges (Annual Basis)
Rs. 45,000/-
US $ 500
5
College Events (Annual Basis)
Rs. 25,000/-
US $ 300
6
Examination Fee (Annual Basis)
Rs. 35000/-
 US $ 400
Total of aforesaid line items
Rs. 995,000/-
US $ 19,200
Total dues for Day Scholar  of 1st year at the time of admission (Inclusive of 5% Tax)
Rs. 1,044,750/-
US $ 20,160
7
Hostel Dues each year (Including Boarding, Lodging, Messing and Transport) without AC
Rs. 198,000/-
US $ 2000
Total Hostel Dues (Inclusive of 5% Tax)
Rs. 207,900/-
US $ 2100
Total dues for Hostel Students of 1st year at the time of admission (Inclusive of 5% Tax)
Rs. 1,252,650/-
US $ 22,260