Kinnaird College for Women is a very renowned institution of Lahore. It has posted job openings for talented and ambitious candidates.
Eligible candidates can apply for these teaching posts:
Lecturer in the following degree program:
Applied linguistics
Biotechnology
Computer science
English
Geography
International relations
Media studies
Mathematics
Psychology
Philosophy
Candidates can also send applications for these administrative posts:
Manager Research Operations and Development
Office Assistant of QEC
Administrative Assistant
Laboratory Assistant of Food Science & Human Nutrition
Eligibility:
Master's Degree or MPhil / MS or equivalent degree in the relevant field.
For administrative post experience of three years in relevant field is required
For the post of Assistant Bachelors or equivalent degree awarded after 14 years of education is required with one year experience.
Read the instructions carefully before applying for the post.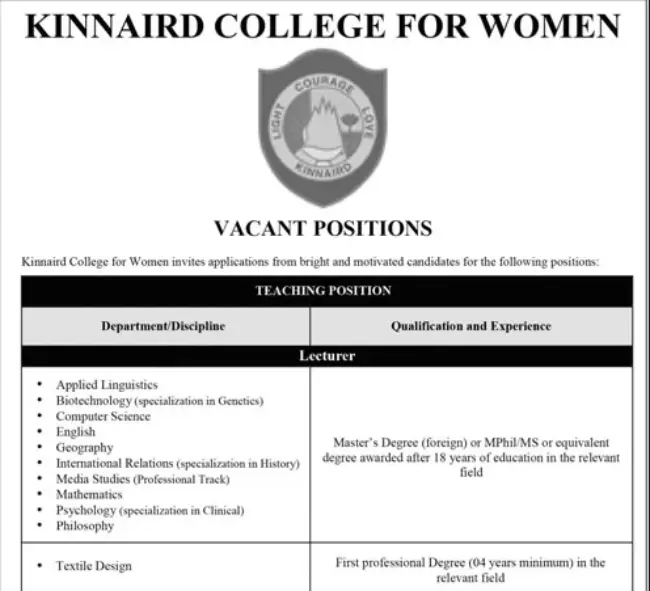 Deadline:
The last date to apply for the application is 27 March, 2023.
All applications should be sent through mail on the following address:
The Principal, Kinnaird College for Women, 93-Jail Road, Lahore
update: 13 March 2023: requires Assistant System Administration, Network System Administration, Apply before dated: 27-03-2023
Kinnaird College for Women Lahore invites Job applications from Lecturers and Assistant Professors.Fine arts, painting sculpture and communication design, graphic design MBA / MPA, BFA degree holder lecturer required, Accounting and finance assistant and lecturer urgently required PhD degree holders or for lecturer position M.Phil or equipment degree in the relavent field alongwith master/ bachelor's degree in the same subjects.
Applied linguistics English literature assistant professor and lecturer, Media studies lecturer and assistant professor required.