Wah Medical College Starts Admission in Batch eleven for Session 2021
Merit List for MBBS Session 2021-2022 will be displayed soon.

Admission 2021-22 For details of 1st year MBBS admission in session 2021-22, please refer to the Pakistan Medical Commission (PMC).The admission policy is also available on the PMC.
Wah Medical College has started the admission process. Selected candidates should deposit the dues from
The Merit List will be displayed on
ADMISSION OPEN*BATCH 11*SESSION 2020
Prospectuses are available at campus' admission cell and can be delivered at home via courier.
Last date for submission of admission forms is
Personal queries about admission process may NOT be answered here so FOR ANY FURTHER DETAILS CONTACT:
Students Affair Dept Wah Medical College
Tel: 051-9314388 Ext: 107 & 113
Fax: 051-9314356, 9314373
Email: [email protected]
Website: www.wahmedicalcollege.edu.pk
Read Also: POF Internship Program 2021 Online Application Form Pakistan Ordnance Factories Wah Cantt
Prospectus & Admission Forms for admission in MBBS Session 2020/2021 are available on payment of Rs 1500/- (for Pakistani candidates) and US $ 30/- (for foreign/self-Finance candidates) at WMC. An additional amount of Rs 100/- will be included if the prospectus is required by post.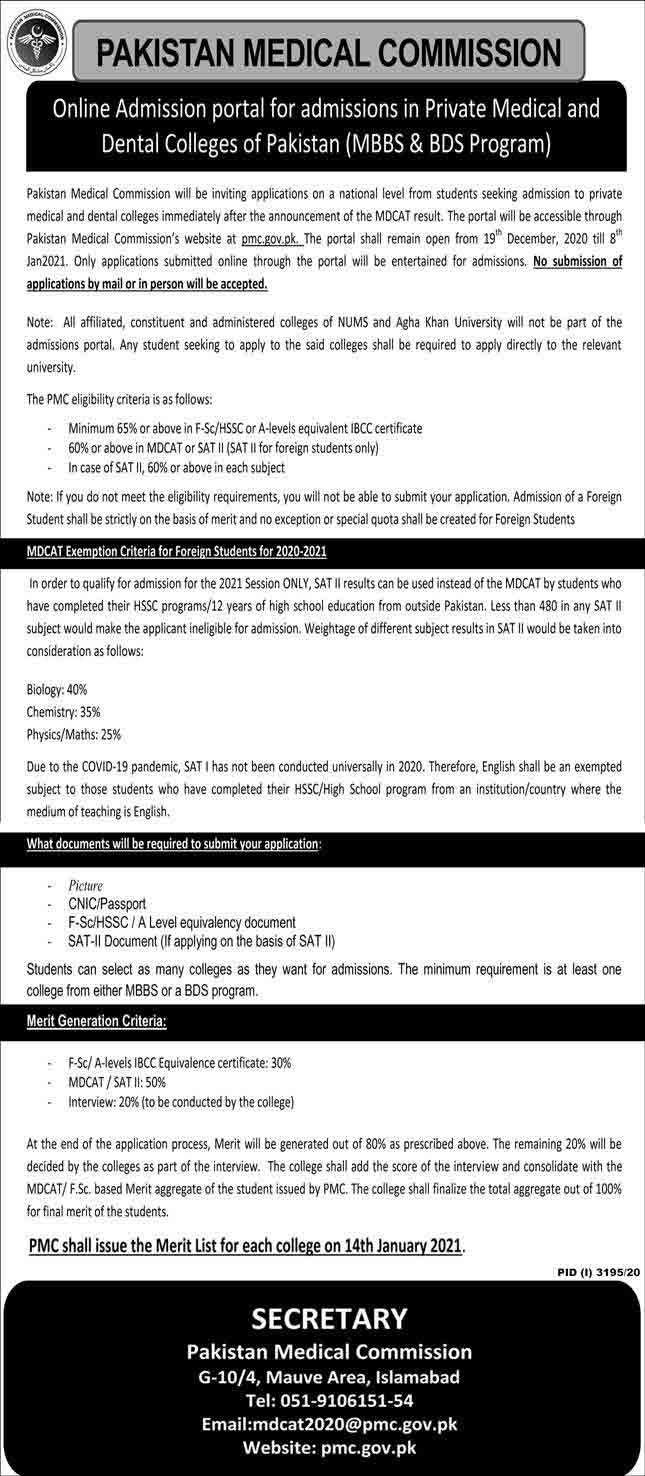 Processing Fee: Rs 3500/- (For Pakistani candidates) and US $ 50/- (for Foreign/Self Finance candidates).
The candidates applying through the forms downloaded from website will submit their applications along with draft of Rs 5000/- (for Pakistani candidates) & US $ 80/- (for Foreign/Overseas candidates).
Fifteen seats have been allocated for Foreign/Overseas students.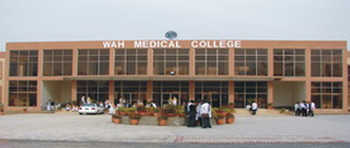 FEE STRUCTURE FOR FIRST YEAR MBBS SESSION 
Sr. No
Description
Fee Amount
Pakistani Residents
Overseas
Foreigners
1
Admission Fee (Once on Admission only)
Rs 50,000
$ 1000
$ 1000
2
Tuition Fee per session
Rs 581,647
$ 13,580
$ 17,000
3
Security Refundable (Once on Admission)
Rs 50,000
Rs 50,000
Rs 50,000
4
Registration Fee/ R& D (Once on Admission)
Rs 45,920
Rs 45,920
Rs 45,920
5
Examination Charges (University & Internal)
Rs 22,960
Rs 22,960
Rs 22,960
6
Continuous medical education Fund/Skill Labs/Workshops
Rs 48,400
Rs 48,400
Rs 48,400
7
Misc charges General Library/ Computer lab/ College Mag/News Letter/Medical Journal/ Sports fund/ID Cards etc
Rs 34,282
Rs 34,282
Rs 34,282
8
Health Cover Fee
Will be charged as actual
9
Total Fee for 1st Year Session at the Time of Admission
Rs 833,209
$ 14,580 +

Rs 201,562

$ 18,000 +

Rs 201,562
As per FBR letter no. MAC/CMA-POF-T/2013 withholding tax @5% will be charged separately on all payments in respective currencies and this is adjustable Tax. Exemption to advance Tax to overseas/foreigners will be given in the light of FBR instructions in vogue. All such causes will be sent to FBR for scrutiny and approval.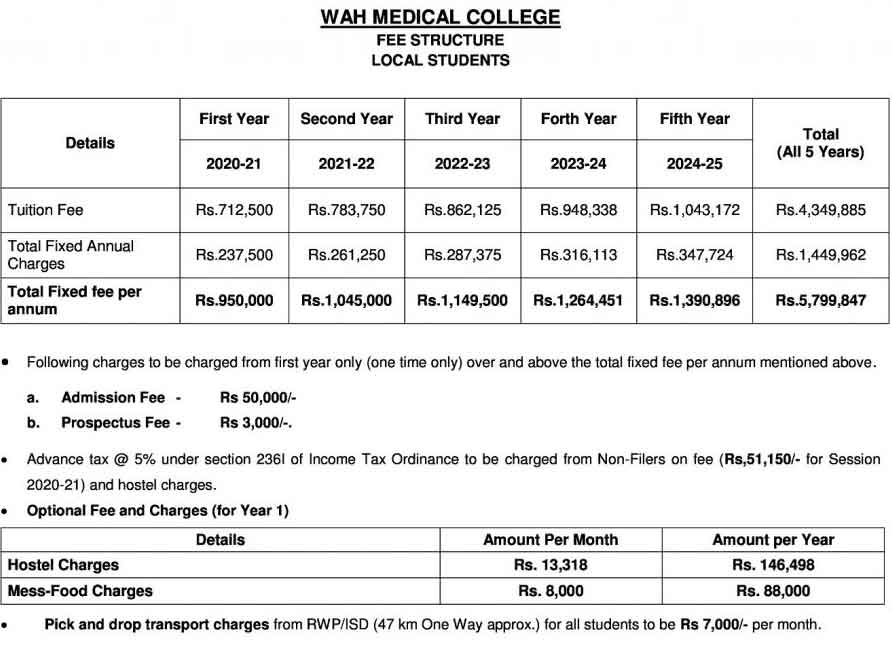 Please note that WMC foreign currency account no. 3034819696 is maintained at National Bank of Pakistan Aslam Market branch, Wah Cantt and the swift code is NBPAPKKAA02R. All such cases will be sent to FBR for scrutiny and approval
Supplementary exam fee will be charged from student who fails in Annual University Exam.
Read Also: