Akhtar Saeed Medical & Dental College Sector Bahria Town Lahore Admissions Open in MBBS 6th Entry and Pharm-D 5th Entry Admissions 2022-2023. University of The Punjab Starts Admissions in Pharm-D, Prospectus are available from farooq hospital 24 hours and college campus from 8 am to 2 pm. 8th entry Admissions open for MBBS and Pharma-D.
MBBS Admission Schedule:
Registration of Application for Admission Re-open: 19 December 2022
Last Date for Online Registration private: 08 January 2023
Last Date of Receipt of Application for Admission 08-01-2023
Display of First Merit List for Public Sector FMDC: 14 January 2023
04 Years Degree Programs:
Bsc Hons Medical Imaging Technology
2. Bsc Hons Medical Laboratory Technology
3. BSc Hons Operation Theater Technology
4. BSC Hons Nutrition
Akhtar Saeed Medical Dental College Lahore open admissions in MBBS and BDS session 2022-2023 for Foreign / self Finance seats only.
Eligibility for MBBS & BDS Foreign / Self Finance Seats:
the applicant must have Multiple Nationality or have Overseas certificate.
The applicant must have Fsc Pre Medical Degree with minimum 60% marks or equivalent Degree approved from IBCC.
Applicant must have passed Entry Test of SAT-II with subjects Biology, Chemistry, Physics / Mathematics and earn minimum 800/550 marks or MCAT International with minimum 500/528 marks.
Fee Schedule for Foreign / Self Finance MBBS and BDS:
Annual Tuition Fees: 18000 US Dollar
Admission Fees: 50,000/- Pakistan Rupees one time only.
Admission Form and Prospectus Form Fees: 3000/- Pakistan Rupees.
Read Also: Sharif Medical Dental College Lahore Admission 2022 Form Merit List
Eligibility:
FSC Per medical or equivalent certificate with minimum 60 Percent Marks.
Prospectus and Admission form:
prospectus and Application admission form available at payment from farooq hospital for 24 hours and college Campus from 8:30 Am to 2:00 PM.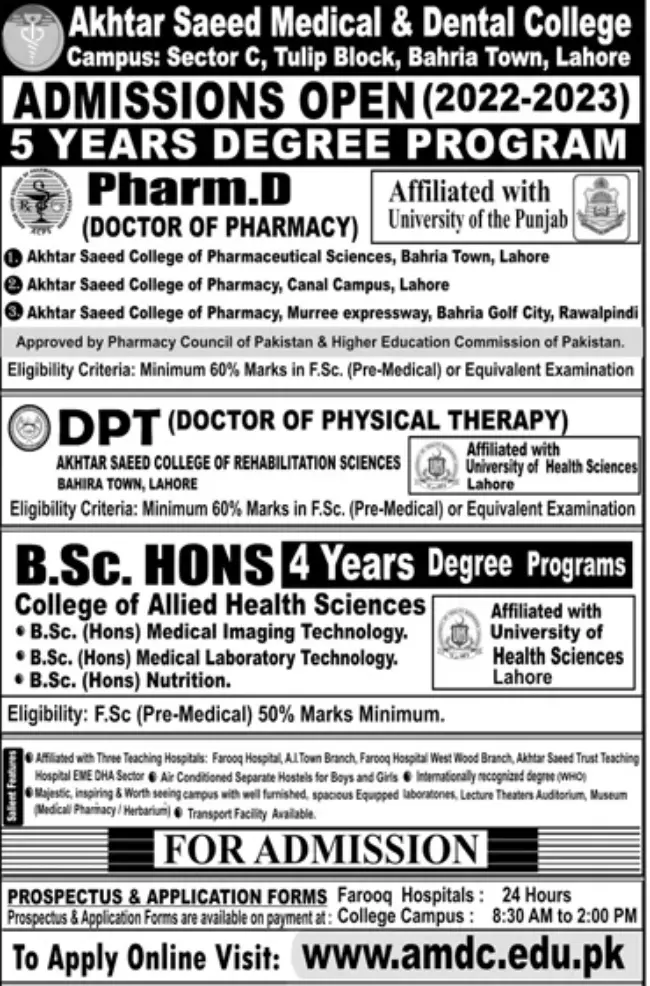 Admissions Schedule 2022-2023 Currently Pharm D Admissions Open
Last Date of submission of applications:
Aptitude Test on  at College campus Time 2:30 P.m. for more information go to AMDC.
Akhtar Saeed Medical and Dental College, established in 2008, is a private college of medicine, dentistry and pharmaceutics located in Bahria Town, Lahore
Read Also: Liaquat College of Medicine & Dentistry Admission 2022 Entry Test Date
Contact us
Main Office
Farooq Hospital
Address: 2‐3 Asif Block, Allama Iqbal Town, Lahore.
Ph No: 0092 42 37813471‐5 Ext. 109
Incharge Admission Cell:    Mr. Javed Imran 0321‐6034265
Admission officer:     Mr. Shahbaz Ali 0300‐9490859
Email Address: admissionamdc@gmail.com
 Sub Office 1
Akhtar Saeed Medical & Dental College
Address: Sector C, Tulip Block, Bahria Town, Lahore.
Ph No: 0092 42 35963641‐3
Sub Office 2
Farooq Hospital Westwood
Address: 262‐263, West Wood Colony, Main Canal Road, Opposite Metro Cash
& Carry, Thokar Niaz baig, Lahore.
Ph No: 0092 42 37498596, 37498293, 37498557 Ext. 128
For Admission in Pharm‐D
Please Call at 0092 334 4888599, 0092 345 4492233
Shoaib Ramay 0345‐4052053