Cadet college Hassan abdal Admissions in 8th class and O level session 2019-20
Eligibility:
The interested candidates who wants to join Hassan abdal must be between 12 years to 14 years. The candidates must passed 7th class before April 2019. Written Examination will be held on dated 09 November 2018.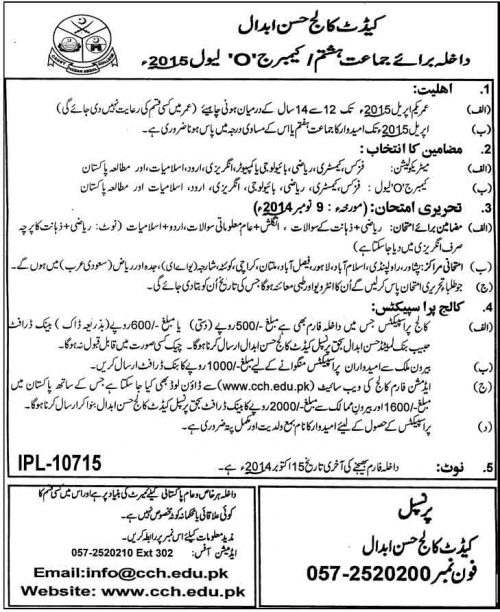 Cadet College Hasan Abdal Admission in 8th Class, O Level
Exams will be held from subjects Physics, Chemistry, Math, English, Urdu, Pak Studies, and Islamiyat. Cadet College selected Examination Centers Peshawar, Multan, Rawalpindi, Islamabad, Lahore, Faisalabad, karachi, Quetta, UAE, and Jaddah Saudi arabia.
Admission to Class VIII / 'O' Level
Admission to this College is done only once in a year in Class VIII/GCE 'O' Level. Applications are invited by the mid of October and The test is conducted in the 2nd week of November each year.
THIS TIME, THE LAST DATE TO APPLY IS 15TH OCTOBER, 2019 AND WRITTEN TEST WILL BE HELD ON 9TH NOVEMBER, 2019
"NO APPLICATION IS ACCEPTED AFTER DUE DATE".