Warid Telecom offers New Big LTE Internet packages for postpaid and prepaid customers. The whole monthly packages can provide your 10GB to 12GB Internet in which Nights are free.
Internet Bundles              Price (PKR)          Volume                Validity
Monthly Giant*                1000       10 GB                   30 Days
Monthly Mega*               1200       12 GB                   30 Days
Night Free Package:
Get Free Internet in Nights till 5th May 2016 by subscribing to Monthly Giant or Mega Bundle.
How to Activate Package:
Dial *777# for LTE menu to subscribe to any package and check your internet balance
Or
Dial 321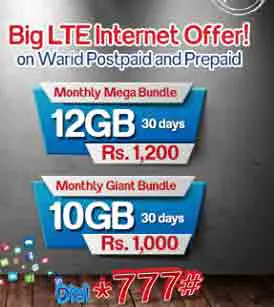 Terms and conditions:
Terms and conditions of LTE Internet Bundles apply, for details visit Prepaid & Postpaid LTE bundle web pages Standard applicable taxes apply Free Nights will only be given with Giant and Mega Bundle Free Nights are a limited time offer, valid till 5th May 2016 only, bundles will continue as it is after wards These nights will be auto provisioned Free Night usage time duration will be 1 AM to 8 AM For Prepaid: Fair usage policy of 1GB/night will apply For Postpaid: Fair usage policy of 60GB volume for night applies valid till 5th May 2016When allotted volume for nights is consumed, usage will be from subscribed bundle Subscribing to these bundles more than once or collectively will not add up free night volume