PU has not announced yet Result of BA and BSC the Result of BA and BSC will be online after EID Holidays. the official news from University of the Punjab has not announced the fix date of BA and BSC Result date but the its almost or expected is from 5 to 15 September 2018. The Graduate Result will be online through pu.edu.pk and you can also submit your roll number through below comment session and we will send you your result online. The BSC and BA Position holders list will be published here same like previous years we are showing below PU BA and BSC Results online as well the top position holders will be published on this page. The Bachelors degree Result of Punjab University will be online after Eid ul adha that will be held on dated 02 September 2018 Saturday. after few days of vocation, you need to visit again us and official pu.edu.pk website to know the exact date of announcement of BA and BSC Results online. the Results will also available at PU Lahore Quaid E Azam Campus at Exams Office if you receive any error during checking Results online.
Result of BA BSC will be announced on date 10 September 2018
Punjab University PU Lahore BA / Bsc Results 2018 Details and Position Holders Detail: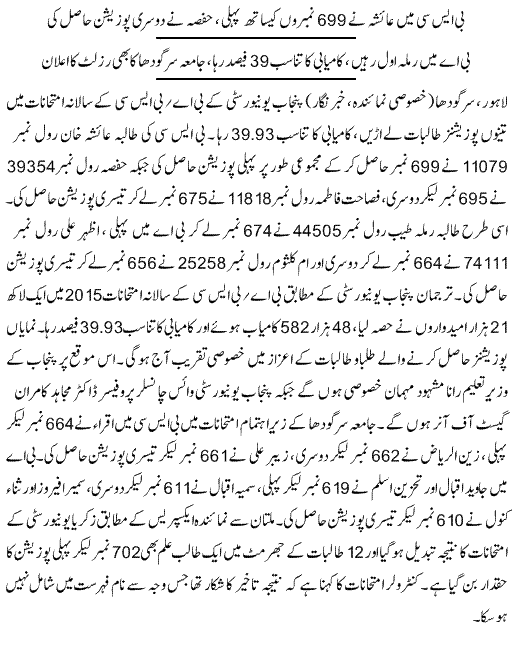 University of the Punjab Lahore is going to announce BA and B.sc Graduation Results on dated 27 August 2015. PU Lahore Annual Examination of BA and B.sc held I two months ago.

LAHORE: (Monday, August 17, 2015): The PU has started advance booking of result gazette CD's of BA/BSc Annual Examination 2015 and 100 CD's will be sold on 'first come first serve' basis for Rs 300 each CD. In this regard, the applicants should submit an amount of Rs 300/- in the HBL New Campus Branch Punjab University Lahore in favor of Treasurer and submit the original receipt to the office of Assistant Controller Examinations and can obtain a token till August 24. The CD's will be handed over to the customers from the office of Assistant Controller BA at 7am on the day of result declaration. The CD's will not be provided on cash payment.
After than the position holders ceremony will be held on dated Morning 9:00 AM.