University of Balochistan Admission 2023
The University of Balochistan, a famous institution of higher learning in Pakistan, will begin accepting admission applications in Bs 5th Semester through Bridging Semester.
Applications in the following study programs of BS are invited:
Faculty of Basic Science
Faculty of Management Sciences, Business and & IT
Faculty of Education & Humanities
Faculty of Literature & Languages
Faculty of Life sciences
Faculty of Environmental Sciences
Faculty of social sciences
University of Balochistan also offers B.ED of 1.5 years in three shifts.
Morning
After noon
Evening
How to apply?
Sign up with your profile in the following link and start filling your application form.
http://cms.uob.edu.pk/studentprofile/
Eligibility Criteria:
Admission will be granted in accordance with university policy in all teaching departments.
There will be at least 25 to 30 seats total available.
Tests and interviews will be held in all relevant teaching departments, institutions, centres, and sub-campuses for the qualified applicants.
Each applicant must appear for the departmental admissions test.
If a candidate does not pay admission fees by the deadline, their admission will be canceled, and the next application on the waiting list will be given preference. In this situation, he or she cannot claim admission; but, if seats were available in the relevant department, he or she would be offered the opportunity to submit the required fees.
Admission Schedule:
| | |
| --- | --- |
| Portal open for submission of online application | 18 February 2023 |
| Last date of submission of admission form | 03 March 2023 |
| Test/ Interview | 08 & 09 March 2023 |
| Display of 1st Merit list | 10 March 2023 |
| Deposit of Admission dues | 10 to 15 March 2023 |
| Commencement of classes | 21 March 2023 |
Deadline: 03 March 2023
Important Link:
For details regarding eligibility criteria, bank challan and online application form please visit the link given below:
http://cms.uob.edu.pk/ugso/admission.html
University of Balochistan Quetta Open admissions in different fields, Admissions session 2023 BS Program Semester System, M.com self-finance semester system. All the candidates seeking admission in M.com self-finance are informed through this advertisement.
UOB all concerned to please note that the date for submission of application forms in master / BS degree programs 2023 is hereby extended till 05-08-2023. The concerned departments will receive application forms complete in all respect during office timing up to the last date. However the schedule of entry test and interview in intact as per advertisement.
The candidates applying for admission under category B and C will submit their admission forms complete in all respects in office of the undersigned positively.
Last Date for submission of admission application from: 03 March 2023
Departmental test: 08 to 09 March 2023
Interviews: 14 April 2023
Deposit of admission fees: 16 April 20232
Commencement of classes: 19 April 2023
Eligibility for Admission in M.com:
Candidates who have passed B.com will be eligible for admission.
Eligibility for Admission in BS IT Computer science:
FA / Fsc / DAE / ICS or its equivalent
Eligibility B.Ed Hons 5 semester and 3 semester Education:
FA / Fsc / DAE / ICS or its equivalent age 17-25 years old maximum 40 years for the in service teachers, age limit will be consider till the last date for the submission of admission forms.
Availability of application Forms:
Application forms along with prospectus can be obtained from HBL University Branch/ ABL University Branch by depositing Rs. 1000/- each from 13-03-2023 to 19-03-2023 and will be submitted in the department of commerce complete in all respects last date for submission of application form is 05-03-2023 after expiry of last date no form will be entertained for admission in M.com.

University of Balochistan Quetta Also offering Admissions in PhD Programs Mathematics, Physics, statistics, chemistry, psychology, Islamic studies, geography, center of excellence in mineralogy, zoology, botany, CASVAB, Institute of biochemistry, Microbiology, Brahui, Balochi, Pashto, Urdu, English literature, commerce, Computer science Information technology, Political science, Disaster Management and development studies.
Eligibility for Admission in PhD:
30 credit Hours M.Phil / MS or equivalent degree along with 06 credit hours research CGPA of 3.00 on scale of 4.00 or 60% marks annual system in the relevant subject from any recognized university is a prerequisite. In case of foreign degree equivalence certificate from HEC will be mandatory as per HEC rules.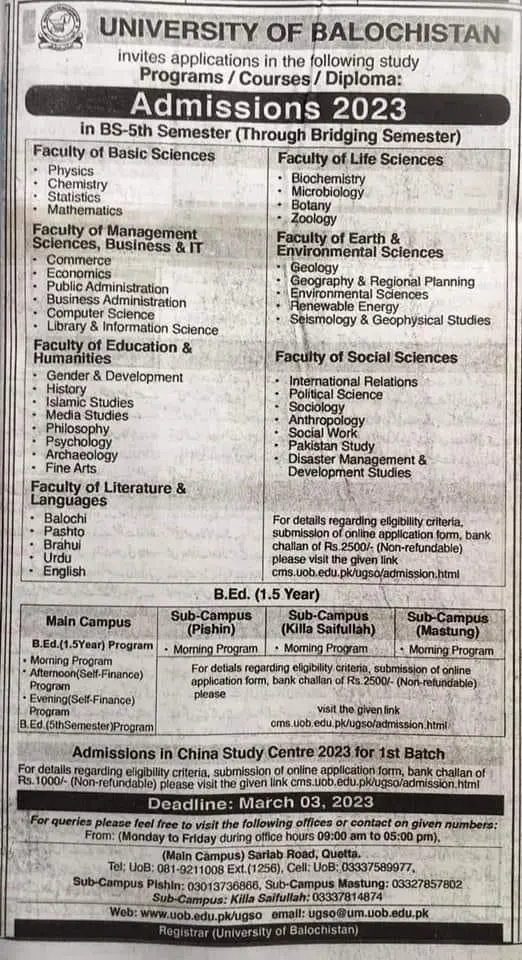 Written test / subject eligibility criteria of individual disciplines will be provided by the concerned department / institute / center.
University of balochistan Quetta open admissions session 2023 bachelor degree programs sub-campuses kharan and mastung. The selected candidates or merit list will be uploaded at uob.edu.pk.