PMC MBBS BDS Admission 2021 Apply Online Merit List Medical Colleges
Pakistan Medical commission opens online portal for admission in private medical and dental colleges of Pakistan for session 2021.
The MDCAT Result was announced recently.
How to apply online:
The students can apply online through online portal pmc.gov.pk that will be open from today date 19 December 2020 till date 08 January 2021. PMC will accept online admission application only. No any admission application will be accepted through courier or by mail.
All PMC affiliated medical and dental colleges of NUMS (National University of Medical Sciences) and Agha Khan University can apply through PMC online portal. Any student who wants to apply through specific college shall be required to apply directly to the relevant university.
Students can select the college during online admission application either MBBS or BDS.
PMC Admission Eligibility Criteria:
Minimum 60 percent or above in FSC / HSSC or A Level equivalent IBCC certificate.
60 percent or above in MDCAT or SAT 2 for foreign students only in case of SAT II 60 % or above in each subject required.
Note:
If any student is not meets the eligibility criteria or requirements, student will not able to submit admission application. Foreign students shall be strictly on the basis of merit and no exception or special quota shall be created for foreign students.
Documents Require during Submit online application:
Personal photo of student
CNIC or Passport
FSC / HSSC / A Level document
SAT II document (if applying on the basis of SAT II)
Merit Generation Criteria:
FSC / A Level IBCC Equivalence certificate 30 Percent
MDCAT / SAT II: 50 Percent
Interview: 20 Percent (interviews will be conducted by the college)
At the end of admission application process, merit will be generated out of 80 percent as prescribed above. The remaining 20 percent will be decided by the colleges as a part of interview.
The college shall add the score of the interview and consolidate with the MDCAT / FSC based merit aggregate of the student issued by PMC.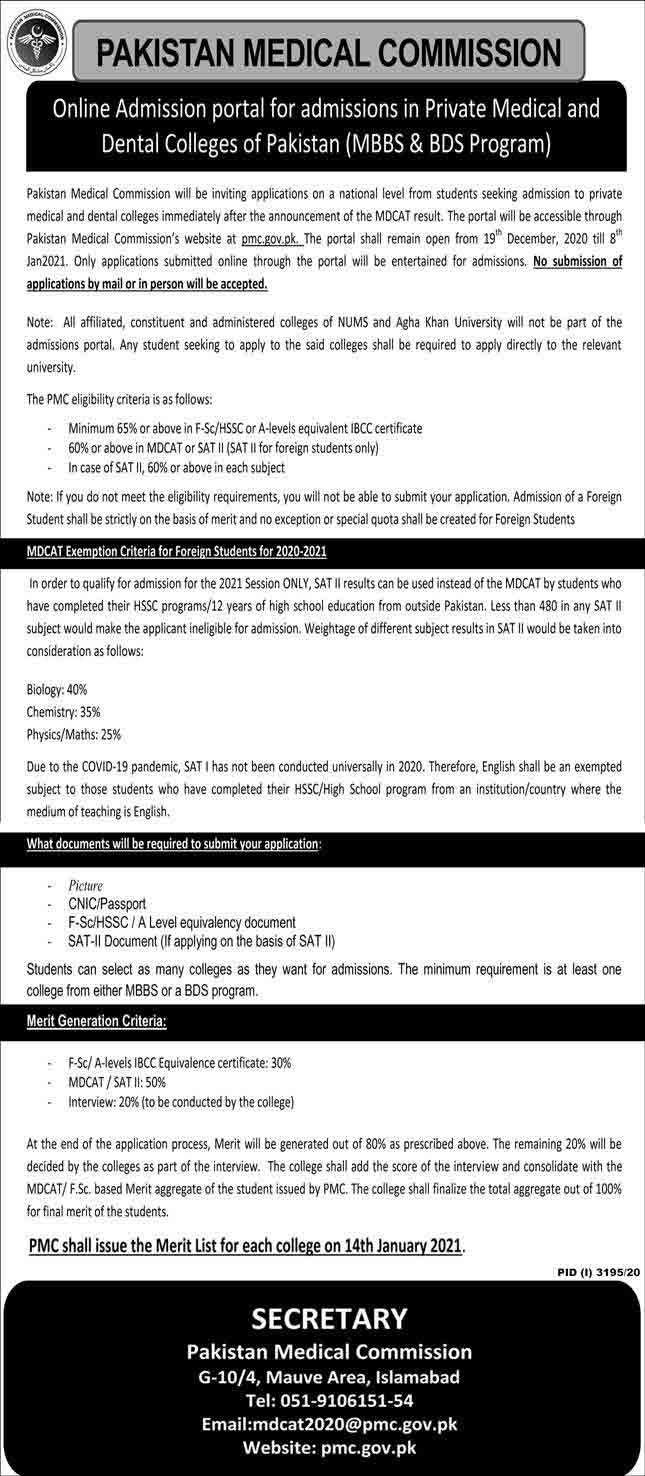 Read Also:
Aggregate Calculator for MBBS/BDS 2020 MDCAT Merit Formula
The College will finalize the total aggregate out of 100 percent for final merit of the students.
  PMC shall issue the merit list for each college on 14 January 2021
Nishtar Medical College Multan Admission 2021 Merit List
Rahbar Medical & Dental College Admission 2021 Entry Test Merit List
Shalamar Medical College MBBS Admission 2021 Entry Test Merit List
Avicenna Medical College Lahore Admission 2021 Merit List
Abbottabad International Medical College Admissions 2021 Last Date
Akhtar Saeed Medical Dental College Admission 2021 Merit List
Allama Iqbal Medical College Admission 2021 Merit List Test Result Date
Indus Medical College Admission 2021 Entry Test Merit List
FMH College of Medicine & Dentistry Lahore Admission 2021 Merit List
Wah Medical College Admission 2021 Merit List Fee Schedule
Bacha Khan Medical College Admission 2021 Merit List
Lahore Medical & Dental College Admissions 2021 Entry Test Last Date
Sialkot Medical College Admission 2021 Form MBBS Merit List
ABWA Medical College Faisalabad Admission 2021 Merit List