Pakistan Steel Cadet College Admission 2021-2021 Entry Test, Pakistan Steel College is a 2nd oldest Cadet college in the Sindh province Approved by GHQ Affiliated with government of Sindh and BSE and BIE Karachi. Pakistan steel cadet college Karachi opens admission in class 8th session 2021.
PSCC invites admission applications from 7th class pass students. Pakistan Steel Cadet College is college only for boys for admission in VIII, the age of student must be between 12 to 14 years old till date 31 March 2022, and the student must have 7th class degree or studying in 7th class and can get Pass: hope certificate from his school.
Application Deadline:
Last Date for receipt of complete application forms: 29 August 2021
Last Date With written examination fees Rs. 500 Last Date: 29 August 2021
With written test fees and late fees Last Date: 29 August 2021
With Late Fees Rs. 500 and Written test fees Rs 500 Total Fees 500 and last Date:29 August 2021
No any admission form will be accepted after date through mail.
How to contact Pakistan Steel Cadet College:
Email Address: mypscc7510@yahoo.com
Phone Number: +92-21-99264308 and +92-21-34157884 and Fax Number is 021-34721945.
Admission Form and Prospectus:
The admission form and college prospectus available at college campus with the payment of Rs. 1000/- by hand or by mail, 1250/- payment is to be made through pay order / bank draft in favor of principal, Pakistan Steel Cadet College Karachi 75010.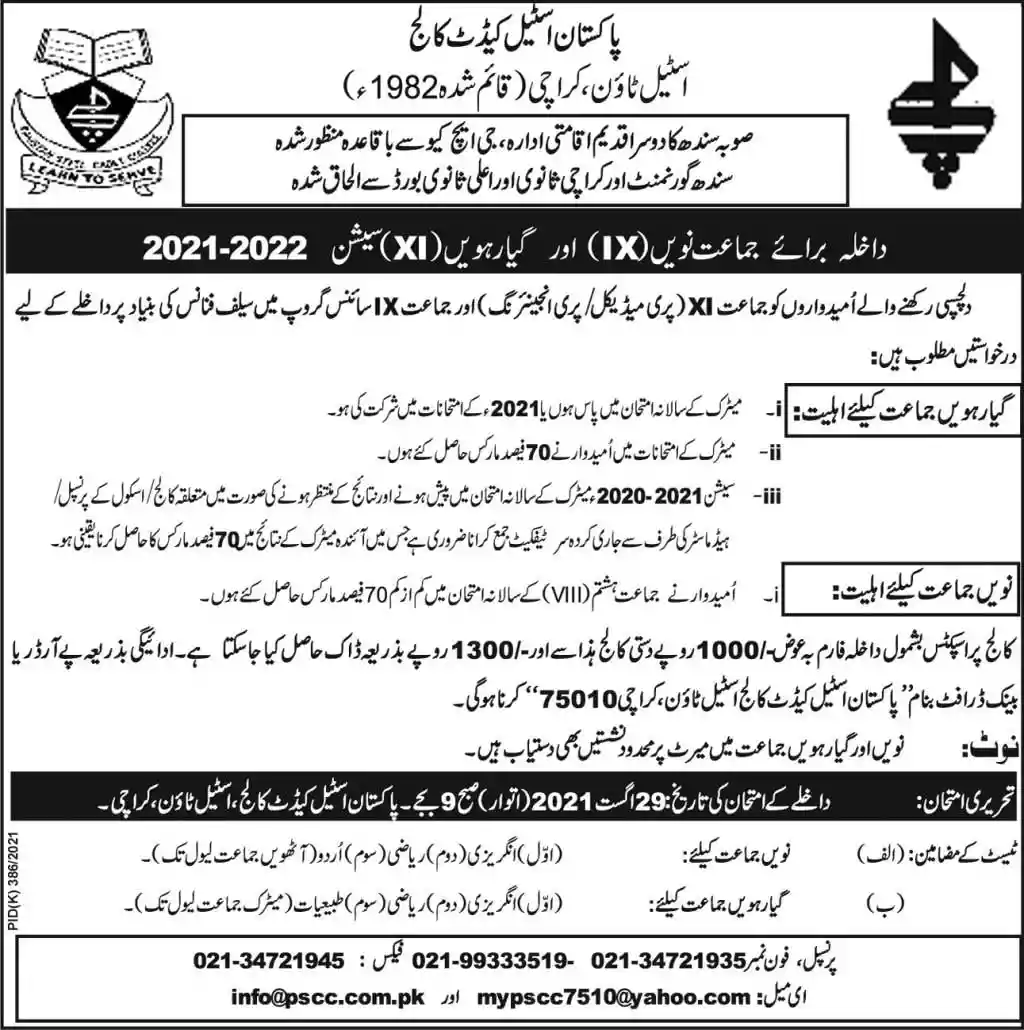 Entry Test
The entry test will be held on date 29 August 2021 in Karachi, sukkur, Multan, Lahore, Islamabad, Faisalabad, Peshawar and Quetta city centers.
The applicant who will appear in entry test will be give following subjects written entry test.
English
Mathematics
Urdu / Islamiyat
General Science
General Knowledge
Read Also: Cadet College Sargodha Admission 2021 6th 7th 8th 11th Class Entry Test
The entry test of above subjects will be held according to syllabus given in prospectus.
Note: subject to receipt of reasonable number of applications from UAE and Saudi Arabia written test may also be held at Abu Dhabi / Dubai, Riyadh and Jeddah city of Saudi Arabia.
Read Also: Pakistan Scouts Cadet College Batrasi Admission 2021 Test Result