Cadet College Mamad Gat Admission 2022 Entry Test Result
Cadet College Mamad Gat is newly established cadet college. It's a first entry Batch, Cadet College mamad Gat starts taking admission applications from date 03 November 2022. Government of Khyber pakhtunkwa Cadet College Mamad Gat opens admission for following Classes:
8th Class
11th Class
Eligibility for 8th Class:
The students must have 7th class pass degree or currently studying in 8th class is eligible to apply.
The Age limits of applicant minimum 12 years and maximum 14 years old as on date 01 April 2022.
Eligibility for 11th Class:
Students currently studying in 11th class or must have pass 9th class with minimum 70 percent marks and hope certificate with minimum 70 % marks in case of student of 10th class.
Age limit of candidate minimum 14 Years and maximum 16 years old till date 01 April 2022.
How to submit Admission Form:
The admission application form available from date 03 November 2022 from college office during office timing, admission form also available at cadet college warsak and you can also download from below.
Bank deposit of Rs. 500/- must be submit with admission application form, as an entry test processing fee, students and their parents can deposit Rs. 500/- to Cadet College Mamad Gat Account Number: UBL A/C No. 1384-265389623.
The original deposit slip must be attached with admission application form.
Admission form must be submitted with following documents:
Copy of Form B
Domicile certificate
Fathers CNIC
Previous school leaving certificate
Marks sheet
Deposits slip (Rs. 500)
Hope certificate
Service Certificate (death certificate only for Wards of Shuhada)
All above documents and admission application by hand to Cadet College Warsak or through registered Pakistan post.
 Application deadline: 13 December 2022
Admission Quota:
Students applying for Mohamand, Bajaur, and Khyber Districts Quota should have passed the previous class from the school of same district.
Mohamand, Bajaur, Khyber district: 59 percent (50 students per class)
Open Merit (All Pakistan): 23 % (20 students per class)
Wards of Shuhada: 13 % (10 students per class)
Balochistan Province: 5 % (4 students per class)
Written Entry Test Schedule:
The written entry test of 8th class will be held on date 03 January 2022 Sunday at following entry test centers:
Students from Mohamand Tribal Distirct: Mohamand Model School Ghazi Baig
Bajaur District Students: Khar Public school Tehsil Khar
Khyber Tribal District students: Fort Salop (headquarter Mahsud Scouts Cadet college Warsak)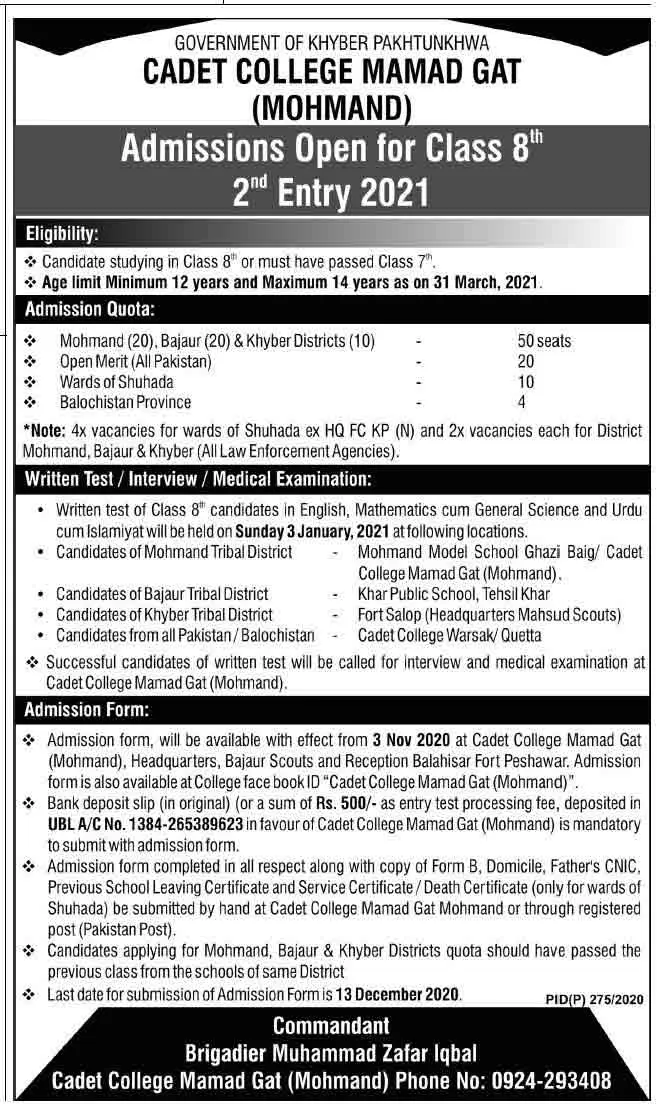 Read Also: Cadet College Murree Admission 2022 Form Fee 5th to 11th Class
Entry Test subjects:
English
Mathematics
General Science
Urdu
Islamiyat
The schedule of written entry test of 11th class will be shared later.
Successful candidates of written test will be called for interview and medical examination at cadet college Warsak.
Apply Here Also: Military College Sui Admissions 2022 Entry Test Result