Join Pakistan Marine Academy as Engineering Cadets
Join Pakistan marine academy as nautical and engineering cadets for session 2020-2021.
Eligibility Criteria:
Pakistani national having age limit not more than 20 years old till date 31 December 2020. The applicants from FATA / Gilgat balistitan / Baluchistan age limit 21 years old till date 31 December 2020.
Education:
HSSC Intermediate with engineering subjects physics, chemistry and mathematics with minimum marks 55 percent. The students who are awaiting their results can also submit job application form.
The result awaiting students have to bring hope certificate from their college / institute.
Total Empty Seats:
Open merit: 150 in which engineering 75 and nautical 75
Self-finance: 20 in which nautical 10 and engineering 10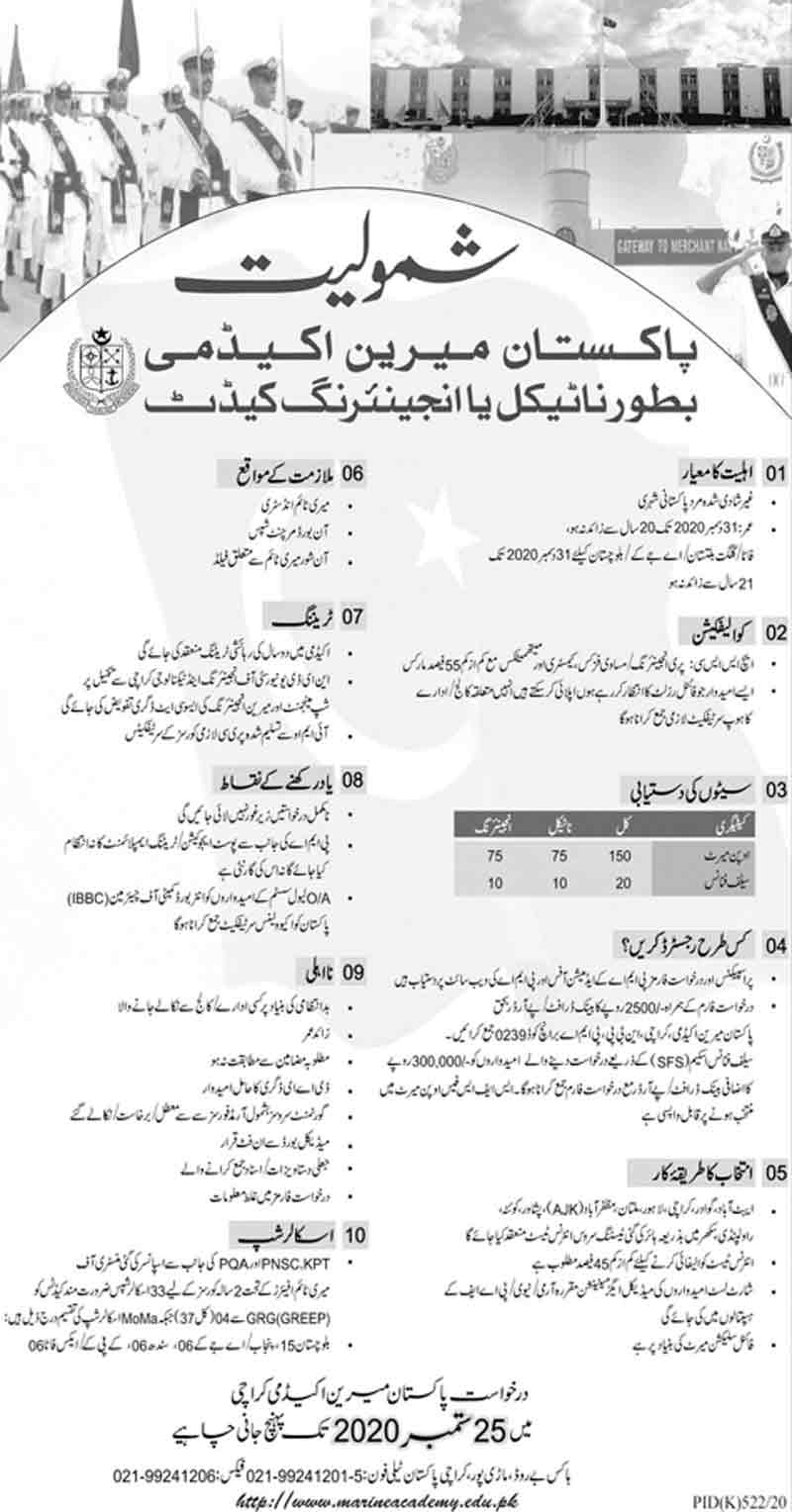 How to register:
The college prospectus and form available at college website and PMA centers. Submit application form with pay order Rs. 2500/- to Pakistan marine academy Karachi NBP, PMA branch code 0239.
The self-finance students have to submit Rs 300,000/- with application form.
Selection Centers:
The entry test will be held in following city centers:
Abbottabad
Gawadar
Karachi
Lahore
Muzaffarabad AJK
Peshawar
Quetta
Rawalpindi
Sukkur
The medical test will be taken Short listed candidates through Medical Centers of PAF, Navy and Pakistan Army hospitals.
The final merit list will be display after.
Last Date to submit Application form: 25 September 2020
Read Also:
Pakistan Marine Academy Admission 2020-2021 Test Result