Degrees will be awarded to students graduating from national university of modern languages during the below mentioned sessions subject to registration by due date.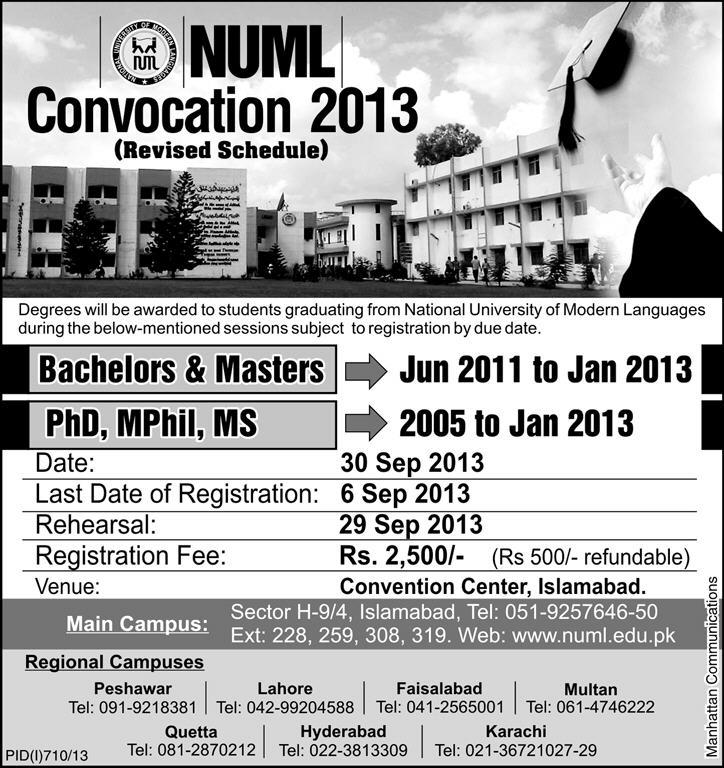 Bachelors and Masters: June 2011 to Jan 2013
PhD, MPhil, MS: 2005 to Jan 2013
Date of Convocation: 30-September-2013
Last Date of registration: 06-September-2013
Rehearsal: 29-September-2013
Registration Fee: Rs. 2,500/- (Rs. 500 Refundable)
Venue: Convention Center Islamabad.
The other details and contact numbers given below.
Good Luck National University of Modern Languages.
1. Attendance in Rehearsal on Sunday 29 September 2013 is mandatory for all graduates attending the convocation at 9 a.m.
2. Graduates will be issued academic robes on hire at the Convention Center by authorized company.
3. Graduates must pay Rs. 1000/- each to the company as rent of the robes. They will get back Rs. 650/- on return of gown, hood and cap after the convocation.
4. Graduates and their guests must bring their original NIC without which they will NOT be allowed to attend the ceremony.
5. Mobile phones, cameras and hand bags are strictly prohibited.
CONVOCATION :30 Sep,2013
LAST DATE OF REGISTRATION : 23 Sep,2013
REHEARSAL : 29 Sep,2013
REGISTRATION FEE : 2500/- (Rs 500/-refundable)
VENUE: CONVENTION CENTER,ISLAMABAD