CONVOCATION 2013 details: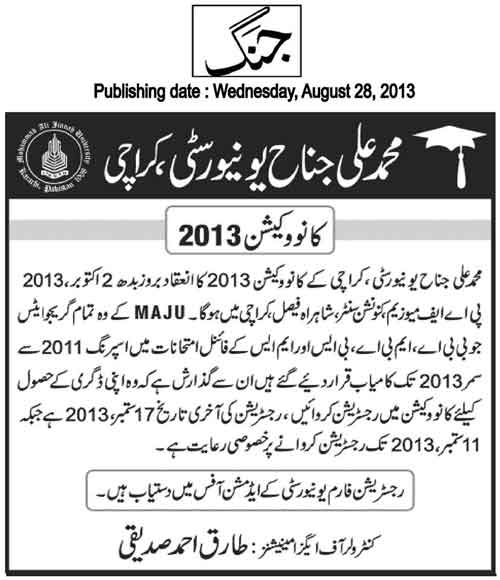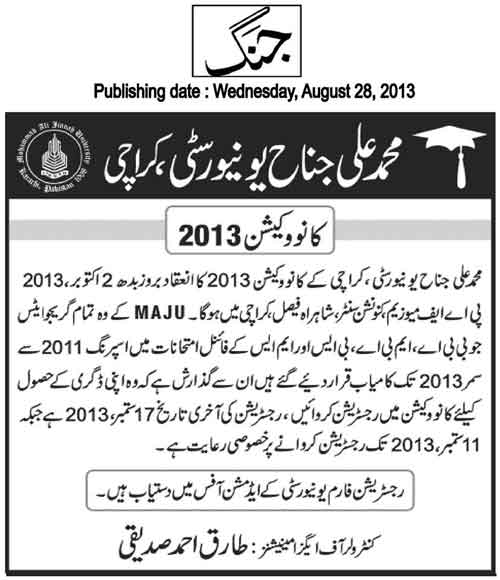 Instructions for Registration & Degree Recipients
01. For security reasons, admission to the venue / convocation will be strictly on the production of valid invitation card with addressed envelope and only the invitee will be allowed. The card is NOT TRANSFERABLE. Cards will be issued from 20th – 27th September, 2013 to registered degree recipients only.
02. No invitee is allowed to bring infants / children (under 12 years of age) with them. Please therefore avoid such embarrassing situations.
03. Academic costumes will be available on the additional payment of Rs. 1350/- (Rs. 350/- is rent of academic costume and Rs. 1,000/- as security deposit which is refundable upon return of academic costume) through the Rizvi Tailors stall infront of Convocation Office – Campus II.
Academic costume Issuance date: From 20th – 27th September, 2013.
Academic costume Return date: From 3rd – 9th October, 2013.
04. Only Two Guests are allowed with the degree recipient.
05. 5.Degree fees is separately charged and not included in Convocation registration fees.
06. Full Dress Rehearsal for the convocation will be held on Sunday, September 29, 2013 at 10:30 a.m. at the same venue. Please attend the rehearsal session (of about TWO hours). You must be in academic costume for the rehearsal.
07. Chewing of PAN and GUM and bringing any sports goods is prohibited in the Convention Centre – PAF Museum premises.
08. Smoking during convocation and in the dinner area will not be allowed.
09. Sunset on convocation day is about 06:20 p.m. Arrangements for Maghrib prayer will be made at site.
10. Seating arrangements and procession form up will be told to the degree recipients by the staff / ushers on duty.
11. Utmost punctuality is to be observed according to the given program. Shahrah-e-Faisal is, at times, traffic congestion area. Please keep enough margin to reach in time. Once the ceremony is called to order, no degree recipient will be allowed to join the form-up.
12. Degree recipients without prescribed academic costume will not be allowed to join the form-up.
13. Further information if any may be had from the Admission office or from the undersigned.
AHMER UMER
CONVOCATION OFFICE