National Bank of Pakistan NBP CA Trainee Program 2022
National bank of Pakistan NBP Joins hand with institute of Chartered Accountants of Pakistan ICAP to provide CA Trainee Program Session 2022. The training based on articles to the students of Chartered Accountancy.
NBP Joins hands with ICAP to launch CA Trainee Program. National bank of Pakistan launching this program in line with its vision to be the national leading bank enabling sustainable growth and inclusive development.
Eligibility Criteria:
Position Title: CA Trainee
Age limit: 21 to 26 Years
Nature: Engagement on a Trainee Contract for a 3 to 4-year period of Article ship in pursuance of the CA Qualification with ICAP.
CAF Passed or equivalent there to: 3.5 Period (years)
Location: Karachi Head office.
Benefits of Joining the CA Trainee Program at NBP:
Rotated Placement of Trainees in following departments:
Finance
Audit
Risk Management
Operations Department
Compliance
Treasury
Information Technology
The selected candidates will be get monthly stipend during the trainee contract as well as support for deserving trainees through reimbursement of the cost of approved study materials as well as examination fees.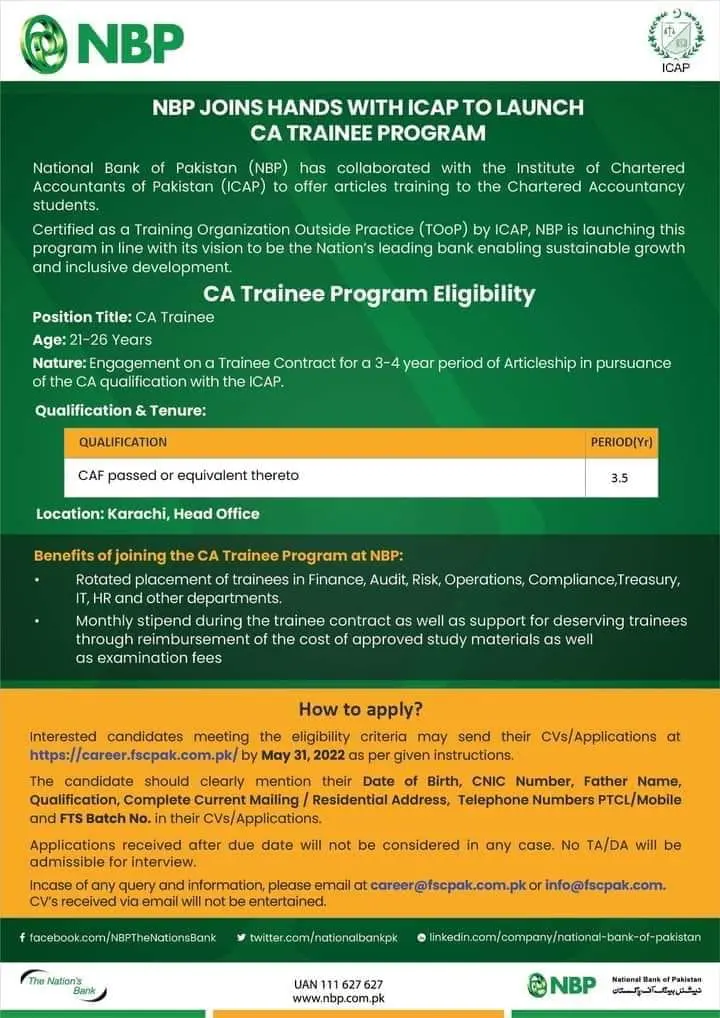 Last Date to submit Trainee Application form: 31 May 2022
How to apply:
The applicants can submit Training application form with CV Resume online through www.career.fscpak.com.pk before last date 31-05-2022.
During filling training application form the applicant should clearly mention their date of birth, CNIC Number, Father Name, Qualification, Complete Current Mailing and Residential address, Phone number PTCL/ Mobile Number and FTS Batch Number in their CV / Resume. No any application will be entertained after date 31-05-2022 and TA and DATA will not applicable to any candidate after the interview or tests. The selection list will be display after the test and interviews.
National Bank Student Loan Scheme 2022 NBP Application Form