kamyab Pakistan program online registration 2022
Prime minister of Pakistan Imran Khan launched Kamyab Pakistan Program for Pakistani Youth and Needy people. The idea of Kamyab Pakistan Program is to become successful and provide the faculty for youth and to become success in different fields.
Kamyab Pakistan Program included as follows:
Loan without Interest:
Unde Kamyab Pakistan Program federal government and Punjab Government Providing Loan Scheme for students and Youth of Pakistan to start-up the own business, more information and how to apply can find below details:
PM Kamyab Jawan Program 2022 Loan Scheme 
Kamyab Kisan Program:
Kamyab Kisan Program will helpful for Kisans of Pakistan to get Loan and other necessary things on special discount from government of Pakistan for more details about Kamyab Kisan Program find below detail:
PM Punjab Kisan Loan Scheme 2022 Complete Details, Forms
Kamyab Karobar (Apna Rozgar Scheme):
Kamyab Karobar and Apna Rozgar Scheme is helpful for Youth and New startups to get the loan from government to start their own business. Actually, as per vision of PM Imran Khan that Youth must start their own business instead of searching Jobs in government.
CM Punjab Apna Rozgar Scheme 2022 Download Application form
Free Technical Training Programs:
Government of Pakistan providing free technical training programs for Youth in different fields to become Technical Youth and find Jobs and start own business because without technical Youth cannot be successful in any field. So, students can get free technical training program in all over the Pakistan because government of Pakistan affiliates many institutes to provide free technical education and after that government of Pakistan will provide the financial support for those colleges and universities.
PM Youth Training Internship 2022 Scheme Kamyab Jawan Apply Online
New Pakistan Housing Scheme (Sasta Ghar Scheme Mera Pakistan Mera Ghar):
As before Election Prime Minister Imran Khan Promise to provide the Housing to all needy people of Pakistan, to complete to Imran khan vision Government of Pakistan start Naya Pakistan Housing Schemes in all over the Pakistan. Applicants can take house with easy instalments.
Naya Pakistan Housing Program 2022 Online Registration Form
Kamyab Hunarmand Jawan Program:
The complete details about Kamyab Hunarmand Jawan program available below. Government is providing Technical education for the Youth to Become Technical Pakistan.
How to Apply for PM Hunarmand Pakistan Program 2022 Apply Online
Health Card Program:
PM Imran Khan Health Card Program providing healthcare to all needy people to take medical with health insurance. The applicants can apply online as more information below:
PM Health Card Program 2022 Online Registration Form Eligibility
How to apply for Kamyab Pakistan Program:
The Youth of Pakistan can apply online through SMS Registration. For the registration, online applicants can send SMS Your National Identity Card ID to 5771.
Applicant verification through Ehsaas Program.
Verification from Nadra.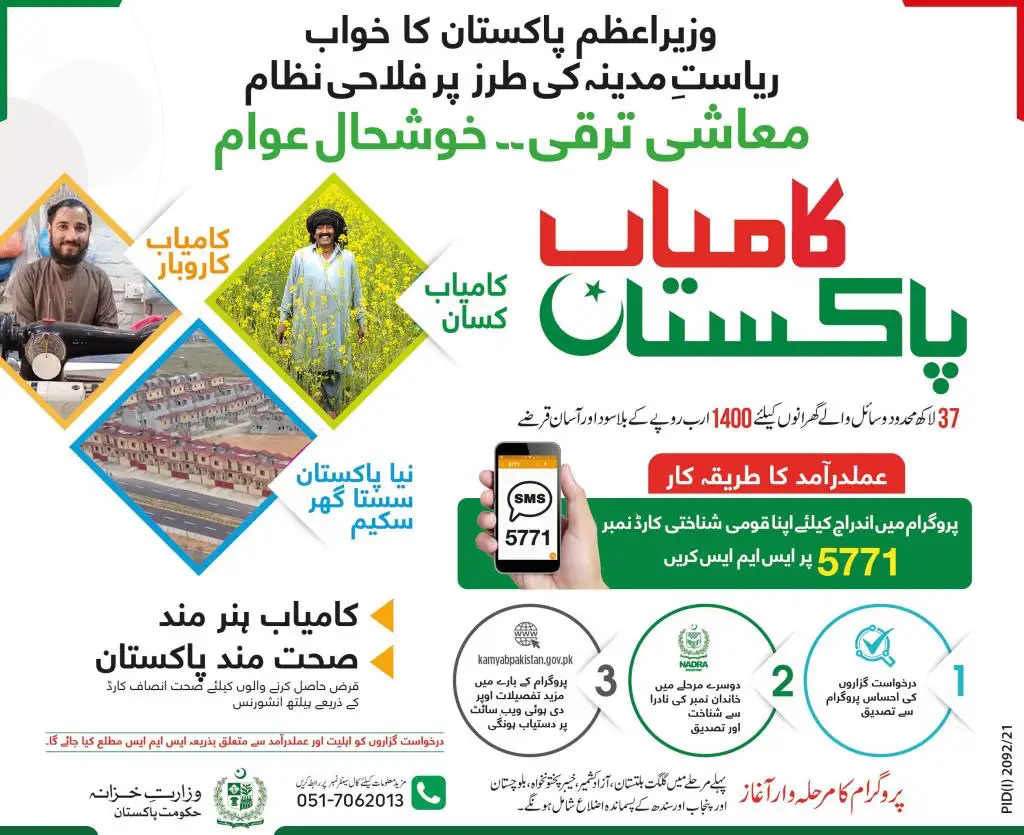 Ehsaas Amdan Program 2022 Small Business Loan Opportunity
The applicants can get more details about Kamyab Pakistan Program on www.kamyab.gov.pk.
prime minister loan scheme 2022 online apply
kamyab jawan program loan nbp online apply 2022
kamyab jawan program phase 2 online registration form
kamyab jawan program application form bank of Punjab
kamyab jawan program.gov.pk online registration
Kamyab Jawan loan application form
Please provide required information in all sections as all sections are mandatory.
For all complaints, please visit Pakistan Citizen Portal App.
Please fill in the required fields of Applicant's CNIC, Issue date and DOB correctly as they are to be verified by Nadra.
YES! Application Form: Apply Here