ICC World Cup 2015 quarter final Date Schedule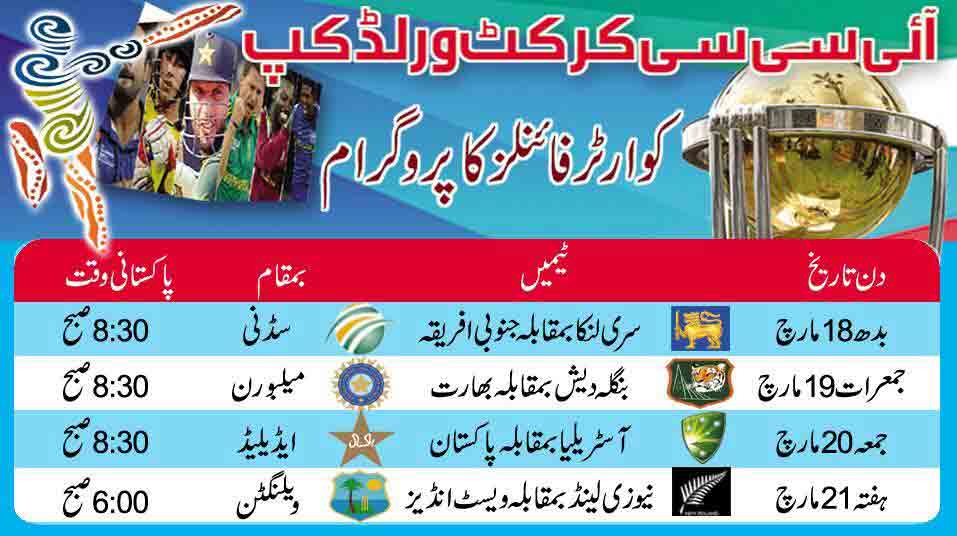 International cricket council World cup 2015 Quarter final will be start from 18 March 2015 till 21 March 2015. Sri Lanka, South Africa, Bangladesh, India, Pakistan, Australia, New Zealand, and West indies reached in Quarter final matches. Four winner teams will be in sami final of World Cup 2015.
Quarter Final Match Program, Dates, Schedule:
1st match on 18 march 2015 will be held at sydney city cricket ground between Sri Lanka and South Africa
2nd march on March 19, 2015, this match will be held at Melbourne Cricket Ground between Bangladesh and India.
3rd Quarter Final will be held dated 20 March 2015 at 6:00 AM Pakistan standard time, between Pakistan and Australia, Pakistan must be win this match to reached sami final, if Pakistan will won the match, Pakistan will be played in sami final with Indian and after losing india Pakistan will be in Final. Good Luck Pakistan.
4th Match on dated 21 March 2015 between New Zealand and West indies in Wellington on 21 March 2015 at Pakistani standard time: 6:00 AM morning.