University of Health Science Lahore MS & PhD Foreign Scholarships
Applications under Higher Education Commission funded project are invited from candidate possessing medical, dental or health professional qualification duly recognized by Pakistan Medical & Dental Council and / or Higher Education Commission of Pakistan in the following disciplines for the grant of scholarships for pursuing higher studies leading to award for MS or PhD degree in HEC identified world top ranked universities: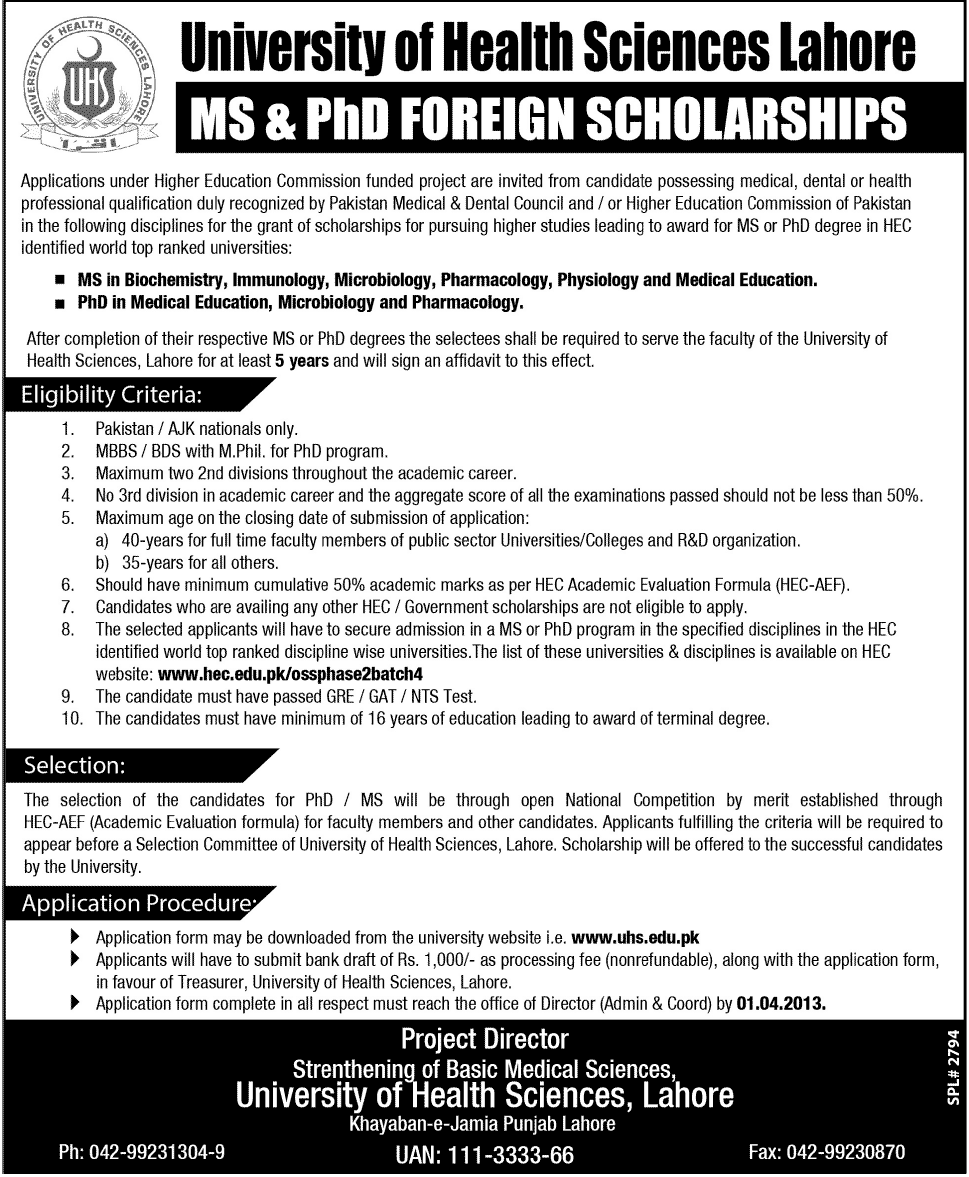 MS in Biochemistry, Immunology, Microbiology, Pharmacology, Physiology and Medical Education.
PhD in Medical Education, Microbiology and Pharmacology
After completion of their respective MS or PhD degrees the selectees shall be required to serve on the faculty of the University of Health Sciences, Lahore for at least 5 years and will sign an affidavit to this effect.
Eligibility Criteria:
Pakistan / AJK nationals only.
MBBS / BDS with M.Phil. for PhD program
Maximum two 2nd divisions throughout the academic career
No 3rd division in academic career and the aggregate score of all the examinations passed should not be less than 50%.
Maximum age on the closing date of submission of application:

40-years for full time faculty members of public sector Universities/Colleges and R&D organization.
35-years for all others.

Should have minimum cumulative 50% academic marks as per HEC Academic Evaluation Formula (HEC-AEF).
Candidates who are availing any other HEC / Government scholarships are not eligible to apply.
The selected applicants will have to secure admission into a MS or PhD program in the specified disciplines in the HEC identified world top ranked discipline wise universities. The list of these university & disciplines is available on HEC website: www.hec.edu.pk
The candidate must have passed GRE / GAT / NTS Test.
The candidates must have minimum of 16 years of education leading to award of terminal degree.
SELECTION:
The selection of the candidates for PhD / MS will be through open National Competition by merit established through HEC-AEF (Academic Evaluation formula) for faculty members and other candidates. The applicants fulfilling the criteria will be required to appear before a Selection Committee of University of Health Sciences, Lahore. Scholarship will be offered to the successful candidates by the University.
APPLICATION PROCEDURE:
Application form may be downloaded from the university website www.uhs.edu.pk
Applicants will have to submit bank draft of Rs. 1,000/- as processing fee (nonrefundable), along with the application form, in favour of Treasurer, University of Health Sciences, Lahore.
Application form complete in all respect must reach the office of Director (Admin & Cord) by 01.04.2013.
PROJECT DIRECTOR,
STRENTHENING OF BASIC MEDICAL SCIENCES,
UNIVERSITY OF HEALTH SCIENCES, LAHORE,
KHAYABAN-E-JAMIA PUNJAB, LAHORE
Phone: 042-99231304-9 UAN: 111-33-33-66 Fax: 042-99230870