Cambridge English Language Assessment of Pakistan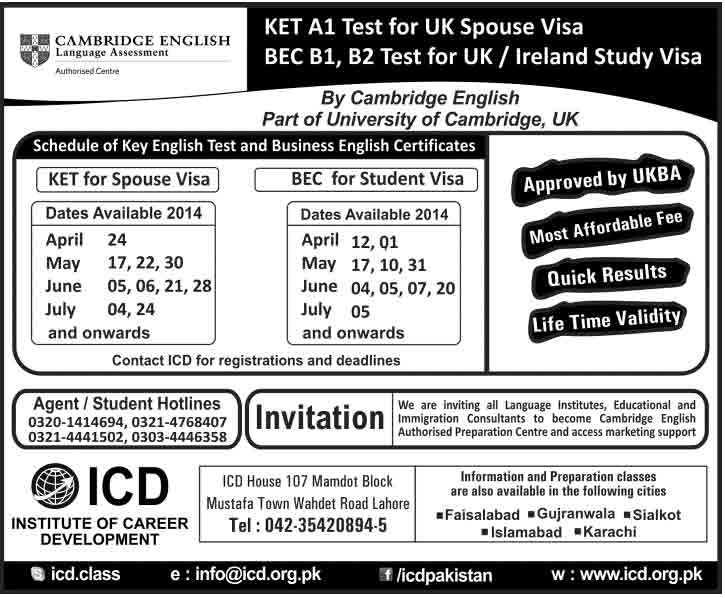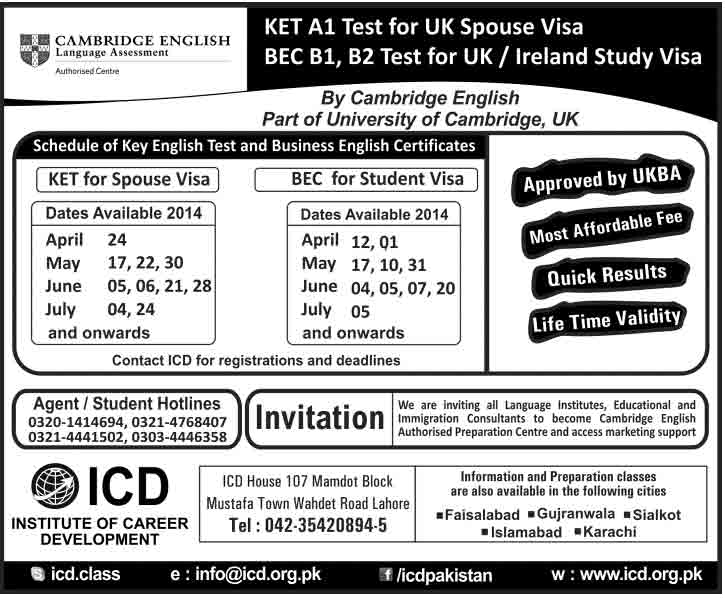 Cambridge English Language Assessment is a department of the world-famous and historic University of Cambridge. Attaining one of its certificates is an achievement and a reward in itself. However, there are many other benefits to taking KET:
•

         A KET certificate is valid for life. You will not need to take the exam again

•

         KET is a truly international certificate, recognised around the world for business and study purposes

•

         thousands of employers, universities and government departments officially recognise KET as a basic qualification in English

•

         although KET is a basic exam, it offers a chance to find out your strengths and weaknesses in using
English, and gives you a pathway to higher qualifications such as the Preliminary English Test (PET) and First Certificate in English (FCE)
KET is at Level A2 of the Common European Framework of Reference for Languages (CEFR) — an internationally recognised benchmark of language ability. The framework uses six levels to describe language ability from A1 to C2. 'Can Do' statements have been used to describe these levels in terms of real language skills.
At A2 level, typical users can be expected to:
•

         understand and use everyday expressions and basic phrases

•

         introduce themselves and answer basic questions about your personal details

•

         interact with English speakers who talk slowly and clearly

•

         Do you have basic English skills?

•

         Can you understand simple written English?

•

         Can you communicate in familiar situations?

•

         Can you understand short notices and simple spoken directions?
Entry Requirements
If this describes your skills now, or describes the level of skills you are working towards, then KET is the right exam for you.