GOVERNMENT OF SRI LANKA PRESIDENTIAL SCHOLARSHIPS PROGRAM FOR UNDERGRADUATE 2021-2022
Applications are invited from eligible students for the award of undergraduate scholarships offered by the Ministry of Higher Education and Highways (MoHEH), Sri Lanka for the academic year 2021/2022 and the courses are to commence in September 2021. Since this is a government to government scholarship program, candidates shall apply for this scholarship with the recommendation of the government nominating agency (i.e. Ministry or the government Institution of his/her country).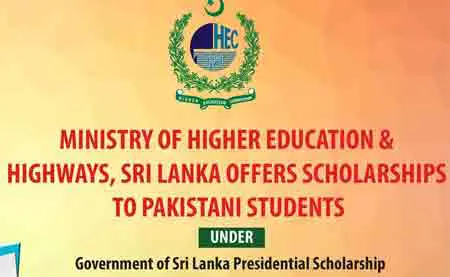 Last date for submission of application form:
Scholarships are open for courses of study other than Medical, Dental Sciences & Engineering.
Medium of instruction is English
Candidates can request for more than one course for securing chances to win a scholarship, identifying their preferences as places are limited in some fields.
There may be instances where requested courses are not possible to offer due to unforeseen circumstances or limited places available in the particular field.
If the given qualifications by the applicant are not compatible with the entry requirements of the university, those applications may not be successful.
When completing the form, please ensure that you provide your full name as appeared in your passport.
Please provide all the supporting documents in English, we require officially translated versions as well as copies in the original language.
Please provide certified copies of all the supporting documents including the certified copies of the relevant pages of your passport, duly authenticated by relevant authorities.
The copy of the certificate and the statement of results should be certified by the relevant Board of Examinations which conducted the examination concerned.
Photocopies of the educational certificates will not be considered for evaluation and result in rejection of the application.
Do not leave any section of this application unanswered. Please write "N/A" in all irrelevant sections.
Scholarship online Application Form: Click Here