The admission is strictly based on merit and the University is open to all persons irrespective of gender, religion, race, creed, color or domicile. Admission shall be granted on the basis of eligibility criteria. Applicants who have appeared in pre-requisite examination prescribed for admission in a program and are awaiting result will be provisionally admitted against an undertaking that they will pass their examination as per admission criteria. Students are required to submit attested copies of their certificates/degrees within two weeks after the declaration of results, failing which the University will cancel their admission. Only those students who complete all formalities and deposit their fees and other dues on the prescribed date would be eligible for registration. Every undergraduate student shall take the full load of the courses prescribed for the semester. A master student, however, will have the option to register for fewer courses. Admission test is applicable to candidates of undergraduate programs only. University will not charge admission and test fee only Prospectus Fee Rs. 1000/-
HITEC University, Taxila Offer MS/PHD Admissions Spring 2022-2023 Apply online now at www.hitecuni.edu.pk
MS/PHD (evening)
Electrical Engineering
Mechanical Engineering
Mathematics
Islamic studies (Morning)
Eligibility criteria:
MS
16 years of education in the relevant discipline.
Minimum CGPA 2.00/4.00 or equivalent.
GAT general with minimum score of 50%.
PHD
MS/M.Phil in relevant discipline
Minimum CGPA 3.00/4.00 or equivalent
GAT subject test with minimum cumulative score of 60% percentile score
Our achievement:
our faculty published 81 last 01 year
Scholarships:
Tuition fee waiver up to 100% available to students with outstanding academic profile.
Admission forms available at:
University campus
Monday to Friday —— 9:30 am to 3: 15 pm
Download forms from our website.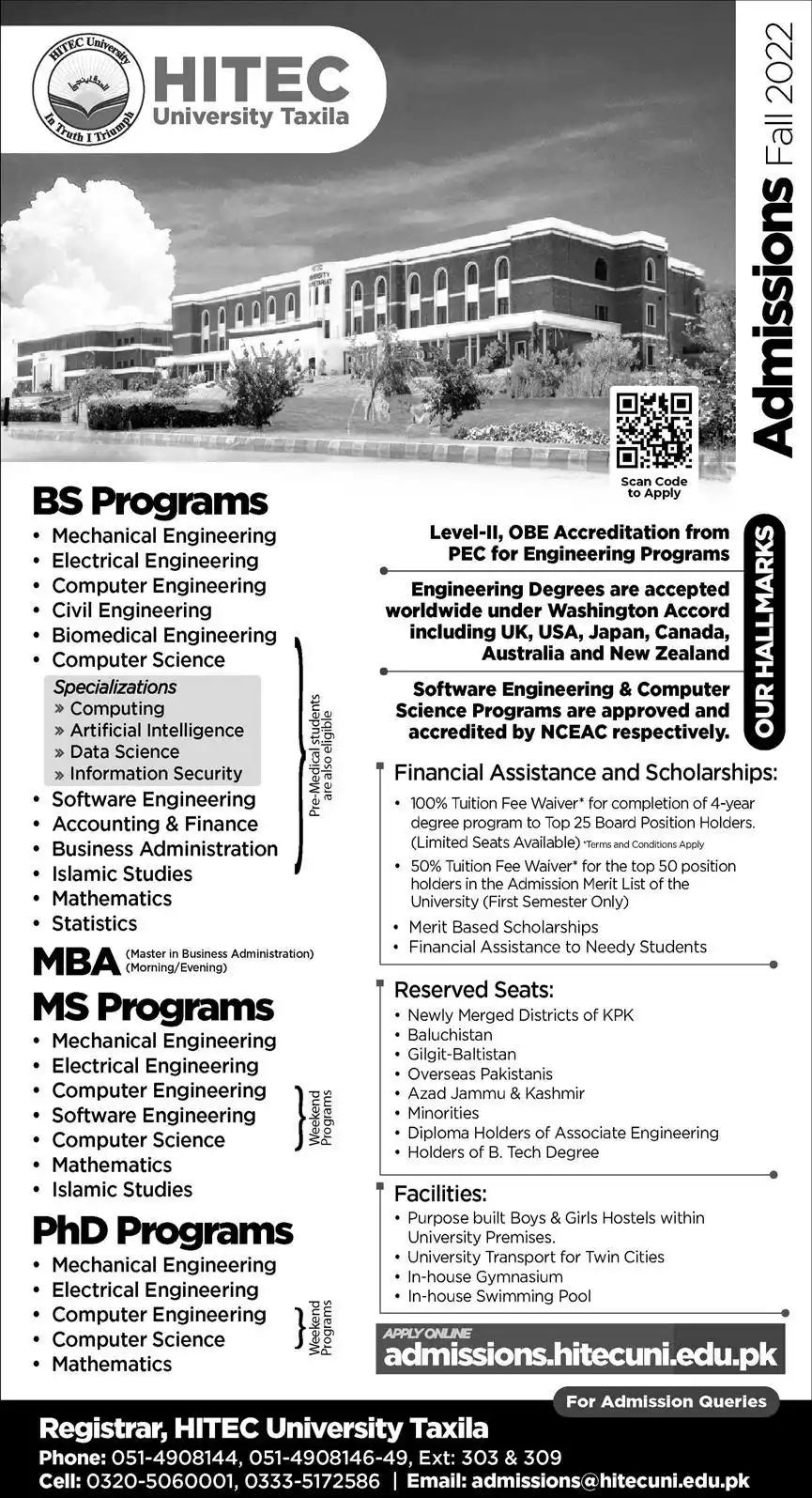 Admission schedule
Last Date of submission of admission form: 15 August 2022
Classes will be start from dated: September 2022
Admission or Entry Test will be held on dated: August 2022
The entry test venue will be at Taxila, Lahore, Multan and Peshawar.
For further information:
The registrar HITEC university, Taxila.
Phone: 051-4908146-50, ext: 303 & 309, 051-4908144, Cell no: 0302-8506582
Email: admissions@hitecuni.edu.pk
www.hitecuni.edu.pk