University of Veterinary & Animal Sciences Lahore starts admissions again in food safety and controls. After successful completion of first batch, admissions are being offered again in one year postgraduate diploma in food safety and controls. step wise procedure for filling and submission of online application form for undergraduate admissions. for admission in two years MSC biochemistry, biotechnology, chemistry, Zoology, botany, wildlife management than you need minimum 45% marks in B.sc degree. the MSC degree program in Lahore campus and Ravi Campus Pattoki.
Schedule of Admission 2022
Online prospectus / admission panel available: 08 September 2022
Last Date for submission of applications: 29 October 2022
Display of First Master List: 06 November 2022
Hafiz-e-Quran Test: 08 November 2022
First merit list will be announced on date: 10 November 2022
Last date for deposit of dues: 12 November 2022
Second Merit List: 15 November 2022
Last Date for deposit of Dues: 17 November 2022
Third Merit List: 18 November 2022
Last Date for deposit of Dues: 22 November 2022
Fourth Merit List: 23 November 2022
Fifth Merit List fi required: 29 November 2022
Commence of classes: 29 November 2022
only those candidates will be eligible to apply 5 years degree program who will appear in MDCAT entry test 2022. MDCAT is not require for those candidates who will apply for BS Hons Degree program.
Latest Admission Details 2022:
UVAS here 
Download Admission Form:
UG-Admission Form
UVAS Undergraduate Program
Doctor of Veterinary Medicine (DVM)
Doctor of Pharmacy (Pharm-D)
Doctor of Nutrition & Dietetics (DND)
B.S. (Hons.) Applied Microbiology
B.S. (Hons.) Biotechnology
B.S. (Hons.) Biochemistry
B.S. (Hons.) Environmental Sciences
B.S. (Hons.) Poultry Science
B.S. (Hons.) Dairy Technology
B.S. (Hons.) Zoology
B.S. (Hons.) Biological Sciences
Master Study Program Disciplines Offered
M.Sc. Biochemistry
M.Sc. Biotechnology
M.Sc. Zoology
MBA (Life Sciences) Morning
MBA Executive (Life Sciences) Evening
Master in Banking & Finance (MBF)
Bachelor of Business Administration – BBA (Hons.)
M.Phil and PhD Programs
The bachelor candidates are eligible for this diploma course.
List of successful candidates will be display on notice board of college
Entry test for eligible candidates to be held in the university liberty at 10:00 am on dated
Short listed candidates for interview to be display on notice board of university dated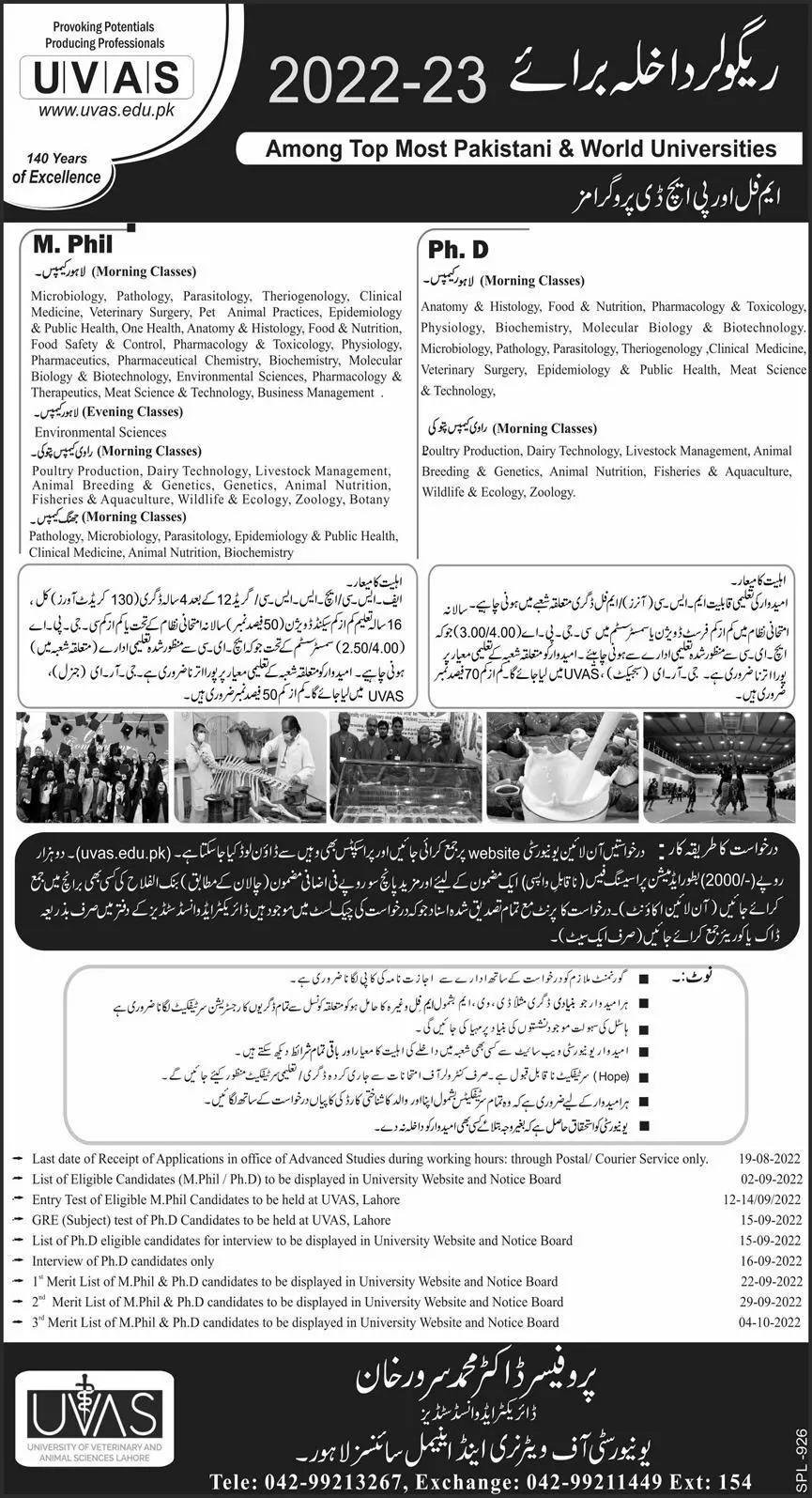 Read Also: University of Education Lahore Admissions 2022 Fee Schedule
Fee Schedule for Under Graduate Level Programs, Academic
Sr. No.
Fee Head
Fee
(1st Semester)
2nd Semester & onward
1
Tuition Fee (per semester)
1280
1280
2
Admission Fee (one time)
6970
0
3
Examination Fee (per semester)
1650
1650
4
University Registration Fee (one time)
4940
0
5
Conservancy Charges (one time)
4940
0
6
Medical Fee (per semester)
510
510
7
University Security (one time) Refundable
1010
0
8
Computer Charges (per semester)
1650
1650
9
Library Security (one time) Refundable
2760
0
10
Sports Fee (per semester)
700
700
11
Magazine Fund (per semester)
290
290
12
Students Welfare Fund (per semester)
290
290
13
Inter University Communication Charges (per semester)
140
140
14
Student Support Fund (per semester)
340
340
15
University I.D Card (one time)
500
0
16
User Charges (one time)
2450
0
17
Mosque Fund (per semester)
220
220
18
Amenities to Students (per semester)
11080
11080
19
Certificate Verification Fee (one time)
2380
0
Total (Rs.)
44100
18150
Residential Charges
Sr. No.
Fee Head
Fee
(1st Semester)
2nd Semester & onward
1
Hostel Admission Fee (one time)
550
0
2
Room Rent (per semester)
1500
1500
3
Light Charges (per semester)
2200
2200
4
Fan / Hot Water Charges (per semester)
850
850
5
Sui Gas Charges (per semester)
850
850
6
Utensil Charges (per semester)
310
310
7
Furniture Charges (one time)
3300
0
8
Water Charges (per semester)
310
310
9
Amenities to Boarder Students (per semester)
2380
2380
10
Hostel Security (one time) Refundable
4600
0
11
Internet Charges
2200
2200
Total (Rs.)
19050
10600
       Fee for Foreign Students
| | | |
| --- | --- | --- |
| Sr. No. | Degree | Fee |
| 1 | Undergraduates | US $ 10,000/- |