University of Education Admission open in all campuses and divisions of University of Education from 27 August 2018.
Last Date for submission of online application for MS/MPhil/MBA (1.5 Year)/ MBA (3.5 Year) programs: – 07 September 2018 & Fee:Rs. 1000
Last Date for submission of online application for BS/MA/MSc programs: – 19 September 2018 & Fee: Rs.500
Admission Fall 2018-19
B.Ed. Hons. (Mor/Eve)
BBA (Hons.) (Mor/Eve)
BS English (Mor)
B.Ed (Hons.) Spl. Edu. (Mor)
MSc Zoology (Mor/Eve)
MSc Economics (Mor/Eve)
MA Education (Mor/Eve)
MA Education (L & M) Eve
MA Spl. Edu. (Mor/Eve)
MBA (1.5 Years) (Mor/Eve)
MBA (3.5 Years) (Mor/Eve)
M.Phil Education (Eve)
Ph.D Education (Eve)
B.Ed. Secondary (Mor/Eve)
Only Online Admission
How to Apply:
Download Prospectus from URL
http://ue.edu.pk/admission/2018 and check ur eligibility before you apply for admission in a particular program.
Fill online application form available at URL
http://ue.edu.pk/apply
The University of Lahore Gujrat Campus entry test held today date 11 September 2018
Open link for merit list         : Click Here
Entry test UOL, Gujrat Campus
Grt.uol.edu.pk
University of Education Lahore Admissions Notice 2018 starts from August 2018 The current admissions in graduate and master level programs in different campuses of Pakistan. These Admissions open in these Campuses of University of Education:
UE D.G Khan Campus:
Division of science and technology:
UE Bank Road Campus:
UE Lower Mall Campus:
UE Faisalabad Camus:
UE Multan Campus:
UE Jauharabad Campus:
UE Vehari Campus:
UE Attock Campus:
Division of Education:
UET Township Main Campus:
Division of Arts and social Sciences:
University Of Education is a Public Sector leading university. It has more than 8 Campus in Pakistan.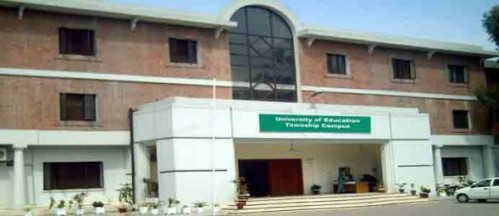 Admissions are open in following degree:
BFA 2 years
BBA 4 years
BEd
Med
BS Mathematics 4 years
BS Physics 4 years
BS Chemistry 4 years
BS IT 4 years
MPhil Botany
MPhil Education
PhD Education
MA Education 2 years
MS IT 2 years
MBA
BS Botany
MSC Physics
BS Zoology 4 years
Admission Schedule:
Admission form is available from 27 August 2018
Due to Delay in the announcement of FA/FSC/B.Com result, the date of application for admission into undergraduate and graduate degree has been extended to
Subject based test for M.Phil Applicants:
Interviews for PhD students:
Application forms are available from University of Education Campuses and Designated HBL Branches.
UE Merit List Published Dates:
1st Merit List: 26 September 2018
Last Date for Deposit of Dues: 02 October 2018
2nd Merit List: 04 October 2018
Last date for deposit of Dues: 08 October 2018
3rd Merit list: 10 October 2018
Last date for deposit of dues: 12 October 2018
(Note): any student who will not submit their fee will not be consider.
For Contact and Information:
Registrar
University of Education, Lahore
Phone: 042-99262227
Website: www.ue.edu.pk
Fee Structure for the Programs offered in Morning
| | | | | | |
| --- | --- | --- | --- | --- | --- |
| Program Name | 1st Year | 2nd Year | 3rd Year | 4th Year | Total |
| BEd | 10,000 | – | – | – | 10,000 |
| BEd Special Education | 7,000 | – | – | – | 7,000 |
| BFA | 11,250 | 10,750 | – | – | 22,000 |
| ADE | 10,750 | 10,250 | 12,000 | – | 33,000 |
| BEd (Hons) | 11,000 | 10,500 | 11,000 | 12,000 | 44,500 |
| BS (Hons) | 9,900 | 9,400 | 9,850 | 10,850 | 40,000 |
| BBA (Hons) | 22,500 | 22,000 | 22,500 | 22,500 | 89,500 |
| BS IT | 28,750 | 28,250 | 28,750 | 28,750 | 114,500 |
| MEd | 11,000 | – | – | – | 11,000 |
| MA | 9,500 | 10,000 | – | – | 19,500 |
| MSc | 10,500 | 11,000 | – | – | 21,500 |
| MSc IT | 29,500 | 28,500 | – | – | 58,000 |
| MBA | 28,000 | 27,500 | 27,500 | 17,000 | 100,000 |
| MPhil | 38,000 | 38,000 | – | – | 76,000 |
| PhD | 40,000 | 40,000 | 40,000 | 40,000 | 160,000 |
Fee Structure for the Programs offered in Evening
| | | | | | |
| --- | --- | --- | --- | --- | --- |
| Program Name | 1st Year | 2nd Year | 3rd Year | 4th Year | Total |
| BEd | 20,500 | – | – | – | 20,500 |
| BEd Special Education | 27,000 | – | – | – | 27,000 |
| BFA | 27,000 | 26,000 | – | – | 53,000 |
| ADE | 29,650 | 28,650 | 31,200 | – | 89,500 |
| BEd (Hons) | 29,650 | 28,650 | 30,200 | 31,200 | 119,700 |
| BS (Hons) | 30,000 | 29,000 | 29,500 | 30,500 | 119,000 |
| BBA (Hons) | 36,000 | 35,000 | 35,000 | 35,000 | 141,000 |
| BS IT | 44,500 | 44,000 | 44,000 | 44,000 | 176,500 |
| MEd | 20,500 | – | – | – | 20,500 |
| MEd Special Education | 27,000 | – | – | – | 27,000 |
| MA | 24,750 | 23,750 | – | – | 48,500 |
| MSc | 27,000 | 26,000 | – | – | 53,000 |
| MSc IT | 45,000 | 44,000 | – | – | 89,000 |
| MBA | 48,000 | 47,000 | 46,500 | 26,000 | 167,500 |
| MBA Executive | 65,500 | 64,500 | – | – | 130,000 |
| MPhil | 45,000 | 45,000 | – | – | 90,000 |
Other Fee Items
| | | |
| --- | --- | --- |
| Fee Item | Morning | Evening |
| Registration Fee (At the time of admission) | 2,000 | 2,000 |
| Comprehensive Examination Fee (At the time of exam) | 3,000 | 3,000 |
| Thesis Fee for MPhil | 10,000 | 10,000 |
| Thesis Fee for PhD | 40,000 | – |
| Thesis Re-evaluation Fee for PhD | 40,000 | – |
| Extension Fee (if any) for every 6 month's extension for MPhil | 15,000 | 20,000 |
| Extension Fee (if any) for every 6 month's extension for PhD | 25,000 | – |
| Library Security Fee (Refundable) for MPhil & PhD | 5,000 | 5,000 |
| Re-Admission Fee (where applicable) | 1,200 | 1,200 |
| Re-Test Fee (where applicable) | 500 | 500 |
| Transcript/Provisional Certificate Fee | 500 | 500 |
M.Phil and PhD Admission Schedule for 2018
| | |
| --- | --- |
| Event | Dates |
| Last date for registration for Entry test for MPhil and PhD | September 04, 201 |
| Entry test for MPhil and PhD applicants to be held at the respective Campuses | September 07, 201 at 10:00 am |
| Admission form availability | September 08, 201 |
| Last date for submission of admission form | September 21, 201 |
| Subject based test of MPhil applicants | September 16, 201 |
| Interview of PhD applicants | September 17, 201 |
| Display of 1st Merit List | September 30, 201 |
| Last date for deposit of dues for 1st merit list | October 05, |
| Display of 2nd Merit List | October 07, |
| Last date for deposit of dues for 2nd merit list | October 09, |
| Display of 3rd Merit List | October 14, |
| Last date for deposit of dues for 3rd merit list | October 16, |
| Commencement of Classes | October 19 , |