UHS Lahore Announced MDCAT Entry Test Schedule
UHS Date of MDCAT Admission Entry Test for Medical & Dental Colleges
Schedule of MDCAT 2021 Registration:
The candidates can register online for MDCAT from 19 July 2021 to 29 July 2021. The registration will be after Time 04:00 PM on date 01 August 2021
For submission of application form and fee for MDCAT 2021, the collection services shall be available at the countries of the bank of Punjab BOP all bank branches from 19-07-2021 to 29-07-2021 time Morning 09:00 AM to 05:00 PM Daily except Saturday and Sunday.
Pattern of MDCAT 2021:
MDCAT 2021 shall comprise a single question paper containing 200 multiple choice Questions MCQs divided into the following four sections.
Biology 80 MCQs
Chemistry 60 MCQS
Physics 40 MCQs
English 20 MCQs
The duration of Entry Test will be 150 minutes two and half hour, and the total marks shall be 200.
The pass marks in the test will be 60 Percent.
There is no negative marking in the Test.
For online registration you can go to www.bop.com.pk/MDCAT-2021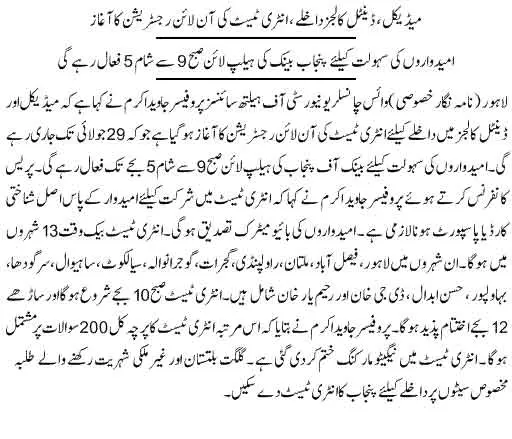 Due to paper leak of previous MDCAT Entry test, Lahore high Court of Punjab orders government of Punjab to take reentry test for Admission in MBBS / BDS in Punjab medical and dental colleges.
University of health sciences Lahore conducted the medical and dental colleges' entry test for admission in MBBS / BDS on date  25 August 2021, but after news of leaking entry test papers in social media, the case was submit to Lahore high court.
MCAT Entry Test will be held on date 25 August 2021
The LHC was hiring the petition filed by a group of medical students who had claimed that one of the examination papers was leaked purposefully, impairing admissions of medical students on merit. One student share his views and said that his father give the money of Rs. 500,000/- to the authorities of university of health sciences administration.
After the investigation the LHC announced that the administration and officials of UHS was involved to leak the MDCAT Entry Test paper that was held on 25 August 2021.
Lahore high court after verification the fraud case, orders to take entry test again and directed to the UHS Authorities to concerned to re-conduct the examination.
LHC orders for retest, the students who have registered in previous entry test paper will be eligible to give retest on date  the end of this month.
Justice Shahid Waheed of the LHC remarked.
"Nobody is allowed to harm the future of deserving students,"
UHS Lahore Announced MDCAT Entry Test Schedule for Medical & Dental Colleges
The medical and dental colleges admission test MDCAT 2021 of the university shall be conducted by the University of Health Sciences Lahore on Sunday 25 August 2021. Simultaneously at the following 13 cities Lahore, Bahawalpur, Gujrat, Multan, Faisalabad, Rahim Yar Khan, Rawalpindi, Sahiwal, Gujranwala, DG Khan, Hasan abdal, Sargodha and Sialkot, the test shall start at 09:00 AM sharp.
In the wake of the bomb blast in Quetta on  August, 2021, the Government of Punjab has decided to extend the closing date of submission of application forms for Medical Entrance Test 2021, for admission to medical and dental colleges of the Punjab, on special request of Government of Balochistan, for one day only.
Only the Punjab domiciled candidates residing in Balochistan, who could not apply on the last date due to the incident can now submit their applications at Bolan Medical College, Quetta on  from 09:00 am to 03:00 pm, along with Entrance Test fee of Rs.500/-.
The application forms shall be available on the spot or can be downloaded from UHS website www.uhs.edu.pk. The candidates are advised to bring an attested copy of their domicile of any district of Punjab. Domicile certificate of father shall also be acceptable.
ADMISSION Entry Test Schedule
The Entrance Test for admission to medical / dental institutions of the Punjab shall be held on Sunday simultaneously at the following centers in 13 cities of the Province. The test shall start at 09:00 A.M. sharp. The University has already issued Roll Numbers to eligible candidates. Roll number-wise distribution of candidates at each center is being advertised for the convenience of candidates. All the candidates who have received their Admittance Cards issued by the University for 2021 must reach their respective centers at-least one hour before the commencement of the test on Sunday
The centers shall be sealed/closed at 08:15 A.M., and nobody shall be allowed to enter
the examination centre after that. All candidates are advised to identify exact location of
their centres a day earlier. DO NOT FORGET TO BRING YOUR ADMITTANCE CARD
WITH YOU. NOBODY WILL BE ALLOWED TO ENTER THE EXAMINATION HALL
WITHOUT THE ADMITTANCE CARD ISSUED BY THE UNIVERSITY.
LAHORE
Lahore College for Women University, Jail Road, Lahore. 0000001 to 0002690
Govt. Comprehensive Girls High School, Wahdat Road, Lahore. 0002691 to 0004154
University of the Punjab, Examination Halls, Wahdat Road, Lahore. 0004155 to 0008954
University of Education, Township, Lahore. 0008955 to 0009575
Board of Intermediate & Secondary Education, Examination Halls, Lawrence Road, Lahore. – 0013001 to 0017400
Govt. Central Model School, Lower Mall, Lahore. – 0017401 to 0017830
BAHAWALPUR
Islamia University, Baghdad-ul-Jadeed Campus,
Bahawalpur. 0100001 to 0101359 0103501 to 0104322
03 GUJRAT University of Gujrat, Hafiz Hayat Campus, Gujrat. 0200001 to 0201007 0203001 to 0203433
MULTAN Bahauddin Zakriya University, Multan. 0300001 to 0303563 0307001 to 0310256
Govt. College University for Women, Madina Town,Faisalabad.0400001 to 0403163 –
University of Agriculture,Faisalabad. – 0405501 to 0407094
RAHIM YAR KHAN
Sheikh Zayed Public School, Canal Officer Colony, Rahim Yar Khan.
0500001 to 0500313
0500315 to 0500897 0502501 to 0503037
RAWALPINDI
Siddique Public School, 6th Road, Satellite Town, Rawalpindi. 0600001 to 0604343 –
Govt. Degree College for Boys, 6th Road, Satellite Town,
Rawalpindi.- 0609001 to 0610016
Govt. Postgraduate College for
Women, 6th Road Satellite Town, Rawalpindi.- 0610017 to 0610497
SAHIWAL Govt. Postgraduate College for Boys, Sahiwal. 0700001 to 0701598 0704001 to 0704836
GUJRANWALA
Govt. Comprehensive High School, Model Town, Gujranwala. 0800001 to 0801530 –
Govt. Higher Secondary School, G.T. Road, Gujranwala. 0801531 to 0801896 –
Govt. College for Boys, Satellite Town, Gujranwala. – 0806501 to 0807333
D.G. KHAN
Ghazi University, Govt. Postgraduate College for Boys, Near Passport Office
College Road, D.G. Khan. 0900001 to 0900948 0903501 to 0904163
11 HASANABDAL Govt. Colleges for Women, Hazara
Road, Hasanabdal. 1000001 to 1000500 1002501 to 1002627
SARGODHA University of Sargodha,
University Road, Sargodha. 1100001 to 1101226 1103001 to 1103597
SIALKOT
Govt. Comprehensive (Jamia)
School, Jammu Road, Sialkot.
Govt. Pilot Secondary School,
Circular Road, Sialkot.
CHAIRMAN ADMISSION BOARD
MEDICAL AND DENTAL INSTITUTIONS OF THE PUNJAB
Ph: 042-99231304-9, UAN: 111-3333-66, Fax: 042-99230870
UHS Website: www.uhs.edu.pk
ENTRANCE TEST for MBBS and BDS
The University shall conduct an Entrance Test, on behalf of the Government of the Punjab, for admission to MBBS/BDS programme on 25-08-2021 Sunday,. The test shall start at 09:00 A.M. sharp. It will be simultaneously arranged in the following cities:
| | | |
| --- | --- | --- |
| Southern Punjab | Central Punjab | Northern Punjab |
| Bahawalpur , Multan, Rahim Yar Khan and D.G. Khan. | Lahore, Faisalabad, Sahiwal, Gujrat, Gujranwala, Sargodha and Sialkot. | Rawalpindi and Hasanabdal |
As per the Regulations of Pakistan Medical and Dental Council (PM&DC), it is mandatory for a candidate desirous of admission to any public or private medical / dental college of the province, to appear in the said test.
The candidates having domicile of any district of Punjab, Federal Capital Area (Islamabad), Gilgit-Baltistan and Dual National Pakistan/Foreign Nationals can appear in the test.
Required qualifications for the appearance in the test is Intermediate Science (HSSC/FSc) Pre-Medical Group or equivalent examination with at-least 60 per cent (660/1100) unadjusted marks. However, those awaiting result can appear in the test on provision of a 'Hope Certificate' issued by the Head of their institution (Sample available onwww.uhs.edu.pk ).
The 150-minutes (2½ hours) test shall consist of a single question paper containing 220 multiple choice questions of total 1100 marks, divided into four sections:
University of health sciences Lahore announced MCAT entry test schedule for session 2021 for admissions in MBBS and BDS. UHS MCAT entry test will be held on date, where all medical and dental college candidates will be appeared in entry test for taking admissions in MBBS and BDS. Punjab government of Pakistan. The voice chancellor of university of health sciences Lahore said that fees of MBBS and BDS will not be increased. The statement was at Alama Iqbal medical college on seminar of entry test.
Entry Test Schedule for Master M.Phil Degree Holders Below
The University of health sciences Lahore organizing entrance test Category public health and related for admissions to postgraduate courses for session 2021. Time 12 AM to 2:00 Pm
Format of Postgraduate Entrance Test for session 2021
Application Form Postgraduate Entry Test 2021
Group of Postgraduate Entrance Test for session 2021