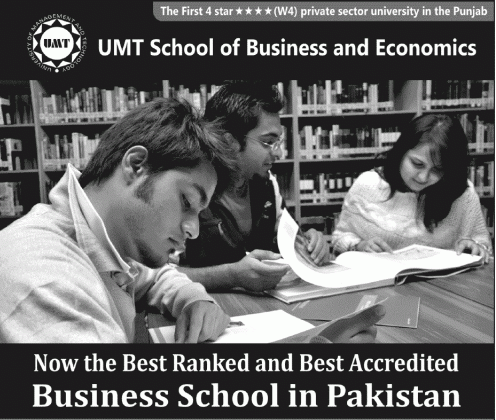 University of Management and Technology School of Business and Economic Offer Spring Admissions 2019
The four stars W4 private sector university in the Punjab. Now the best ranked and best accredited business school in Pakistan. Accreditation with national business education accreditation council and the member of association of advance collegiate schools of business, European foundation for management development, Asian pacific quality network, association of management development institutions of Pakistan and association of management development institutions of south Asia.
Admission are offers in following courses:
BBA(hon), MBA(morning),BBIS(hon), MBA(evening), BS(economics and finance), MS(management), MS(supply chain), PHD(management), MS(economics), Executive MBA(evening) and Executive MBA Corporate(weekend).
for contact:
phone no: 042-35212801-10, cell: 0300-8430686 email: [email protected]
University of management and technology
C-II, Johar town Lahore Pakistan. Http: sbe.umt.edu.pk
UNIVERSITY WEBSITE: WWW.UMT.EDU.PK