University of Engineering and Technology Lahore Pakistan schedule the 20th convocation on Monday 11th-March-2013.
The 20 th Convocation of the University is scheduled to be held on Monday, 11 th March 2013 to confer Degrees/Certificates/Medals upon the undergraduates of Session-2007 & Session-2008 including session 2006 of Architecture and Building & Architectural Engineering besides postgraduates of M.Sc., M. Phil. & Ph.D. who passed out in their respective examinations after the 19 th Convocation held on 11-12-2010.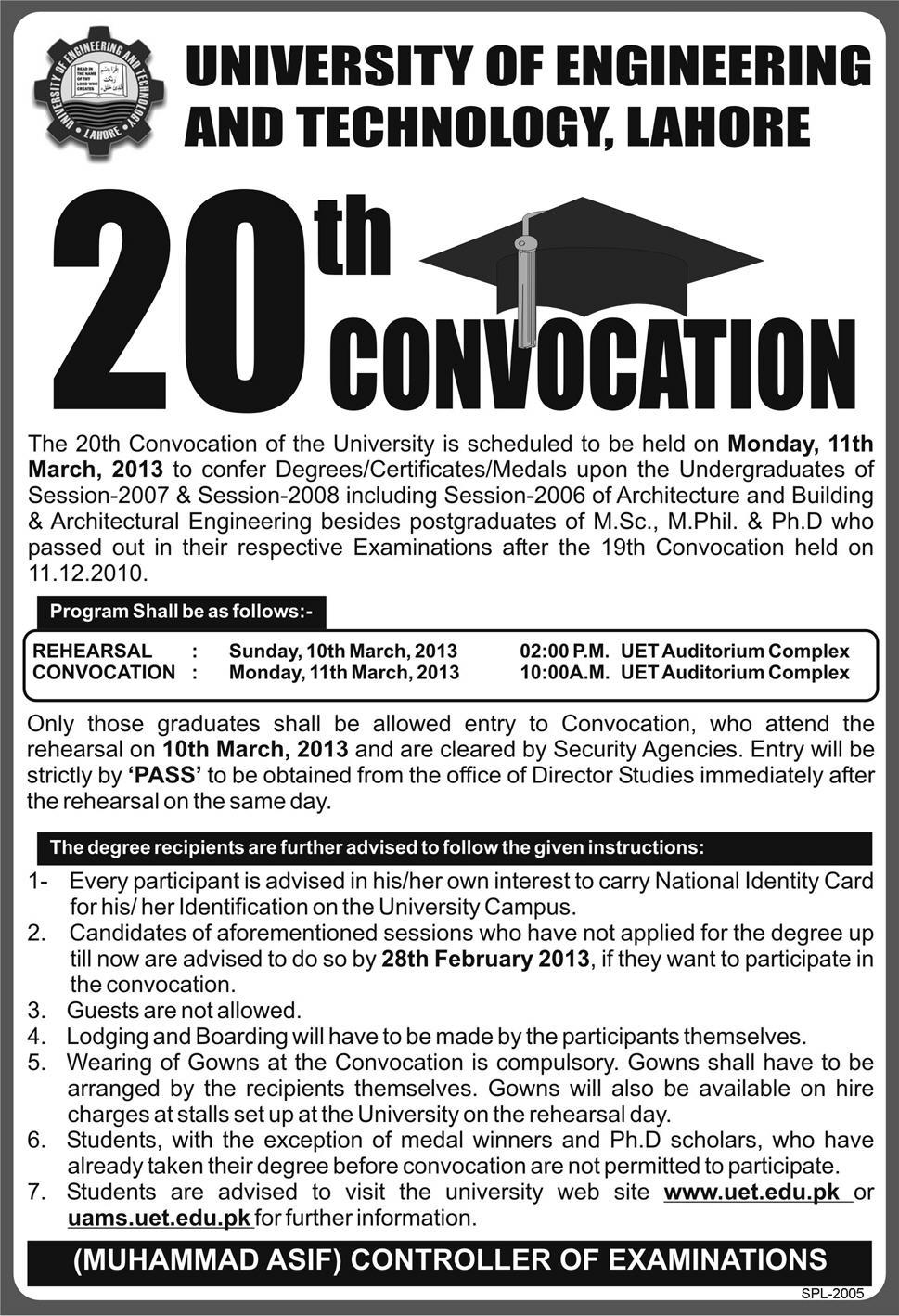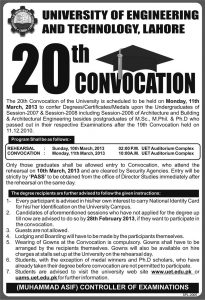 Program shall be as follows:
Rehearsal Sunday, 10 th March, 2013 02:00 P.M. UET Auditorium Complex
Convocation ­ Monday, 11 th March, 2013 10:00 A.M. UET Auditorium Complex
Only those graduates shall be allowed entry to convocation, who attend the rehearsal on 10 th March, 2013 and are cleared by Security Agencies. Entry will be strictly by "PASS" to be obtained from the office of Director Studies immediately after the rehearsal on the same day.
The degree recipients are further advised to follow the given instructions:
Every participant is advised in his/her own interest to carry National Identity Card for his/her identification on the University Campus.
Candidates of aforementioned sessions who have not applied for the degree up till now are advised to do so by 28 th February 2013, if they want to participate in the convocation.
Guests are not allowed.
Lodging and Boarding will have to be made by the participants themselves.
Wearing of Gowns at the Convocation is compulsory. Gowns shall have to be arranged by the recipients themselves. Gowns will also be available on hire charges at stalls set up at the University on the rehearsal day.
Students, with the exception of medal winners and Ph.D. scholars, who have already taken their degree before convocation are not permitted to participate.