PSEB Internship 2023 for Graduates Apply Online Stipend 20,000 Monthly
Pakistan software export board PSEB offering internship program for Graduates Session 2023-2024. The more then 3,500/- Entrees requires for PSEB Internship Program. PSEB accepting applicants from graduates for PSEB ICT and Non-ICT internship Program.
PSEB invites internship applications for ICT Companies and Information Technology IT Departments of Public government and private organizations for the period of Six Months. The 6 months internship will boost the career planning as a professional level of the applicant.
Internship Details and Benefits:
Total Candidate Required: 3,500/- Vacant
Seats Reserved for Disabled Candidates: 2 Percent
Stipend Per Month: 20,000/- Pakistan Rupees Monthly.
500 Seats Reserved for Baluchistan Students.
Online Application easy process.
Eligibility Criteria:
The candidates having minimum Graduate Degree holder can submit Internship application form online or through following Centres:
Islamabad Head Office:
2nd Floor, Evacuee Trust Complex, Agha Khan Road, F 5/1, Islamabad – Pakistan.
UAN: +92-51-111-333-666
Telephone: +92-51-9204074
Fax: +92-51-9204075
Email: internships@pseb.org.pk
Lahore Regional Office:
5/6, 5th Floor Shaheen Complex Egerton Road, Lahore – Pakistan.
Telephone: +92-42-36370039
Fax: +92-42-36307827
Email: internships@pseb.org.pk
PTV Internship Program 2023 Apply Online 200 Positions
Karachi Regional Office:
2203, 2nd Floor, Tariq Centre Main Tariq Road, Karachi – Pakistan.
Telephone: +92-21-34327490-94
Fax: +92-21-34327495
Email: internships@pseb.org.pk
The Graduates having balochistan domicile and willing to work in balochistan are eligible to apply.
The Age limit of disabled students for ICT and Non-ICT Internship is from 20 Years to 40 Years old.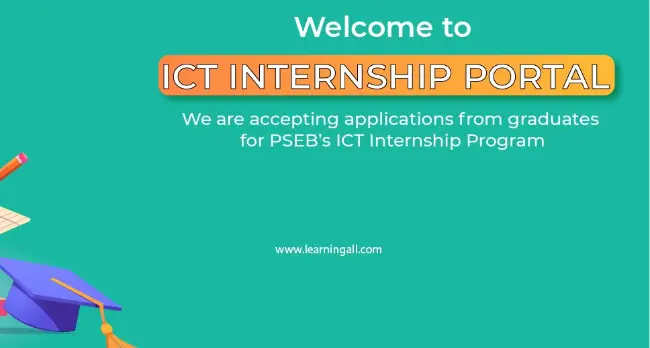 KP Govt Digital Internship Program 2023 Monthly Stipend
Stipend:
The Selected applicants will get stipend PKR 20,000/- Per month. The first stipend will release after three months internship completed. The Regular students will get their first Payment 60,000/- Pakistan Rupees after successful completion of Three months internship Classes. The internship will release by Firms and companies to regular students. The Applicants who cannot learn regularly will not be eligible to get Stipend.
KPITB Internship Program 2023 Online Registration Last Date
Government of Pakistan providing learning facility to candidates and companies to register yourself online through internships.pseb.org.pk.
ICT internship registration available online. https://internships.pseb.org.pk/jobs