PIA announces apprenticeship in technical ground Support
PIA training center PTC proudly announces 3 years apprenticeship in technical ground support equipment maintenance on self-finance basis at Karachi, Lahore and Islamabad.
Requirement for this course:
Fsc pre engineering
For online registration www.piac.com.pk/pia_training/pia-training.asp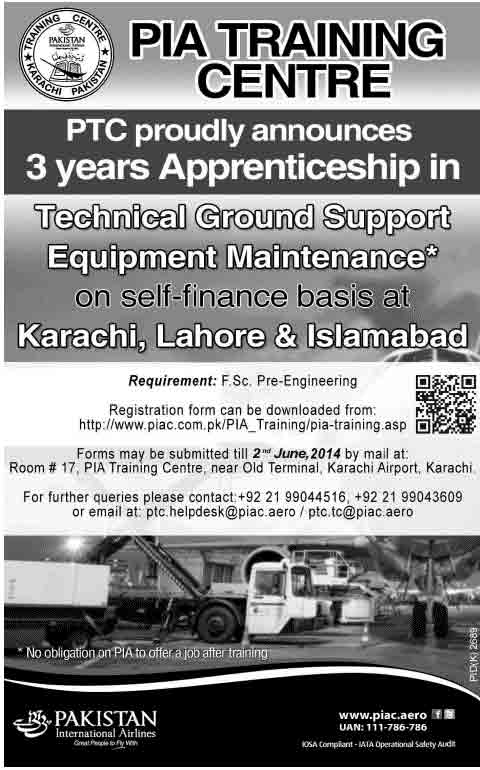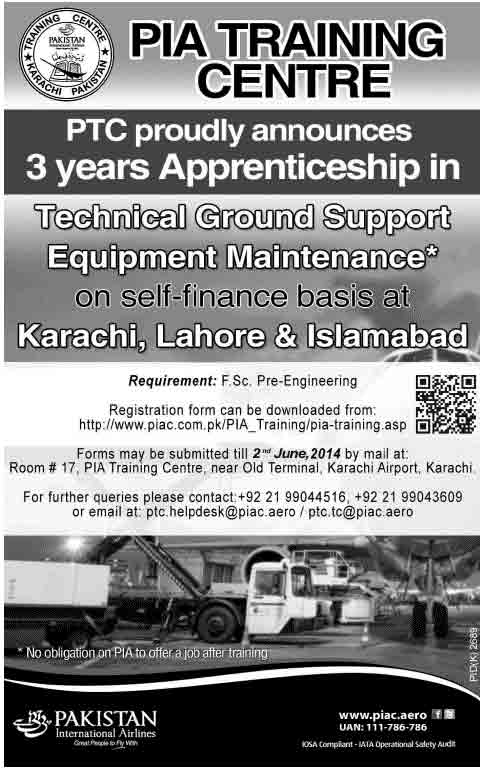 Admission forms may be submit till 2nd June 2020 by mail at room no 17 PIA training centre near old terminal Karachi airport Karachi.
For future details please contact us at:
092-21-99043609
Proudly Announces 03 years Apprenticeship in Technical Ground Support Equipment Maintenance * at Karachi, Lahore & Islamabad.
Requirement: F.Sc Pre-Engineering
Registration forms can be downloaded from: http://www.piac.com.pk/PIA_Training/pia-training.asp
Forms may be submitted till 2nd June, 2014 by mail at: Room # 17, PIA Training Centre, near old terminal 1, Karachi Airport.
For further queries please contact:+92-21-99044516, +92-21-99043609
or email at : ptc.heldesk@piac.aero & ptc.tc@piac.aero
no obligation on PIA to provide a job after training
Conditions Apply
Read Also: Aircraft Maintenance Engineering Course 2020 PIA Training Center