Scholarship Award Ceremony for Afghan Students
As many as 3000 scholarships, which will be awarded over a period of five years, have been offered after success of the first phase launched in 2009 .
These students will pursue their higher education in different universities of Pakistan in various fields including Medicine, Engineering, Agriculture, Management, Computer Science, etc.
The award ceremony held at a local hotel in Lahore was presided over by Malik Muhammad Rafique Rajwana, Governor Punjab. Dr. Mukhtar Ahmed, Chairman HEC, Mr. Omer Zakhilwal, Ambassador of Afghanistan to Pakistan, Adviser to Minister of Education in Afghanistan Amanullah Faqiri and Mr. Zahid Nasrullah Khan, Ambassador of Pakistan to Afghanistan were also present.
Pakistan Offer Scholarships to Afghan Students
Higher Education Commission (HEC) Pakistan organised a ceremony to award 3,000 scholarships for Afghan National Students under Allama Iqbal Scholarships Programme at Pak-China Friendship Centre here on Wednesday.
Islamabad Education News Update: Pakistan will be give scholarships to Afghan students in the field of health and engineering department. The final papers have been signed today between Pakistan and Afghanistan ministers in Islamabad. Pakistan always wants to provide and promote afghan students for educational activities in Pakistan and Afghanistan. Pakistani minister Zulfiqar Baig makes this agreement, according to this agreement Pakistan will be offered scholarships to afghan students, Pakistan will be give admissions to 600 afghan students in big and famous universities of Pakistan. The Afghanistan students who wants to avail Pakistani Scholarships need to apply to education department of Afghanistan, than afghan government will be give the details of these students to Pakistan for further Scholarship Process in February 2020.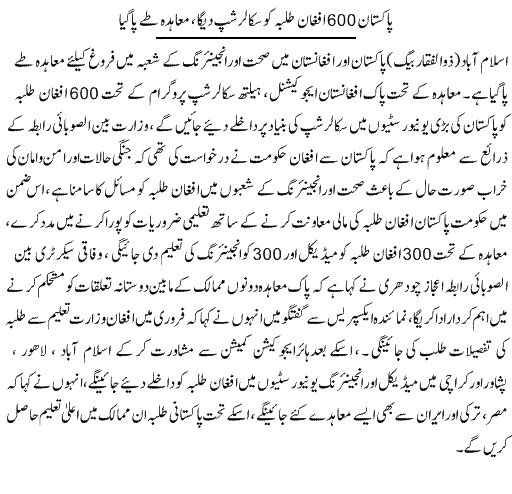 According to news Afghanistan government requested to Pakistan that afghan students facing problems in health and engineering education in Afghanistan. According to signed papers 300 afghan students can take admissions in Medical universities and 300 afghan students in engineering universities in Pakistan. The expenses of students will be suffered by government of Pakistan.
Last Date for Submission of Online application 30th Nov-2020
Pakistan will be demand the list of afghan students in February 2020 from government of Afghanistan to complete scholarship process. After receiving complete list of candidates who will avail scholarships, higher education commission of Pakistan will adjusted these students in Lahore, Peshawar, Islamabad and Karachi medical and engineering universities and providing free education till they complete their education degrees according to terms and conditions.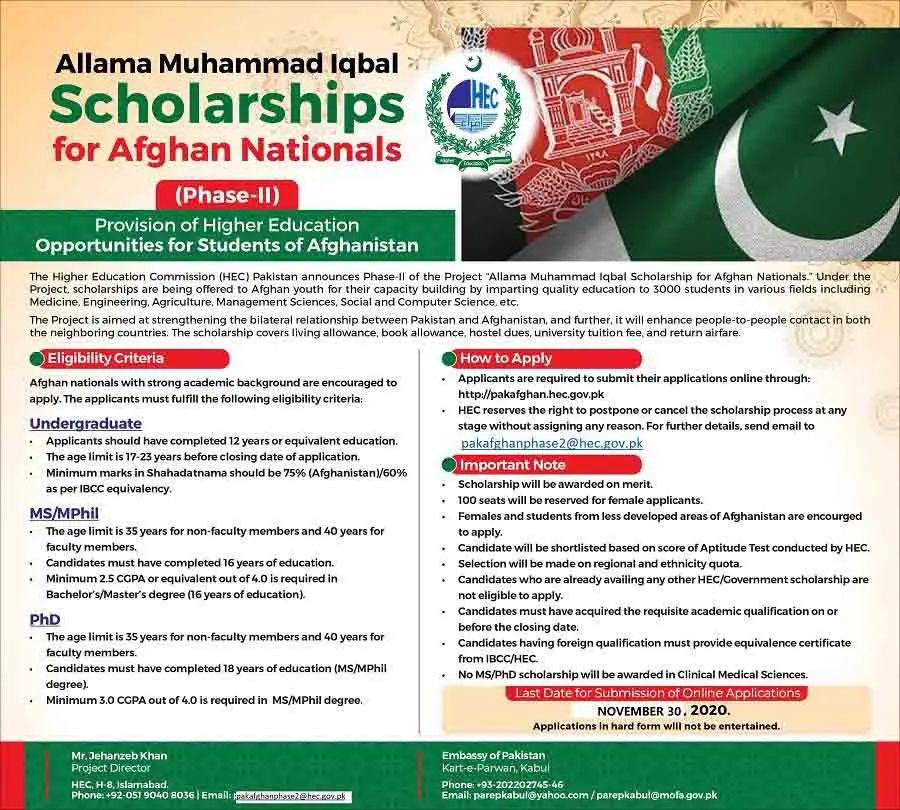 LUMS Pakistan providing Scholarship Programs for Afghan students. LUMS and Afghanistan government signed memorandum of understanding MOU for providing scholarship programs for the students of Afghanistan under this signed scheme Lahore University of management Sciences LUMS will be give scholarship undergraduate and Graduate admissions for session Academic Year 2020-2021. Afghan students can apply online though lums.edu.pk/agsp official website of Lahore University of Management sciences.