Sukkur institute of business administration IBA and OGDCL Oil and gas Development Company limited offering scholarship program under IBA National Talent Hunt Program session 2023.
In this year again IBA and OGDCL opening scholarship program for the students of Pakistan all provinces, Punjab, Balochistan, Sindh and KP.OGDCL National Talent Hunt Program 2023-2024.
List of applicants with missing documents & list of ineligible applicants is now available on our website nthp.iba-suk.edu.pk.
Application Form will be start receiving from dated: 15 January 2023
Last date of submission of application forms: 31 March 2023
Admission Test Date will be announced Later
Classes will be start from
The seat allocation will be:
Balochistan Scholarship can be avail total 75 students.
Khyber pkhtunkhawa Scholarship for 75 students
Sindh: 75 students
Punjab: 75 students
OGDCL and IBA Sukkur will be offer scholarship and the total candidates who will avail scholarships will be 300 candidates total from all Pakistan.
The selection will be purely on merit base.
The students who have already give Fsc intermediate exam and who are going to give Inter Exam Fsc are eligible to apply for IBA Talent Hunt Program.
All applicants must pass entry test for final selection will be made on merit base after checking Entry tests.
Read Also: IBA Admission Sindh Talent Hunt Program 2023 Scholarship Last Date
The selected 300 students will be got Training for 6 months at IBA Sukkur, the training program will be for following subjects: English, Mathematics and computer training program.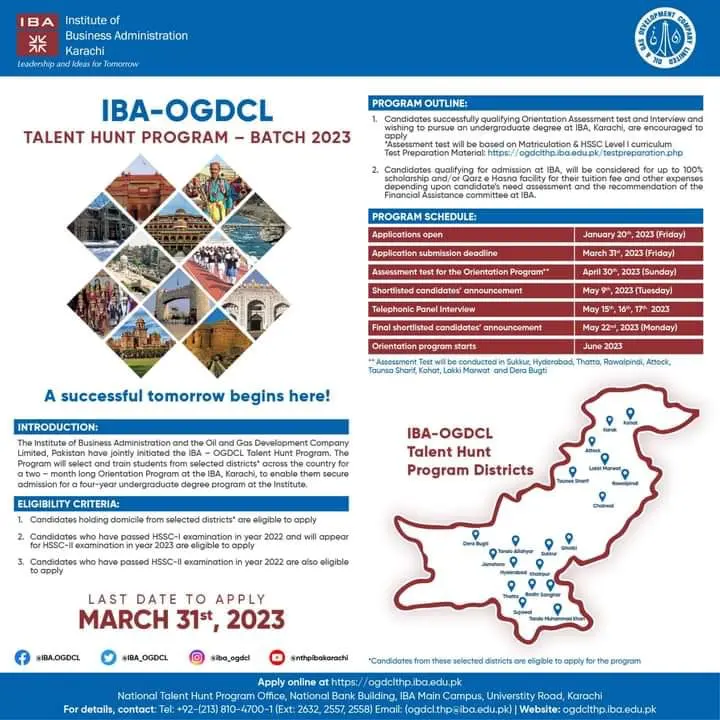 After 6 months training program IBA Sukkur and OGDCL will be selected 100 top listed candidates and for those 100 candidates will be offered free graduate degree.
The graduate degree will be:
BBA Hons
BBA
BS mathematics
BS Accounting and finance
BS computer science and software engineering
B.ED Hons elementary and secondary
BE electrical engineering
Specializations
Electronics
Power
Telecommunication
BE in energy system
BE computer systems and engineering
Eligibility:
Minimum FA / Fsc with 50% marks.
The applicants must be pass their intermediate exam in year 2021 or 2022
The students whose giving exam in year 2020 will also eligible to apply.
The student who gets supplementary will not allowed to apply for this program.
For electric engineering: the student must pass their Fsc with 60% marks.
For BS mathematics: the candidate must pass FA or Fsc with per engineering 50% marks.
The admission test will be take in four provinces separately.
Benefits of National Hunt Program:
No tuition fees.
Free transportation
Pocket money every month will be Rs. 4000/-
Free course, Bag and books.
Free residence
Free laptop for talent and top holder students.
IBA OGDCL National Talent Hunt Program Entry Test Schedule 2023
Entry Test in Punjab, Sindh, Balochistan, KPK and Gilgit will be held on date Sunday in different venues.
OGDCL Continued to Make Quality Education Available for All
IBA Karachi has started accepting applications for the new Batch 2023 under OGDCL-IBA Talent Hunt Program. The Oil and Gas Development Company Limited (OGDCL) and the Institute of Business Administration (IBA) have jointly launched OGDCL Talent Hunt Program. The program will select and train students from selected districts from across Pakistan for a two-month orientation program at the IBA Karachi to enable them secure admission to a four-year undergraduate degree program at the institute. The last date to apply is March 31, 2023.
Apply online at http://ogdclthp.iba.edu.pk