NAB Pakistan Declamation and Essay Writing Competition and Painting Competition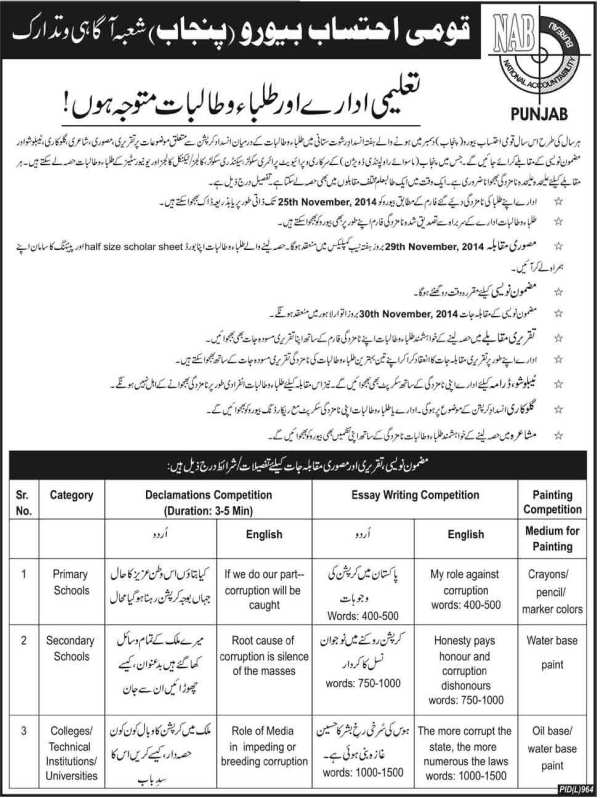 The National Accountability Bureau is Pakistan's apex anti-corruption organization organizing Declamation competition and essay writing competition and Painting Competition for Primary and Secondary Schools. NAB Pakistan starts receiving applications from the students of different institutes. All students who are from Punjab can take part of this competition except Rawalpindi Division, schools, colleges and university students are able to participate in these competition.
Male and female students are encouraged to apply for these competitions, if any student wants to apply more than one competition, than its necessary to apply every competition. For example table show, drama, declamation competition, essay writing competition.
Essays in English:
My Role against corruption words 400-500
Honesty pays honour and corruption dishonours  
Words 750-1000
The more corrupt the state, the more numerous the laws
Words 750-1000
Declamations competition:
If we do our part corruption will be caught
Root cause of corruption is silence of the masses
Role of media in impeding or breeding corruption
Painting Competition:
Crayons / pencil / marker colours
Water Base paint