LUMS is proud to announce that it is the first university in South Asia ranked in the Sustainability Tracking, Assessment & Rating System™ (STARS) as a part of its international pilot programme. A STAR is a self-assessment tool used by universities to monitor and evaluate sustainable practices on campus. In the context of the STARS system, 'sustainability' is defined to include 'its social, economic, and environmental dimensions. This inclusive definition encompasses human and ecological health, social justice, secure livelihoods, and a better world for all generations.'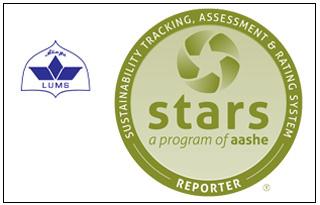 A STAR has helped LUMS improve its sustainability practices and set goals for the future, bringing together various members of the university. Administrative staff from nearly every department provided information. Faculty also contributed by completing a survey to identify sustainability in curriculum and research, and students weighed in by providing information on things like the approximate number of community service hours provided by students each year.
Additionally, STARS has made LUMS a part of a global community that allows schools to benchmark against one another, follow best practices, and share ideas as to how to improve their efforts. LUMS joined STARS in April 2012 as a participant in its international pilot programme. After completing the report, LUMS is listed alongside 248 STARS Rated Institutions, including top schools like Columbia University, Princeton, McGill, Stanford, and Yale. The total number of registered STARS participants consists of 319 US institutions, 32 Canadian institutions, and 44 international institutions.
As a member of the STARS International Pilot, our scores are not made public; however, LUMS faired very well overall. LUMS STARS report, published on the STARS website, showcases the many ways in which LUMS is succeeding in terms of sustainable practices on campus – as well as areas in which we need to improve.
Support for this project came from Google, which provided an evaluation of LUMS Technology for People Initiative, as well as from WWF-Pakistan, which provided an evaluation of the green belts (roads converted to green pathways) on campus and the green outdoor furniture scattered across the LUMS campus. This furniture is not only green in color, but also 'green' in the environmental sense because it is made from recycled material, a 'green plastic wood' that 'is composed of a unique blend of recycled polethylene plastic, such as shopping bags and other plastic scrap.' The furniture is produced by Green Earth Recycling, a Pakistan-based company, and generously donated by the Babar Ali Foundation.
The driving force behind the competition of STARS was SarSubz LUMS, a continual expression of the university's commitment to bettering the environment, demonstrated by reaching STARS Reporter status and other new efforts, such as launching the Graduation Pledge Alliance (GPA)'s Graduation Pledge of Social and Environmental Responsibility for this year's batch of graduating seniors, the campus Save Energy Campaign, and  the installation of a high-capacity solar panel system on the rooftop of the Gad and Brigit Rausing Library.
To learn more about environmental efforts at LUMS, be sure to visit the website for the campus 'green' initiative SarSubz LUMS and write [email protected] with input and ideas.