Kahuta Institute of Technology KIT Kahuta starts taking admission applications for FSC and DAE Degree programs session 2023-2024.
Kahuta institute of technology KIT is providing educational activities from 22 years of excellence in academic proficiency.
The students can learn to join kahuta institute of technology an innovative learning experience and head start of career.
Degree Program:
DAE Program
Civil
Mechanical
Electronics
Electrical
Chemical
Computer Information DAE IT
FSC Program:
FSC Pre-Medical
FSC Pre-Engineering
ICS
Eligibility Criteria:
The students having Matric Degree or 9th class pass and awaiting 10th class Results can also submit admission application form before last date.
DAE Eligibility:
Matric with science subjects with minimum 50 Percent Marks.
FSC Eligibility:
Matric with science and minimum 60 Percent Marks.
Age limit: 15 to 19 years old.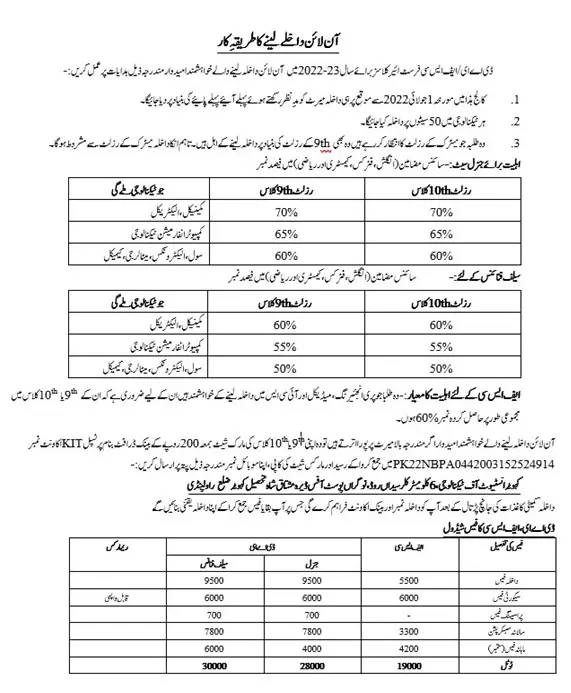 Read Also:
Cadet College Hasan Abdal Admission 2023 in 8th Class, O Level
DOCUMENTS REQUIRED:
Detailed marks sheet of 9th class 1 copy
Photograph with blue background – 8
CNIC of Father / Guardian – 1
Hafiz Quran certificate (if applicable) – 1
Photocopy of CNIC / B. Form of candidate – 1
F.Sc Fee Structure
| | |
| --- | --- |
| Transport Charges | Kahuta/Chowk Pindori & Surroundings (1500/-) Rwp/Isd & Surroundings (2500/-) Rawat/Kallar Syedan & Surroundings (1800/-) |
| | |
| --- | --- |
| Hostel Dues (ON ADMISSION) | |
| | |
| --- | --- |
| Hostel Security | 4,000/- (Refundable) |
| | |
| --- | --- |
| Catering Advance | 6,000/- (Refundable) |
| | |
| --- | --- |
| Room Rent | 1,150/- (One Month Advance) |
| | |
| --- | --- |
| Charges of Washer Men Services | 320/- |
| | |
| --- | --- |
| Catering Charges (Mess Bill) | As per expenditure |
| | |
| --- | --- |
| Electricity Charges | As per expenditure |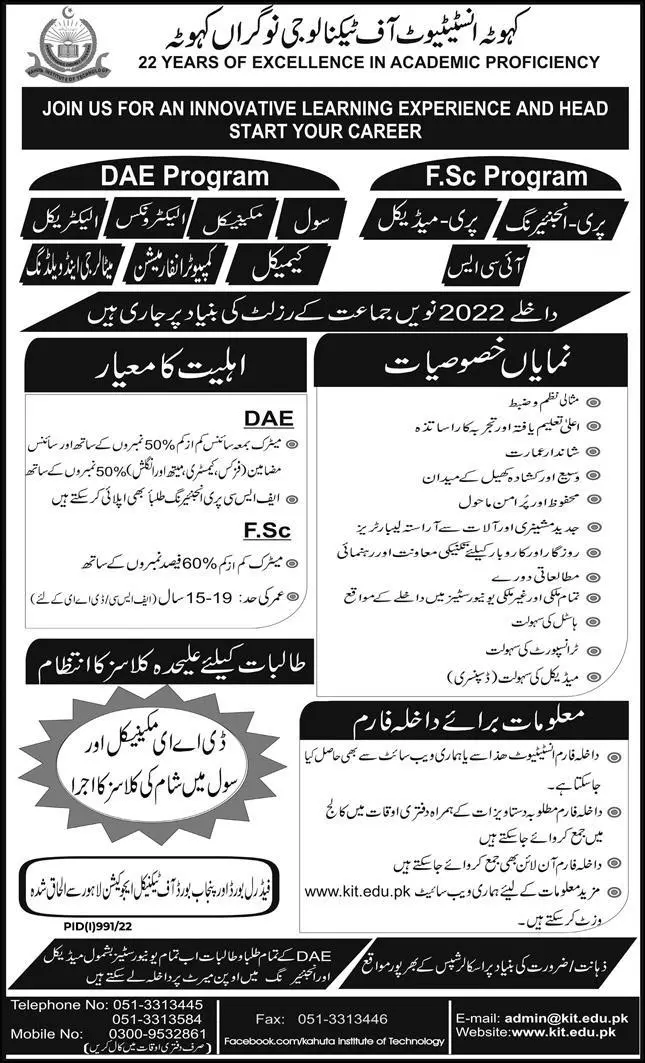 Read Also:
Cadet College Razmak Admission 2023 Entry Test Last Date
DAE Fee Structure
SUBSCRIPTION ON ADMISSION
Day Scholar
Self Finance Scheme
Admission Fee
9,500/-
9,500/-
Processing Fee
700/-
700/-
Institute's Security
5,000/- (Refundable)
5,000/- (Refundable)
Library Security
1,000/- (Refundable)
1,000/- (Refundable)
Societies Fund
350/-
350/-
Medical Fund
600/-
600/-
Library Fund
350/-
350/-
Institute's Sports Fund
600/-
600/-
Student ID Card
600/-
600/-
Building Maintenance
800/-
800/-
Stationery Fund
1,500/-
1,500/-
Internal Exam Fee
3,000/-
3,000/-
Total
24,000/-
24,000/-
MONTHLY SUBSCRIPTION
Tuition Fee
2,200/-
4,000/-
Lab / Maintenance Fee Security charges
1,600/- 200/-
1,800/- 200/-
Total
4,000/-
6,000/-
Transport Charges
Kahuta/Chowk Pindori & Surroundings (1500/-) Rwp/Isd & Surroundings (2500/-) Rawat/Kallar Syedan & Surroundings (1800/-)
Kahuta/Chowk Pindori & Surroundings (1500/-) Rwp/Isd & Surroundings (2500/-) Rawat/Kallar Syedan & Surroundings (1800/-)
HOSTEL DUES (ON ADMISSION)
Hostel Security
4,000/- (Refundable)
4,000/- (Refundable)
Catering Advance
6,000/- (Refundable)
6,000/-(Refundable)
Room Rent
1,150/- (One Month Advance)
1,150/- (One Month Advance)
Total
11,150/-
11,150/-
MONTHLY HOSTEL CHARGES
Room Rent
1,150/-
1,150/-
Charges of Washer Men Services
320/-
320/-
Catering Charges (Mess Bill)
As per expenditure
As per expenditure
Electricity Charges
As per expenditure
As per expenditure
Download Admission Application Form: Download Form Here