Cadet College Razmak North Waziristan Tribal District opens admissions for session 2024-2025 in 8th and 11th grade. Admission applications are invited from students who are studying in 7th or 8th grade.
Admission Form and Prospectus
The admission forms and college prospectus are available with the payment of Rs. 600 in the following Habib Bank (HBL) Branches:
Razmak Branch at Lakki Gate Branch, Bannu
Circular Road Branch, Dera Ghazi Khan
Cantt Branch, Peshawar Saddar
The admission application form is also available at college's official website, www.ccr.edu.pk or you can download it from Here After that, admission forms may be sent to Principal Cadet College Razmak, North Waziristan Tribal District. Candidates having the following Roll Numbers have Qualified for the interview and Medical Examination of the 45th Entry Test that was held on December 20, 2023.
Eligibility Criteria for Admission to 8th Grade
The students having age limit 12 to 14 Years old Till Date 01 April 2024 with studying in 7th or 8th class is eligible to apply.
Read Also: Cadet College Spinkai Admission 2024 Entry Test Last Date
Entry Test Date / Schedule for 8th class
After receiving admission application forms, the entry test will be held on date 18 December 2023 Sunday. The written examination will be on the lines of subjective pattern covering (English, Mathematics, Urdu and Islamiat ) from 7th class and syllabus will be KPK Board Textbook. You can download Entry Test Paper Sample from Entry Test Paper Pattern Here.
Admission Application Deadline for 8th class
Last Date to submit admission application form: 20 November 2023 with registration form Rs. 1600/- however admission forms will be accepted with late fee of Rs. 1000/- up to 30 November 2023.
for best Cadet colleges read also: Top Best Cadet Colleges of Pakistan
Selection Procedure
Admission will be based upon performance in written test, interview and medical examination. Candidates qualifying the merit will only be called for interview and medical examination.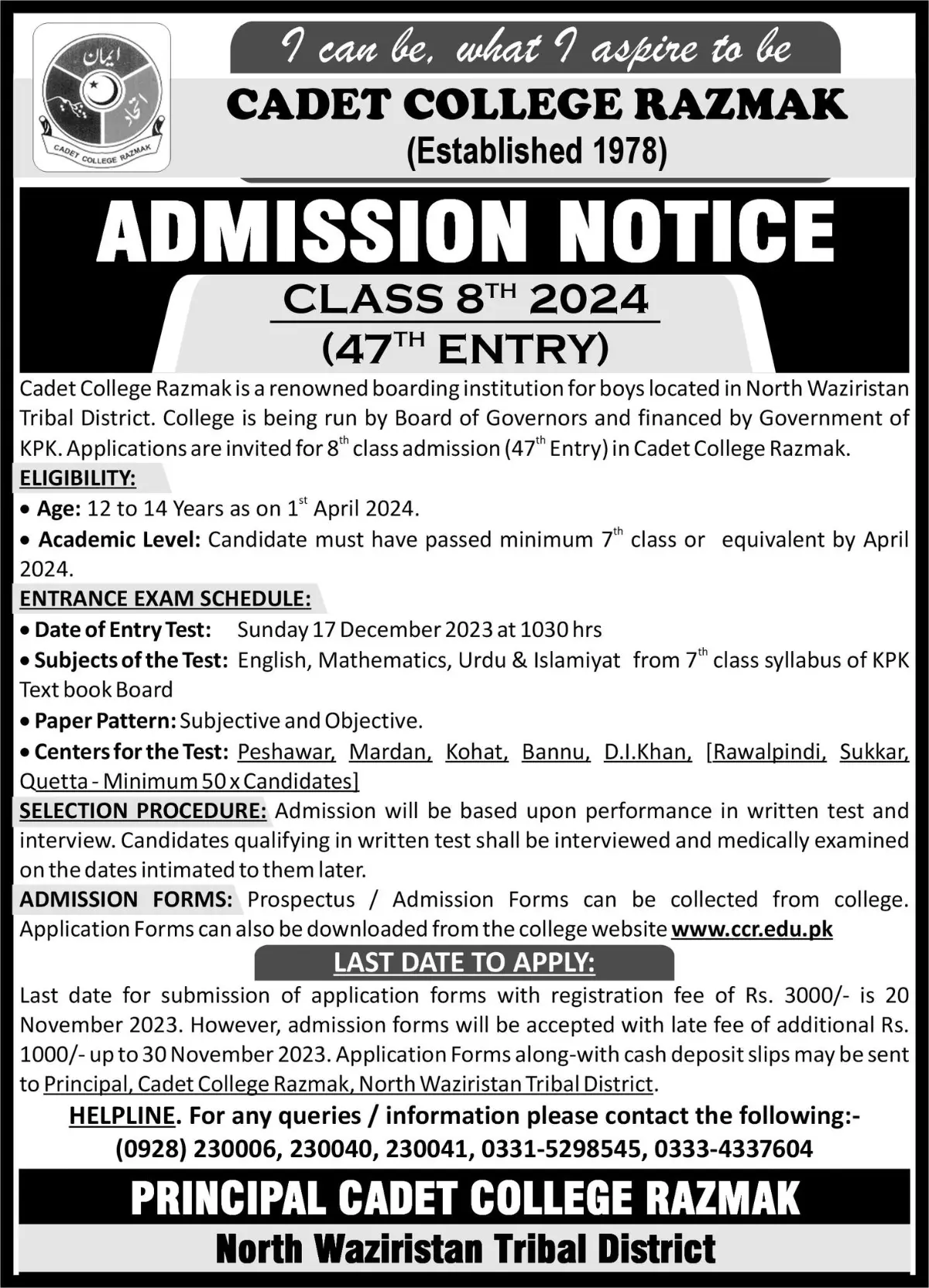 Read Also: Cadet College Hasan Abdal Admission 2024 in 8th Class, O Level
How to Contact College
For any queries / further information please contact at following Phone numbers: 0928-230006 and 230040, 230041, and mobile number: 0346-5526123 and 0345-9855614.
Read Also: PAF College Lower Topa Murree Admission 2024 Form Test Result
Cadet college Razmak Admission Notice for 11th Class 2024
The students who want to take admission in 11th class session 2023-2024 details as below:
Entry Test Exam Schedule for 11th class
The entry test for 11th Class will be held on date 25 September 2023.
Subjects of the test:
English
Physics
Chemistry
Mathematics
Biology
The syllabus of entry test will be considered KPK Textbook Board as official entry test Syllabus.
Selection procedure
Admission will be based upon performance in written test, interview and medical examination. Candidates qualifying the merit / written test shall be interviews and medically examined on the dates intimated to them later.
Admission form
Prospectus and admission forms can be collected form college. Applications forms can also be downloaded from the college website www.ccr.edu.pk
Last date to apply for 11th class:
Last date for submission of application forms with registration fee of Rs. 3000/- is 18 September 2023. Application forms along with cash deposit slips may be sent to principal cadet college razmak, north Waziristan tribal district.
Download College Prospectus: Download Here