The Laptop distribution ceremony held in Jahanzeb college swat on dated 17-May-2013. Total 46 laptops distribute among the students of Jahanzeb College swat. These 46 students are top position holders of BS Four year's program.
Distribution ceremony for Laptop under "Nawe Sahar Lap Top Scheme" took place with full pump and show at Wadudia Hall today on May 17, 2013
The Director Higher Education, KPK , Prof. Noor Ullah Wazir, as Chief Guest and other dignities distributed the laptops among the deserving and talented student of the College.
This distribution ceremony held at Wadudia Hall, Jahanzeb College Swat today on May 17, 2013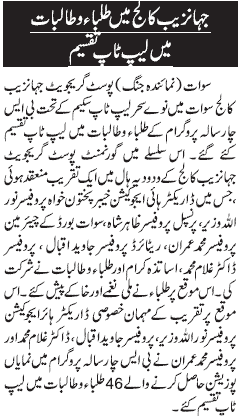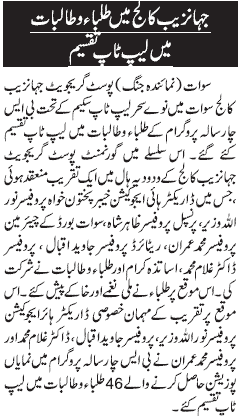 Government Postgraduate Jahanzeb College
Saidu Sharif Swat, K.P.K.
PAKISTAN
Postal Code: 19130
Email us at: info@jc.edu.pk
Note: For Photos Collection Plz Click here