United Kingdom announced the Squad for Food Ball FIFA World Cup 2014. In England's Squad Ashley Cole, Michael Carrick, Gareth Barry, and other Veterans are not included in World Cup FIFA 2014 squad.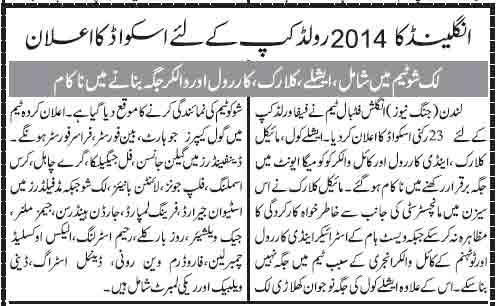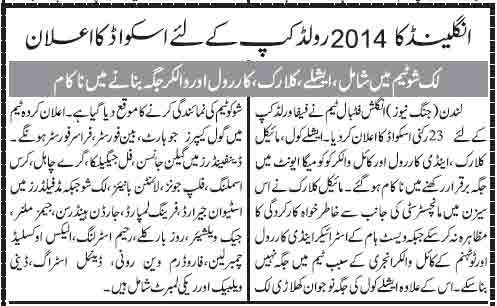 As we know that many good players that were playing in 2010 FIFA world cup Matches, unfortunately they are not playing in 2014 Squad, such as retired goal keeper david ajmes, Emile Heskey, Joe Cole and other such as Mattew Upson.
Most high-profile discard will be Chelsea left-back Cole, who started every game in the 2010 tournament.
Gary Cahill (Chelsea)
Phil Jagielka (Everton)
Glen Johnson (Liverpool)
Phil Jones (Man Utd)
Luke Shaw (Southampton)
Chris Smalling (Man Utd)
Midfielders
Steven Gerrard (Liverpool) – captain
Ross Barkley (Everton)
Jordan Henderson (Liverpool)
Adam Lallana (Southampton)
Frank Lampard (Chelsea)
James Milner (Manchester City)
Alex Oxlade-Chamberlain (Arsenal)
Raheem Sterling (Liverpool)
Jack Wilshere (Arsenal)
Strikers
Rickie Lambert (Southampton)
Wayne Rooney (Manchester United)
Daniel Sturridge (Liverpool)
Danny Welbeck (Manchester United)
Stand by squad:
Michael Carrick (Manchester United)
Andy Carroll (West Ham United)
Tom Cleverley (Manchester United)
Jermain Defoe (Toronto FC)
Jon Flanagan (Liverpool)
John Ruddy (Norwich City)
John Stones (Everton)