CMH Lahore Medical College and Institute of Dentistry announced Convocation 2017 for fifth batch MBBS and Fourth Batch BDS graduates.
The 5th convocation of CMH Lahore Medical college and institute of dentistry is scheduled to be held on 25 March 2017 to confer degrees upon the graduates who meet the mandatory requirements and have successfully qualified 5 year MBBS and 4 year BDS Program.
registration forms are available on www.cmhlahore.edu.pk please send their filled registration forms at email address: physiocmh@gmail.com
Last Date of registration for graduates is 10 March 2017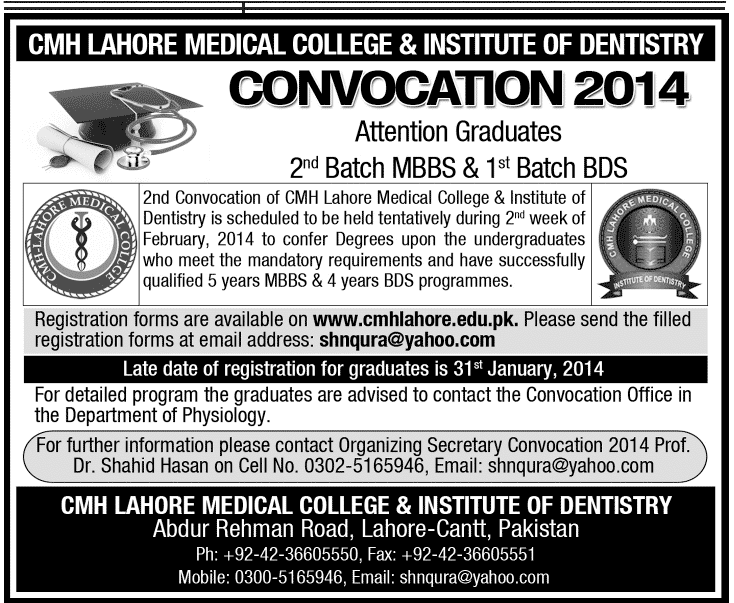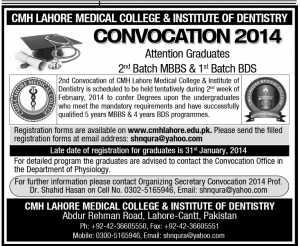 Program shall be as follows:
collection of Gowns: 16 March 2017 Thursday from college inventory department
Rehearsal: 21 March 2017 Tuesday 0900 hours in college auditorium
Full Dress rehearsal: 22 March 2017 Wednesday 0900 hours in college auditorium and 25 March 2017 Saturday 0830 hours in college auditorium.