Cadet College Panjgur Balochistan open Admission Form 2023 Entry Test Result, Cadet College Panjgur balochistan open admissions in 7th 8th and 11th class session 2023-2024. The admission applications are invited from 7th and Matric class pass candidates.
The entry test was held on date before now those candidates who was appear in entry test and got more than 40 percent marks and unable to get admission in cadet college Panjgur, now it's a chance for all those students to apply again for self-finance seats.
Entry Test will be held on date: ctsp.com.pk
Last Date for Submission of Admission form: 28 January 2023
Now the admissions open under self-finance scheme. The interested candidates can submit admission application with CTSP Result card copy to Cadet College Panjgur before date.
Eligibility for first Year:
The candidate must not be under 15 years and not over 18 years of age on date 03-05-2023. First division 60 percent marks or above marks in 9th class Matriculation Examination 2023. the candidate has to secure 50% marks or above in the written examination of entry test for being considered in admission on merit.
Read Also: Cadet College Hasan Abdal Admission 2023 in 8th Class, O Level
Eligibility under Self finance scheme:
The applicants must have 40% or more marks in entry test that was held in and taken by CTSP.The final selection will be made on merit by checking marks of entry test and in his last class.
The fees for those candidates who will apply under self-finance the fees will be Rs. 300,000/- yearly and the fees must be submit twice in year like 150,000/- one time and again Rs. 150,000/-.
All students and their parents mind it and make it necessary that it's a self-finance based admission so no one can request to reduce the fees or make any excuse.
No any excuse will be accepted: fees related.
Cadet College Panjgur announces admissions for limited number of seats on Self-Finance Scheme for class VII, 2023. All those candidates who appeared in entry test of Cadet College Panjgur held on 9th February 2023 and scored 40% or above marks but have not qualified for admission are eligible to apply.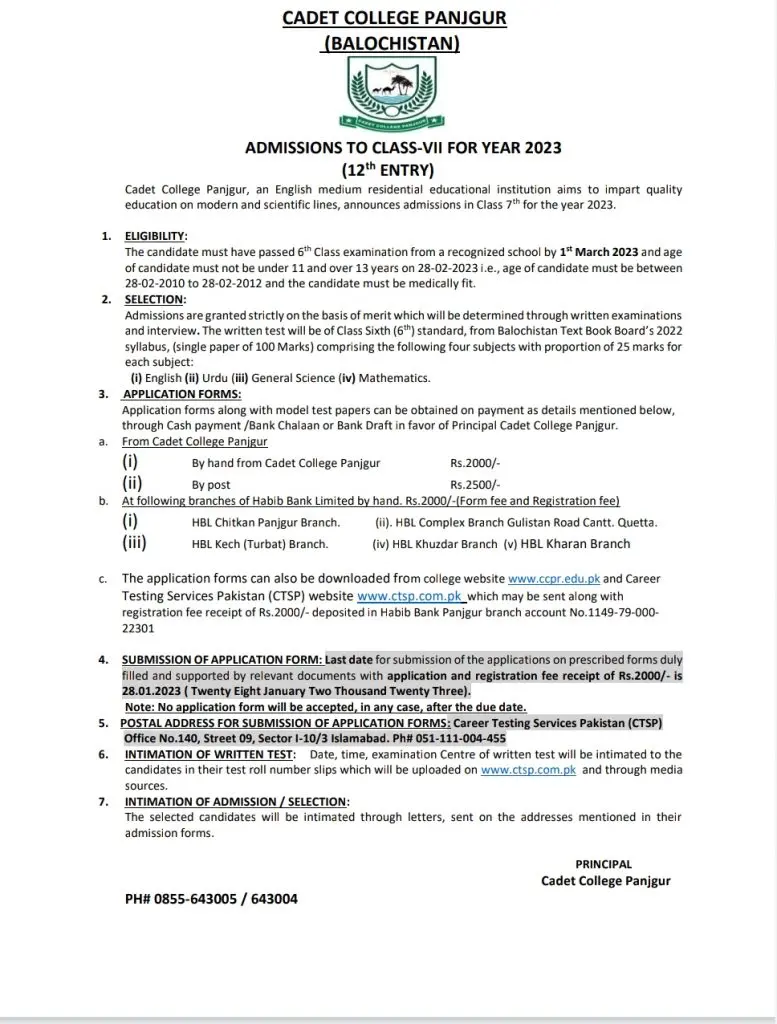 Read Also: Cadet College Esa Khel Mianwali Admission 2023 Form Test Result
No any admission application will be accepted after last date.
Download Cadet College Admission Form to Apply Online: Download Here