Cadet College Esa Khel Mianwali Admission 2023 Form Test Result
Cadet College Esa Khel Mianwali starts taking admission applications session 2023-2024, its first entry admissions for 8th class, it's wonderful project by government of Punjab for Mianwali population to get Cadet Education within their city.
Eligibility:
Candidates whose studying in 7th or 8th class can submit their admission application, the candidates whose studying in 7th class need to provide hope certificate from their institute.
The age of candidate must be between 12 to 14 years old from 01 April 2023, the candidates who have quran hafiz will be given age relaxation of 6 months.
Written Entry Test:
The written test will be taken from Punjab text books and the books are:
English
Urdu
Mathematics
Islamiyat
Examination Centers:
Written test will be held on dated 03 October 2023 Sunday at Sargodha, Lahore, and Mianwali, if cadet college Esa Khel Mianwali will receive more applications, if no more admission application receive the written test will be held only in Mianwali city Center and Admission test and interview will also held in Mianwali city. The Roll Number Slips and Entry Test Exam center will be informed through Letter or related school where the student is studying already.
Read Also: Cadet College Panjgur Admission 2023 Form Entry Test Result
Admission Form and Prospectus:
For getting prospectus candidates need to get sign from their current school officials. Prospectus can also avail from National bank Main Branch Mianwali by submitting online payment of Rs. 1000/- though Account Number: 4044723180. The deposit slip brings to college and gets admission form and prospectus. If you want to take prospectus though courier than you need to deposit Rs. 1200/-and original deposit slip must be attached with admission form.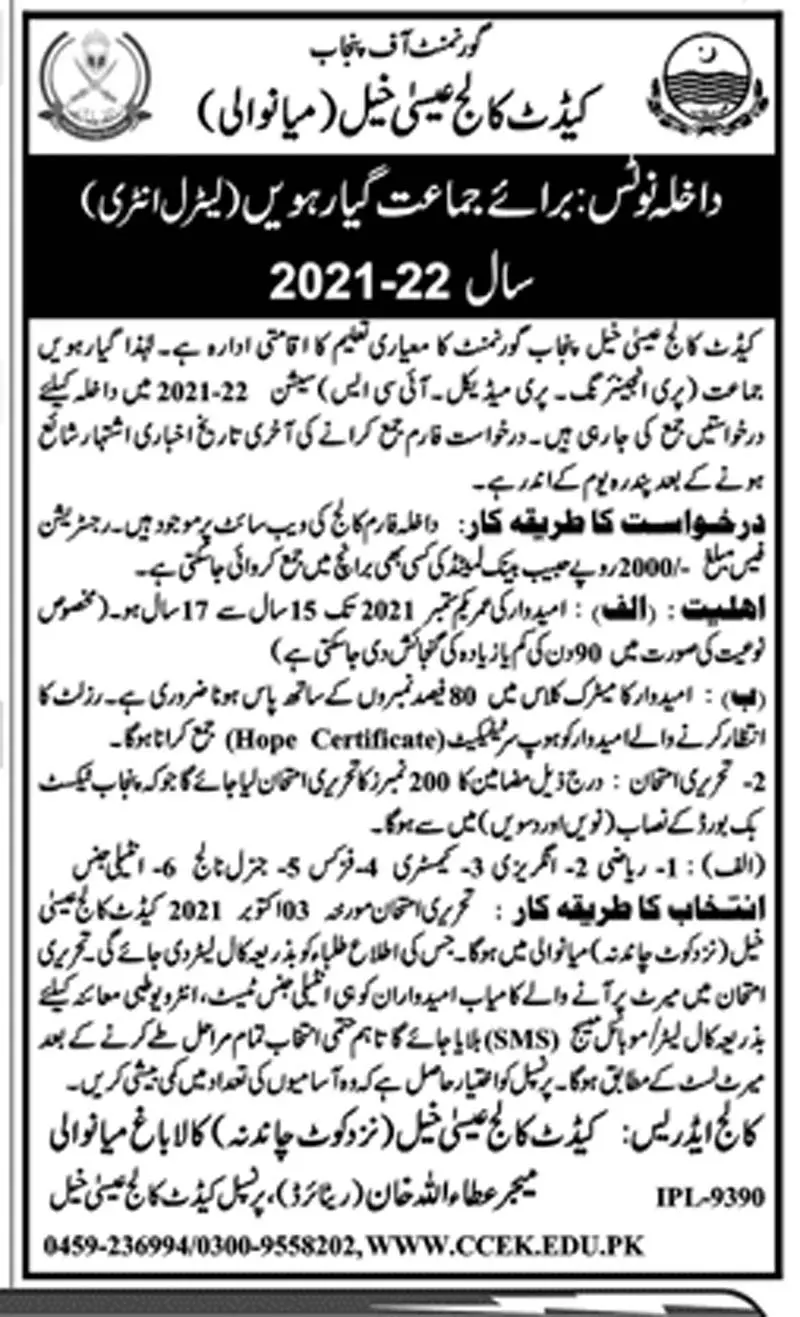 The last date off submission of admission forms: 30 September 2023
Entry Test will be held on dated:  03 October 2023
Interview and Medical will be held on date  at cadet college esa khel Mianwali.
Selected candidates joining date will be on
Distribution of Seats:
Open Merit: 90 Seats
Tehsil Esa Khel Quota: 15 Seats (With relaxation of Tuition Fee)
Balochistan Quota: 02 Seats (With relaxation of Tuition Fee)
Ex-FATA Quota: 01 Seat (With relaxation of Tuition Fee)
AJK Quota: 01 Seat (With relaxation of Tuition Fee)
Gilgit Baltistan: 01 Seat (With relaxation of Tuition Fee)
Employee Son Quota: 03 Seats (With relaxation of Tuition Fee)
How to contact cadet college officials:
Mobile Number: 0302-2277958 and Local PTCL Phone Number: 0459-350370 Project Director / Principal
For sending admission forms:
PO BOX No. 15, GPO Mianwali.
cadet college esa khel mianwali fee structure
Once
Admission Fee
Rs.5000/-
Building Fund
Rs.5000/-
Education Fund
Rs.5000/-
Security (Returned able)
Rs.15000/-
Total
Rs. 30,000/-
Monthly
Class VIII
April,May,June
Rs.54000/- (Per Month Rs.18000/-)
July,Aug,Sep
Rs.40000/- (Mess Discount @ Rs.7000/-)
Oct,Nov,Dec
Rs.54000/- (Per Month Rs.18000/-)
Jan,Feb,March
Rs.54000/- (Per Month Rs.18000/-)
Total
Rs.202000/-(Per Annum)